July 4, 2015
No-Bake S'mores Cheesecake!
*This post may contain affiliate links. Please see my disclosure for more details!*
No-bake s'mores themed cheesecake with marshmallow fluff – topped with toasted marshmallows, crushed biscuits & melted chocolate!
S'mores cheesecake
So yeah, s'mores Cheesecake. YAY! I have wanted to make this for a while, but I had so many other cheesecake and baking ideas that I thought I would go through that list of experiments then attempt this one – and I wish I had done it sooner.
I have done research into other s'mores cheesecake recipes and a lot of them seem to be baked cheesecakes – and theres nothing wrong with this, but my lovely audience (aka you!!) seem to LOVE my no-bake recipes – so queue experiments!
Base and filling
As this is a s'mores themed cheesecake, it only felt right to do my usual buttery biscuit base! I used digestives in my base as I wanted a few extra to crush and use as sprinkles for my decoration too!
This cheesecake has a creamy mascarpone cheesecake filling which is silky smooth and compliments the addition of marshmallow fluff PERFECTLY! With the added chocolate drizzle, marshmallow and biscuits crumbs for decoration, this is exactly what you want from a s'mores bake – a perfect mash up of all things sweet!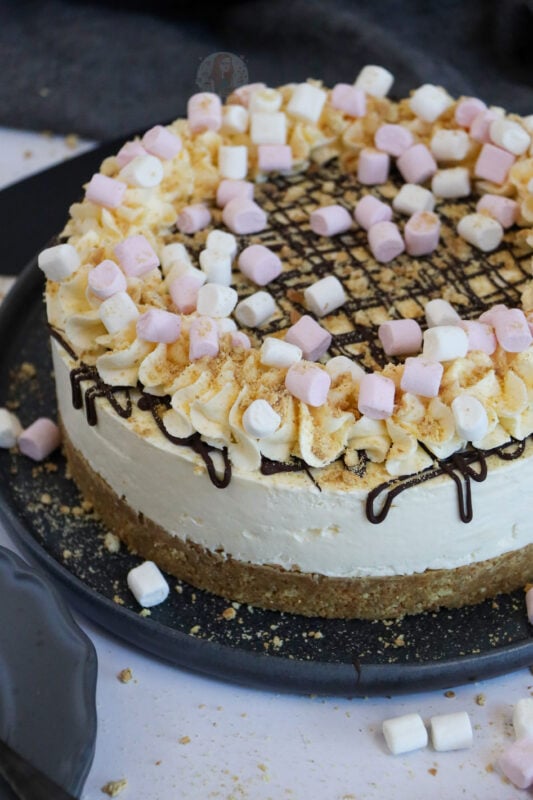 Marshmallows
I have an obsession with marshmallow fluff and s'mores so combining these to make a no-bake cheesecake seemed best, trying to make it as s'moresy as possible! I decorated my cheesecake with what you would find inside s'mores – and this was a deeeeelicious decision!
The mini toasted marshmallows on top of the cheesecake give it that lovely campfire taste, along with the insane amount of marshmallow goodness, and the delicious biscuity crunch – its always going to be a winner!
Recipe Updated February 2017
I decided to have a look at this recipe again as the occasional person was having an issue with mixing this one! I decided to reduce the marshmallow Fluff tubs to only one, and put cream into it.
Whipping the cream cheese and marshmallow fluff made the mixture quite loose, so changing it to mascarpone I saw a massive improvement! Then adding the double cream like my other no-bake recipes and whipping it up helped considerably! I hope you guys love the new version of the recipe!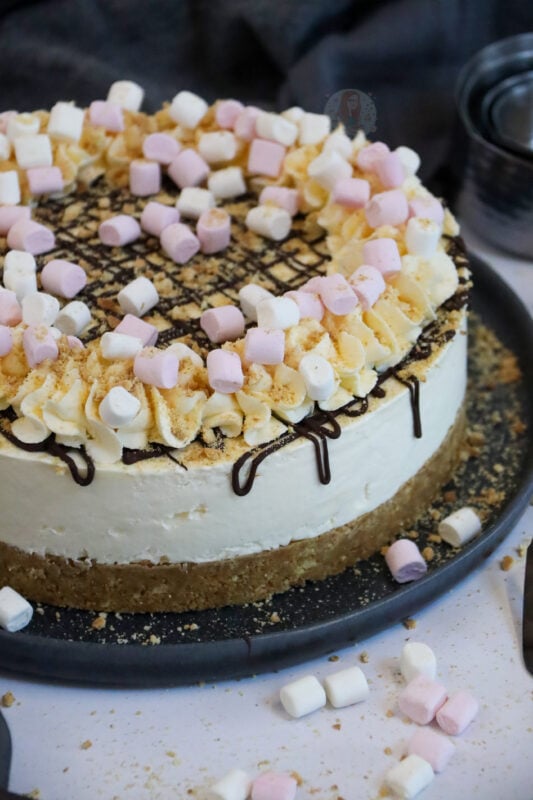 No Bake S'mores Cheesecake!
No-bake s'mores themed cheesecake with marshmallow fluff - topped with toasted marshmallows, crushed biscuits & melted chocolate!
Print
Pin
Rate
Ingredients
Base
300

g

biscuits

I used digestives

150

g

unsalted butter

melted
Cheesecake Filling
500

g

full fat mascarpone cream cheese

100

g

icing sugar

1

tsp

vanilla extract

1

x

214g marshmallow fluff tub

300

ml

double cream
Decoration
150

ml

double cream

2

tbsp

icing sugar

Mini marshmallows

Biscuit crumbs

Melted chocolate
Instructions
Blitz the digestive biscuits in a food processor (or crush in a bag with a rollingpin!) and mix with the melted unsalted butter.

Put the mascarpone cream cheese, icing sugar, and vanilla extract into an electric mixer - I use my KitchenAid with the whisk attachment and whisk until smooth and combined.

Add in the marshmallow fluff and whisk again - at first it will look lumpy but if you stick with it it'll go nice and smooth.

Add in the liquid double cream and whisk until stiff. Make sure to scrape down the edges of the bowl and continue to whisk until very thick and it holds itself when you lift the whisk out!

Dollop on top of the biscuit base andsmooth over - refrigerate for 6+ hours, or preferably overnight (12+ hours) so it has time to set properly!

Decorate your s'mores cheesecake by toasting some mini marshmallows with a blowtorch so they all mould together nicely.

Crush some more biscuits and sprinkle them all over & drizzle on some melted chocolate or chocolate curls on top!
Notes
If it looks like your cheesecake isn't setting, or its a but sloppy, or you're even not sure.. try it anyway. Try to set the mix anyway! If it still doesn't set, freeze it and have an ice cream cheesecake!
I recommend using a 8"/20cm deep springform tin in this recipe!
If you think its not going to set it might be because you haven't whipped it enough, or the fridge isn't cold enough - mine is at 2C as I like my stuff super cold! If you think the mix is just a lumpy icky mess then stick with the whisking! There is such a thing as over-whisking though so don't choose the supercharged high speed - stick at a medium-high speed when mixing!
This cheesecake will last in the fridge, covered, for 3 days!
You can find the marshmallow fluff with the Nutella and such in the supermarket!
ENJOY!
You can find me on:
Instagram
Facebook
Pinterest
Twitter
Youtube
J x
© Jane's Patisserie. All images & content are copyright protected. Do not use my images without prior permission. If you want to republish this recipe, please re-write the recipe in your own words and credit me, or link back to this post for the recipe.