Oreo Base, Oreo Cheesecake Filling, Oreo Decoration.. Oreo Heaven!
I have had an insane amount of requests for this recipe – even though there are so many already!! – so I hope it doesn't disappoint! 🙂
Oreo's, as you might have noticed, are a big thing for me as they're yummy and very popular all over the world. I know that some people aren't a fan of them, but they do so many different flavours now you probably will find some that you like! Mixing the Oreo flavouring with the Cream Cheese & the rest of it makes it such a DELICIOUS treat!
I know I have done many a cheesecake recipe, but I feel like a couple more wouldn't hurt too much 😉 They are 100% my favourite dessert though still, no matter how much of it I eat! My boyfriend has an obsession with cheesecake as well, so I know why we match each other so well…
I prefer No-Bake Cheesecakes so much more than Baked ones as to me they are creamier and easier to make, and to me they are a more guaranteed success in comparison to other desserts because I have made so many over my time on this blog now! The whipping of the ingredients in my method is second nature to me – once you have whipped a cheesecake to the perfect texture, it is the same every time! The rules are – don't whip too fast, and don't be too scared – then you'll be fine and you will want to make them again and again!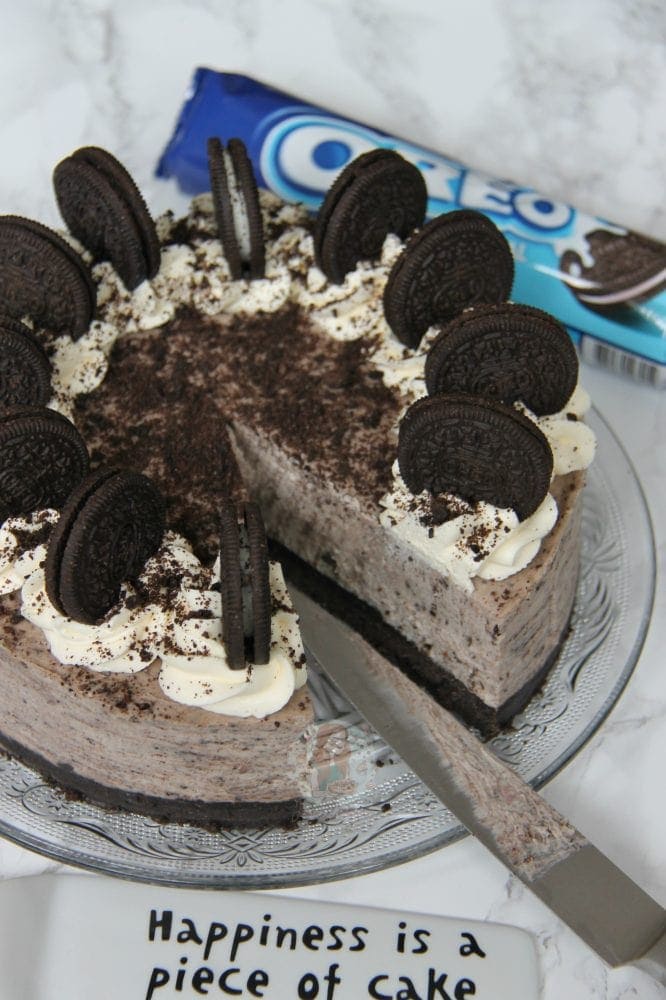 Recipe Updated September 2017 – I use Classic and Brownie Batter Oreos in mine, but you can use any flavour you like!
This serves 12!
Ingredients
Cheesecake Base

2x 154g Pack Oreos
100g Butter, Melted

Cheesecake Filling

750g Full Fat Cream Cheese/Mascarpone
125g Icing Sugar
1tsp Vanilla Bean Extract
300ml Double Cream
2x 154g Pack Oreos, Crushed (Keep 12 Oreos for decoration)

Decoration

150ml Double Cream
2tbsp Icing Sugar
12 Oreos
Oreo Crumb
Method
To make the Cheesecake Base

– Blitz the Oreos in a food processor until they're a fine crumb. I don't remove the creme filling as I like it to bind the biscuits together!
Mix the biscuits in with the melted butter and press down into the bottom of an 8″/20cm Deep Springform Tin and refrigerate whilst you make the filling!

To make the Cheesecake Filling

– Using an electric stand mixer cream together the Cream Cheese, Icing Sugar, and Vanilla until smooth. Add the Double Cream and whisk the two mixes together – I use my KitchenAid as it whisks the mixture to the perfect texture. It shouldn't take too long to whisk, but I set mine to a medium/high setting and whisk it till it holds itself (like meringue does!)

Be careful not to over whisk though – there is always a limit to a mix, it might curdle – so keep an eye on it, you will know when its ready (took my mix 2 minutes!) When whisked – fold through the finely crushed Oreos and spread on top of the biscuit base!

Set the Cheesecake in the fridge for 5-6 hours, or preferably over night!
Once set, remove the cheesecake from the tin. Whip together the double cream and icing sugar and pipe onto the cheesecake using a disposable piping bag, and a 2D Closed Star Piping Tip. Then, decorate with some whole Oreos, and some oreo crumbs! Enjoy!
NOTE

If it looks like your cheesecake isn't setting, or its a but sloppy, or you're even not sure.. try it anyway. Try to set the mix anyway! If it still doesn't set, freeze it and have an Ice Cream Cheesecake!
Tips and Ideas
I recommend using a 8″/20cm Deep Springform Tin in this recipe!
Like I said in the Method, I use one mixer to make my cheesecake filling – but I use a stand mixer. If using an electric hand-held whisk then try not to use too high a setting as this might cause it to over whip and go all icky! So take your time, it will be smooth and hold itself when the mix is ready!
Using Full-Fat cream cheese is 100% needed so that it sets – if you would rather use a lower fat one be careful when you mix so that it doesn't split, and it probably needs to set in a dish as it won't hold itself!
This recipe will last 3 days, covered, in the fridge!
ENJOY!
Buy my new eBook 'Sweet Treats Volume One' for £4.99!
Find my other Cookie and Cookie Bar Recipes on my Recipes Page!
You can find me on:
Instagram
Facebook
Pinterest
Twitter
Bloglovin'
Youtube
J x
© Jane's Patisserie. All images & content are copyright protected. Do not use my images without prior permission. If you want to republish this recipe, please re-write the recipe in your own words and credit me, or link back to this post for the recipe.