February 9, 2015
Shortbread Hearts!
*This post may contain affiliate links. Please see my disclosure for more details!*
Easy three ingredient shortbread hearts coated in white & milk chocolate – perfect easy bake!
Shortbread
So, shortbread is one of those bakes that is a complete and utter classic. It's been around for hundreds and hundreds of years, and you just can't beat it! Shortbread hearts are just too cute too.
Who knew that creaming together butter, sugar and flour would create such a basic but wonderful biscuit that will still be ever so popular to this day?! This recipe for shortbread hearts is super duper easy, and can be used every day, not just for Valentines – but I love an excuse for anything soppy and chocolate covered!
Classic recipe
This is just a normal recipe for shortbread, and I decided to decorate them by coating one half in chocolate with some sprinkles to make it at least slightly bit different for the big day, and shortbread is one of my favourite biscuits – seriously, I bake a batch, and its rare if someone else gets a look in!
The thing I adore about shortbread is that it is insanely easy to make – and shortbread on its own can consist of just 3 ingredients! So, how can you not love it? I add a couple more ingredients in this recipe to give it a bit more show, however!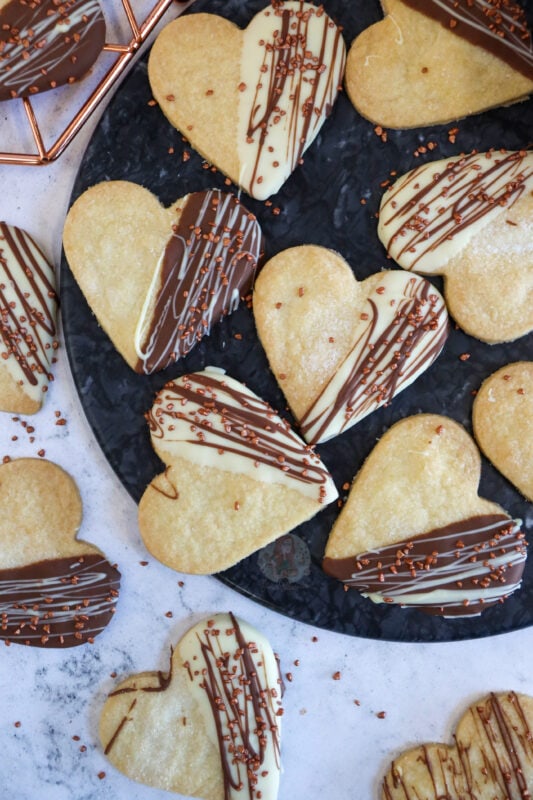 Butter
I think pretty much everyone has made shortbread at some point in their lives, because it really is so easy! I use my KitchenAid to make it out of habit, but you can easily make it with just a bowl and a spoon!
You should always use proper butter to make shortbread, as this is the classic ingredient. If you want to make them gluten free, the switch is straight forward – gluten free can just be a little crumblier.
Decoration
When you're covering yours in chocolate, if you so choose to do so, I find it easiest to use a container as small as possible, but one that will still fit the biscuit safely inside!
I tend to only really cover the front of the biscuit for definite, as I'm less fussed about the back of the cookie – but whatever floats your boat! The drizzles of the chocolates is there because it's fun, and because it uses up the rest of the chocolate! This is definitely a bake you can make with your children, for your loved one, or just because you fancy a really easy bake!
Tips
I tend to make big batches of these shortbread hearts as I love to gift them in clear bags to loved ones as they look so cute! However I do get carried away and tend to have some leftover. When I have the willpower to not eat the leftovers, they are perfect to use as toppers for my millionaires cupcakes!
As always, this recipe is adaptable to your own taste. You can dip the hearts in whichever chocolate you fancy, or not at all! Sometime a drizzle if just enough. I chose to use sprinkles on my hearts in the photos as it was the look I was hoping for, however I have used freeze dried raspberries before and it looks and tastes amazing too! ENJOY!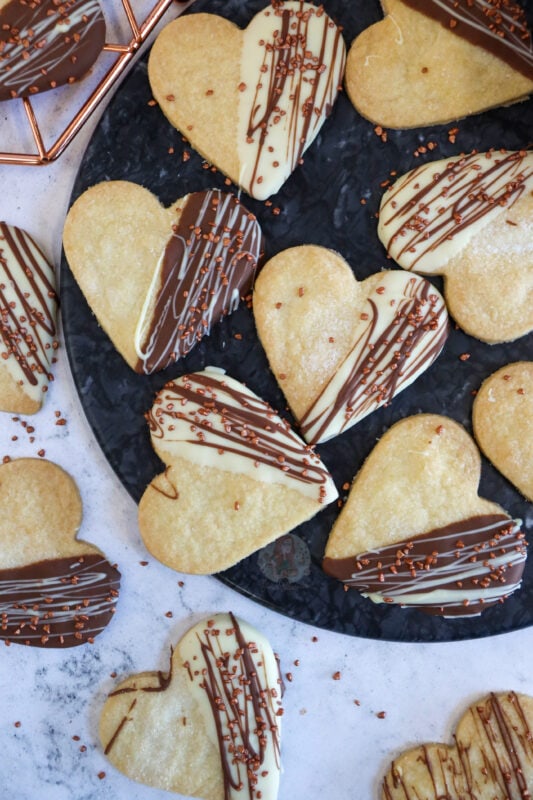 Shortbread Hearts!
Easy three ingredient shortbread hearts coated in white & milk chocolate - perfect easy bake!
Print
Pin
Rate
Ingredients
Shortbread
200

g

unsalted butter

100

g

caster sugar

(plus extra)

300

g

plain flour

(plus extra)
Decoration
75

g

white chocolate

75

g

milk chocolate

Sprinkles
Instructions
Shortbread
Add your butter and sugar to a bowl, and beat together until smooth and fluffy. I used my kitchenaid with the paddle attachment!

Add in your flour, and beat/mix until a dough is formed! Make sure it's combined well.

Lightly flour your surface and roll out your shortbread dough - make sure its 1cm thick!

Cut out your shortbread hearts - I used a 7cm heart cookie cutter, but you can use any shape you fancy of course!

Carefully pick the shortbread up, add put on a lined baking tray. Once they've all been cut up, put them in the fridge for 30 minutes.

Whilst they are chilling, preheat your oven to 180C/160C Fan.

Once chilled, take out of the fridge, and sprinkle lightly with caster sugar!

Bake in the oven for 15-20 minutes, or until they're turning lightly golden.

Once baked, leave to cool fully.
Decoration
Carefully melt your two chocolates, carefully!

As best you can, dip your biscuits into the melted chocolate, half white, and half milk.

Once dipped, drizzle the opposite chocolate onto each biscuit (As you can see from the photos)

Sprinkle with sprinkles if you fancy - and pop back in the fridge to set.
Notes
Cutting into hearts is optional - but this post was originally for Valentines day! 
You can make them smaller or larger, but keep an eye on the baking time!
These will last for 2+ weeks, if stored in a container. 
It's easiest to use a container that's JUST bigger than the cookie to coat them, but otherwise I find a bowl easiest!
This post has been updated in March 2020 - the original shortbread recipe was:

125g butter, 60g caster sugar, 175g plain flour. 
Find my other Recipes on my Recipes Page!
You can find me on:
Instagram
Facebook
Pinterest
Twitter
Youtube
© Jane's Patisserie. All images & content are copyright protected. Do not use my images without prior permission. If you want to republish this recipe, please re-write the recipe in your own words and credit me, or link back to this post for the recipe.
J x