April 23, 2015
No-Bake Caramel Rolo Cheesecake!
*This post may contain affiliate links. Please see my disclosure for more details!*
A delicious no-bake caramel Rolo cheesecake, with a buttery biscuit base, caramel & Rolo cheesecake filling, and even more delicious Rolo themed topping!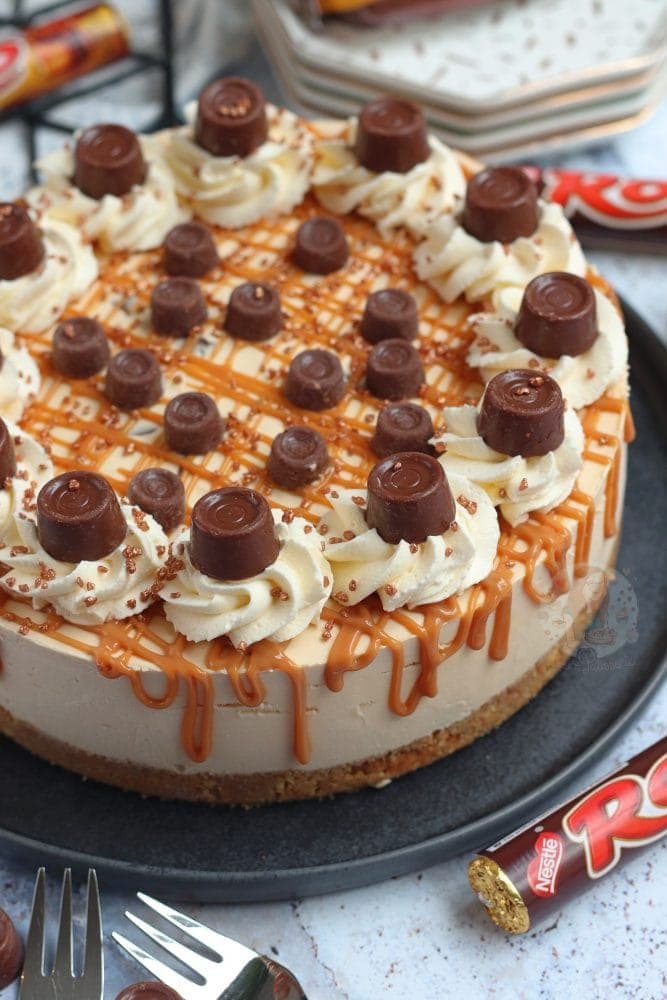 Caramel Rolo cheesecake
As it is back to school/work after the Easter break I thought that I would create the perfect pick-me-up for the week – this deliciously indulgent no-bake Rolo caramel cheesecake. It is seriously SO YUMMY.
I have made a few no-bake cheesecakes in my time now, as well as some scrumptious baked ones too, all of which can be found on my recipes page here. I love how simple they can be and they are so adaptable to a flavour of your choice!
Caramel Rolo flavour
However, this is different in the sense that it isn't based around chocolate for once – its delectably Caramel instead! Don't get me wrong, I LOVE all cheesecake, especially the ones already on this blog, but I craved something different!
I have also been having a Rolo craving a lot recently, which you might start to notice if you follow all of my posts! Rolos are basically the best. So much so, I named my dog Rolo!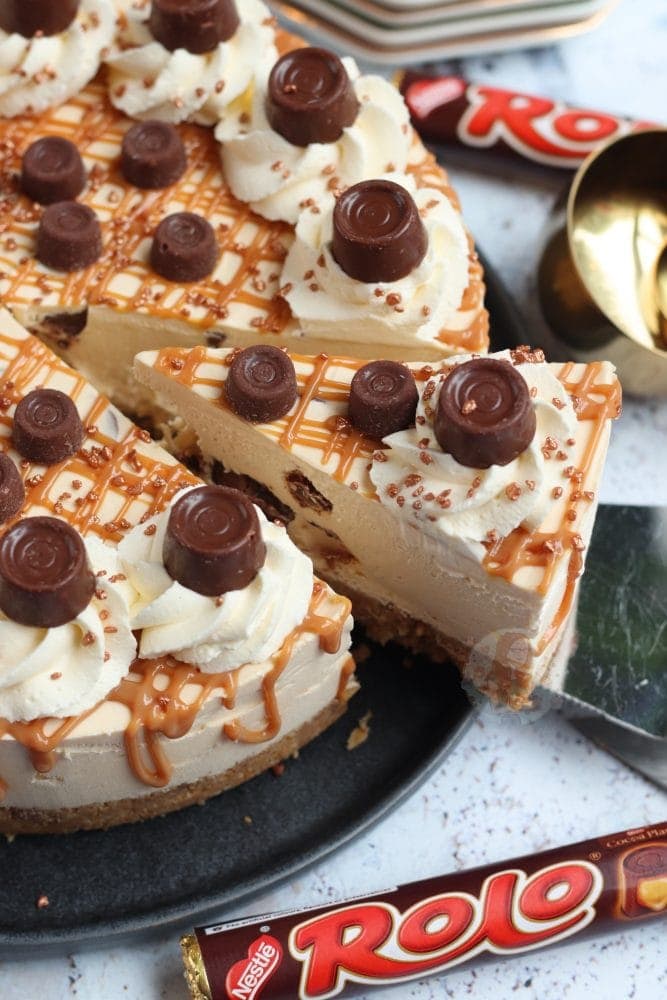 Simple and easy recipe
No-Bake cheesecake's are always easier to make than baked cheesecakes as its so much easier to prepare, you can do it well in advance of when you need/want the cheesecake, and they are so creamy and fluffy and delicious.
This cheesecake has a lot of filling as I love it so much, but if you want to have a smaller one, then simply half the cheesecake filling ingredients! SO EASY, and utterly delicious. Honestly, this is one of the easiest and best things I have ever created, that its still so popular to this day even though the recipe was posted back in April 2015!
Cheesecake
This cheesecake is so incredibly easy to make – simply crush the biscuits you want to use on the bottom and mix with the melted butter, leave to set whilst you make the rest.
Cream together the cream cheese, vanilla, caramel, and sugar in an electric mixer to make sure its all combined well, then add the cream. Whisking until it creates a thick mousse like texture, adding in the chopped Rolo's, and spreading over the scrummy biscuit base.
Set and Decorate
Once the mixture is whipped up lovely and thick, and the Rolos have been added, you really should recommend letting it set for as long as possible. I would personally say the minimum is 6 hours, but I always leave them over night.
If you are in a massive rush, you can freeze it, but then the Rolos will freeze too, and be very hard. It might also then turn sloppy after its thawed! I recommend setting it in the fridge for as long as possible, but if its too soft to serve, put it in the fridge for an hour or so before serving!
I used the medium 2d closed star piping tip to decorate this as always, along with these disposable piping bags for the cream! I then also use these piping bags for the caramel, they make my life so much easier!
Tips and tricks
I have noted from comments from my followers that sometimes the mixture splits – this might be because you have mixed it for far far too long, once it reaches the stage above you should stop as it can't thicken any further!
Also, I seriously recommend a stand mixer, or a handheld mixer on a medium-high speed! Mixers such as handheld blenders won't work once you add the cream, it'll curdle it! This is one that takes longer to whisk sometimes then other recipes, but have a watch of the video, and you can see that it does thicken!
I use the whisk attachment on my Kitchenaid, or on my hand mixer. Its one of those ingredients mixes that can look a little weird, but just don't walk off from it! It will go from being too runny to perfect very quickly, just like with whipped cream. Either way, its worth a go because its a DELICIOUS recipe, enjoy! X
No-Bake Caramel Rolo Cheesecake!
A delicious no-bake caramel Rolo cheesecake, with a buttery biscuit base, caramel & Rolo cheesecake filling, and even more delicious Rolo themed topping!
Print
Pin
Rate
Ingredients
Biscuit Base
300

g

digestives

150

g

unsalted butter
Cheesecake Filling
500

g

full fat cream cheese

1

tsp

vanilla extract

100

g

icing sugar

150

g

caramel

(carnations)

300

ml

double cream

175

g

Rolos

(chopped)
Decorations
150

ml

double cream

2

tbsp

icing sugar

50

g

caramel

(carnations)

Rolos

Sprinkles
Instructions
Biscuit Base
Blitz the biscuits in a food processor or bash them up until they resemble breadcrumbs and mix the biscuits with the melted butter. 
Cheesecake Mix
Using an electric mixer, I use my KitchenAid with the whisk attachment, whisk together the cream cheese, vanilla, icing sugar and caramel until smooth and lump free – this could take 30 seconds or so, I whisk it at a medium speed (level 6/10).


Pour into the mix the double cream and continue to whisk for a couple of minutes until its very thick and mousse like (I mix it on a medium-high speed, level 6/10)


Chop the Rolos up into halves/quarters and fold through the cheesecake filling. Spread over the biscuit base and leave to set in the fridge for 6 hours, or preferably overnight.
Decoration
To decorate the cheesecake, whip together the cream and icing sugar!

Drizzle the cheesecake with some caramel and pipe the whipped cream around the edge – sprinkle on some Rolo's and sprinkles.

Notes
I seriously recommend using a 8″/20cm deep springform tin in this recipe and all my cheesecake recipes!
I would also recommend using:
You can use mascarpone or Philadelphia for this - you just have to make sure that it is full-fat cream cheese so you know its going to set!
I always set my cheesecakes in the fridge overnight otherwise they risk being a little runny still and slipping off the biscuit base but if you want to risk it then go for it! If you think its not setting, 99% of the time its because you didnt whip it enough! 
If it looks like your cheesecake isn't setting, or its a but sloppy, or you're even not sure.. try it anyway. Try to set the mix anyway! If it still doesn't set, freeze it and have an ice cream cheesecake!
Recipe updated September 2019 - Only change was to use 300g of digestives, rather than 150g of digestives and 150g of crunch creams!
You can find me on:
Instagram
Facebook
Pinterest
Twitter
Youtube
J x
© Jane's Patisserie. All images & content are copyright protected. Do not use my images without prior permission. If you want to republish this recipe, please re-write the recipe in your own words and credit me, or link back to this post for the recipe.
246 Comments