June 27, 2015
Lemon Posset Tart!
*This post may contain affiliate links. Please see my disclosure for more details!*
Deliciously Creamy Lemon Posset on top of a Buttery Biscuit Base – Yummy No-Bake Dessert based on a Classic… the Lemon Posset Tart!
I have always adored Lemon Posset as its so simple yet simple scrumptious. Who knew that combining sugar, cream & Lemon could lead to something SO good?!
When I worked at a cafe a few years ago, they made afternoon teas every day… one of the preparations for this was to make mini individual Lemon Posset's with a raspberry on top.
It's a very simple dessert to make in reality. All you do is add the cream and sugar together, heat and boil in the pan, and then add the lemon zest and juice! It really is only three ingredients (technically four if you claim lemon zest/juice is two!)
I however always crave something biscuity with my Lemon Posset's so decided to ramp up the standard recipe a tad and make it into a Lemon Posset Tart! And do you know what this means? It's Basically just a No-Bake Lemon Tart and who doesn't love that idea!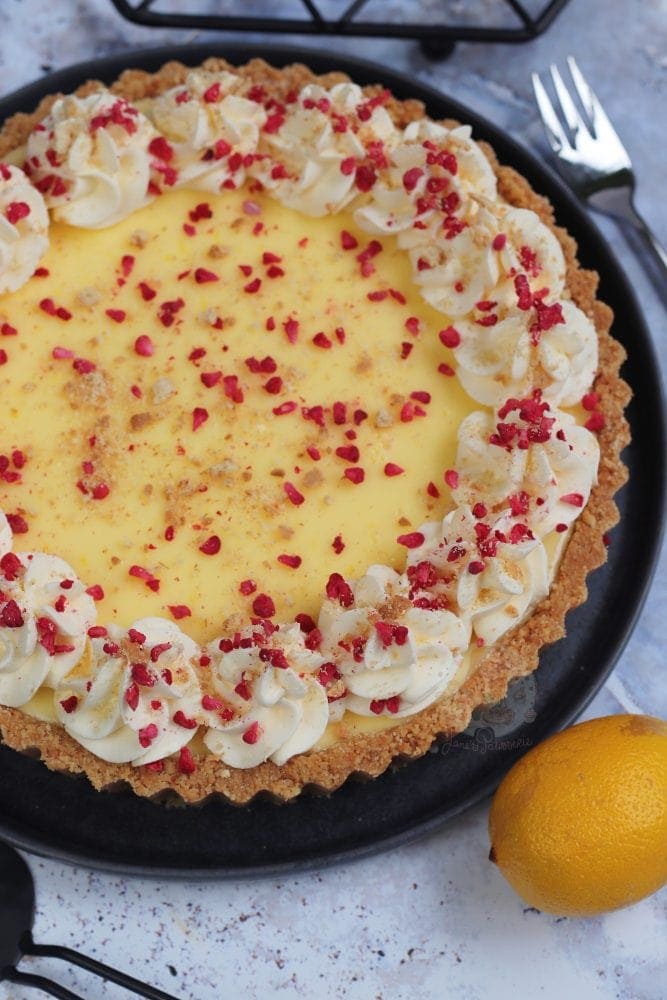 I realise that this looks a lot like a Cheesecake but its not, its simpler then that and SO MUCH EASIER! Technically yes you need a hob to be able to do it, so you are 'cooking' something in a way, but it's still just a five ingredient tart without the decoration!
For the base, I simply used a standard Cheesecake style base of 300g of biscuits to 150g of melted unsalted butter, and topped it with all of the Lemon Posset mixture – easy!
I find that Possets in general are a very easy dessert – the ratio of 200ml of cream to 1 lemons worth of zest is what works best, and its deeeelicious! However, that isn't enough for this tart, so 600ml Double Cream is needed!
You can obviously just make this in to individual Posset's leaving out the biscuit base, or even serve them individually! If I do that, I usually make 8-10 portions of of this mixture! Or if you go mini, use shot glasses!
The setting part is a little weird, as the mixture (because of what you do to it) sorta ends up jelly like, but it's thicker, and completely natural! The top of the tart naturally colours quite yellow as well, which helps with the Lemon theme!
For the decoration, I go simple. It's completely and utterly optional (as always!), but whipped swirls of cream, a sprinkle of a crushed biscuit, and some freeze dried raspberries! Simple, yet elegant.
I hope you love this as much as I do! Enjoy! x
Lemon Posset Tart!
Deliciously Creamy Lemon Posset on top of a Buttery Biscuit Base - Yummy No-Bake Dessert based on a Classic... the Lemon Posset Tart!
Print
Pin
Rate
Ingredients
Biscuit Crust
300

g

Digestives

150

g

Unsalted Butter

(melted)
Lemon Posset Filling
600

ml

Double Cream

200

g

Caster Sugar

Zest of

3

Lemons

75

ml

Lemon Juice

(about 2 lemons)
Decoration
150

ml

Double Cream

2

tbsp

Icing Sugar

Biscuit Crumbs
Instructions
Blitz the Digestives in a food processor and add the melted Unsalted Butter, pulse together until combined.

Spread onto the bottom and sides of an 23cm Tart Tin. I usually start on the sides, and then cover the bottom last!

Pour the Double cream and Caster Sugar into a large pan and heat on the hob gently, stir till the sugar has dissolved.

Turn the heat up (medium heat max!) and heat the mixture till it starts to boil gently, stir frequently to stop the mixture from catching on the bottom – let it boil for 1 minute and then turn off the heat.

Stir in the Lemon Zest and Fuice and pour onto the biscuit base – refrigerate for 4+ hours, or preferably overnight so it has time to set properly!

Once set, decorate how you please – I mix 150ml Double Cream with 2 tbsps Icing Sugar and pipe on, and then use some Freeze Dried Raspberries, and some Biscuit Crumbs!
Notes
This is obviously a giant Posset so it takes longer to set then Posset's in individual glasses so be patient with the setting!
If you want to try a different Citrus flavour then go ahead! Just make sure you stick to the same amount of Zest and Juice so that it will still set! 
This will last in the fridge, covered, for 3 days!
You can buy freeze dried raspberries from places such as Waitrose, Lakeland, Sainsburys, or a much bigger amount online! 
I recommend using this 23cm tart tin for the recipe!
Also... TOP TIP - I find it's MUCH easier to pour the lemon mixture into the tin whilst in the fridge, so I don't have to move the tin after it's full. But I get this isn't possible for everyone!
ENJOY!
Find my other Dessert Recipes on my Recipes Page!
You can find me on:
Instagram
Facebook
Pinterest
Twitter
Youtube
J x
© Jane's Patisserie. All images & content are copyright protected. Do not use my images without prior permission. If you want to republish this recipe, please re-write the recipe in your own words and credit me, or link back to this post for the recipe.