September 4, 2015
Lemon & Blueberry Muffins!
*This post may contain affiliate links. Please see my disclosure for more details!*
Moist & decadent lemon & blueberry muffins full to the brim with blueberries – Perfect summer bake for a random treat, or even breakfast!
I have a ridiculous amount of cupcake recipes on this blog, and sometimes I feel this is unfair to its sibling – the muffin. I have often heard from people that muffins are so much harder to bake if you want them to rise, taste good, be moist, and not be rock solid.
My white chocolate & raspberry muffins recipe demonstrates along with my easy bake triple chocolate muffins that you CAN get moist & delicious cupcakes with ease! Whether the muffins are fruity, chocolatey or even plain, the should still be light and moist but feel like a treat!
These muffins however are something else… I love blueberries, and using blueberries in cakes is even better but I get sometimes that it can be difficult. I honestly have never had a problem with this recipe and they always taste delicious and yummy every single time!
For these muffins I use unsalted butter, eggs, caster sugar and self-raising flour, salt and milk. You then fold in your lemon and blueberries and bake – it really is that easy. I use fresh blueberries with this bake as I believe not only do they work best but you cant beat the taste of fresh, juicy blueberries.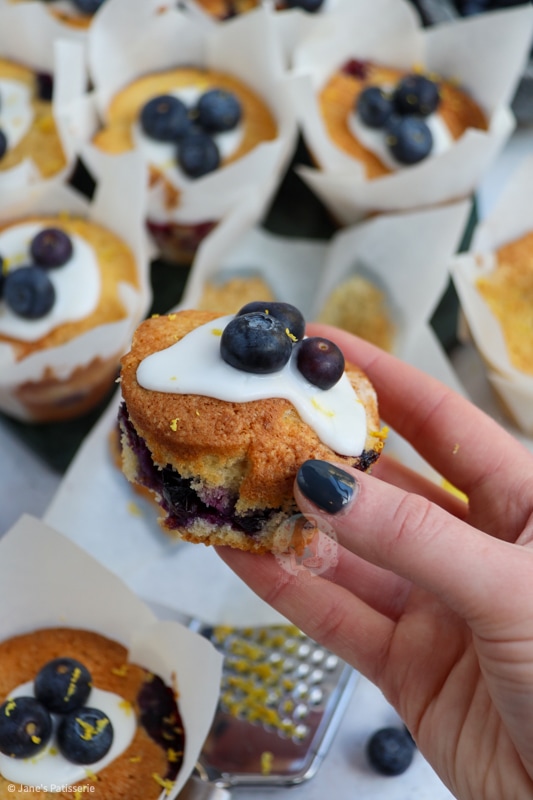 It may sound like a slightly weird recipe, but it really is just a cupcake batter change to suit the extra freshness from the blueberries, as well as having a more muffin like texture. I used self raising flour as I wanted a fluffy texture, but you need the milk to make the batter work as best as possible.
It's always important to use FULL-FAT products when baking as the fat content is key to best results, no matter the recipe. Milk, cream, soft cheese, butter, etc… always use full-fat. You can make these dairy free though by substituting the butter and milk to a full-fat dairy alternative!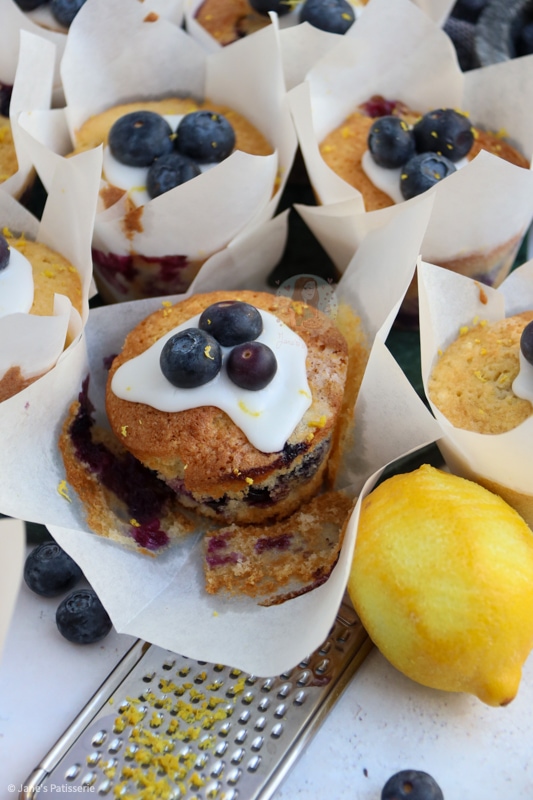 For something a little different, you can add some granulated sugar to the top of the muffins before baking for a crunchy texture. A small amount of icing also works well as a topping but there is also no problem with just leaving these one plain – the flavour combinations sings for itself!
I used a blog of icing made with icing sugar and lemon juice for a sweet but sharp flavour, and used this to stick some blueberries and little finely grated lemon zest. This is of course optional as I mentioned above!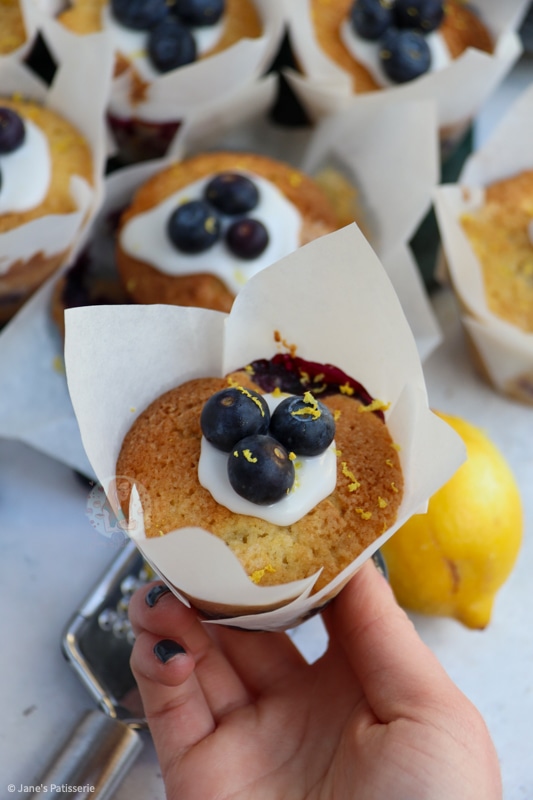 Lemon + Blueberry is one of the best fruity combinations that exists and I know a lot of you agree – my lemon & blueberry sweet rolls recipe is another of these delightful combination that has been a major success on this blog! To try some other flavours of muffin goodness, try my chocolate orange muffins or my biscoff muffin recipe is simply divine.
These muffins, as they are one of the best combinations – make these perfect for part of your breakfast, a snack, or even a dessert – they're perfect for everything! As they are such an easy flavour, they can be enjoyed by all the family young and old! I hope you enjoy the recipe – let me know how you get on! x
Lemon and Blueberry Muffins!
Moist & decadent lemon muffins full to the brim with blueberries - Perfect summer bake for a random treat, or even breakfast!
Print
Pin
Rate
Ingredients
Muffins
115

g

unsalted butter

250

g

caster sugar

2

medium eggs

beaten

250

g

self raising flour

1/2

tsp

salt

125

ml

whole milk

zest of 2 lemons

200

g

blueberries
Decoration
100

g

icing sugar

1-2

tbsp

lemon juice

100

g

blueberries

lemon zest
Instructions
Muffins
Preheat your oven to 180C/170C fan and line a 12 hole muffin tray with cases

Cream together the unsalted butter and caster sugar until full combined (I find a stand mixer is easiest for this)

Add in the eggs and milk a little at a time until the mixture is fully combined

Add in the self raising flour with the salt and combine again - you will know when it is done as the mixture will be cake like.

Fold through the lemon zest and blueberries then pour the mixture evenly into the 12 cases

Bake in the oven for 25 minutes until cooked through

Leave to cool fully in the tin or on a wire rack
Decoration
Once the muffins have cooled, whisk together the icing sugar and lemon juice until thick.

Dollop a little onto each muffin, and stick down some blueberries. Sprinkle on a little lemon zest, and enjoy!
Notes
I seriously would recommend using fresh blueberries for this as it always works better for me - but feel free to try with frozen, particularly in the winter months - but I can't guarantee it'll work!
If you fancy an added crunch to your muffins the sprinkle a little bit of granulated sugar onto the top of the cakes before baking!
These last for 2-3 days in an airtight container!
ENJOY!
Find my other Recipes on my Recipes Page!
You can find me on:
Instagram
Facebook
Pinterest
Twitter
Youtube
J x
© Jane's Patisserie. All images & content are copyright protected. Do not use my images without prior permission. If you want to republish this recipe, please re-write the recipe in your own words and credit me, or link back to this post for the recipe.