December 21, 2015
No-Bake Terry's Chocolate Orange Tart!
*This post may contain affiliate links. Please see my disclosure for more details!*
A DELICIOUS No-Bake Terry's Chocolate Orange Tart – a No-Bake Crust, and a No-Bake filling… heaven!
Obviously, I am obsessed with Terry's Chocolate Orange… I now have SEVEN recipes dedicated to the delicious Chocolate that is all worldly and holy – but this one is SO easy to make, and so delicious to eat it is silly.
Obviously, one of my best successes so far is my No-Bake Chocolate Orange Cheesecake – its the second most popular recipe on my blog by far, and you all LOVE it!
But this little beauty is for those of you who want something deliciously No-Bake, creamy, chocolatey orangey – but even easier than my cheesecake! It's basically just the cheesecake, but without the cream cheese, but hey ho… it's delicious. And definitely one for those who hate cream cheese!
A few weeks ago I posted my recipe for my No-Bake Honeycomb Crunchie Pie and you all loved how easy it is, and how delicious it is. Even my boyfriend, who is equally as cheesecake obsessed as I am, LOVED that Pie.
The method for this, is very similar to the crunchie pie – a delicious biscuit crust, and a smooth, chocolatey and creamy filling that takes minutes to make – perfection.
Seriously though – this dessert is SO incredibly easy to make – like its easier than my cheesecakes as there are fewer ingredients, and as there are sides of biscuit crust, it doesn't have to hold itself!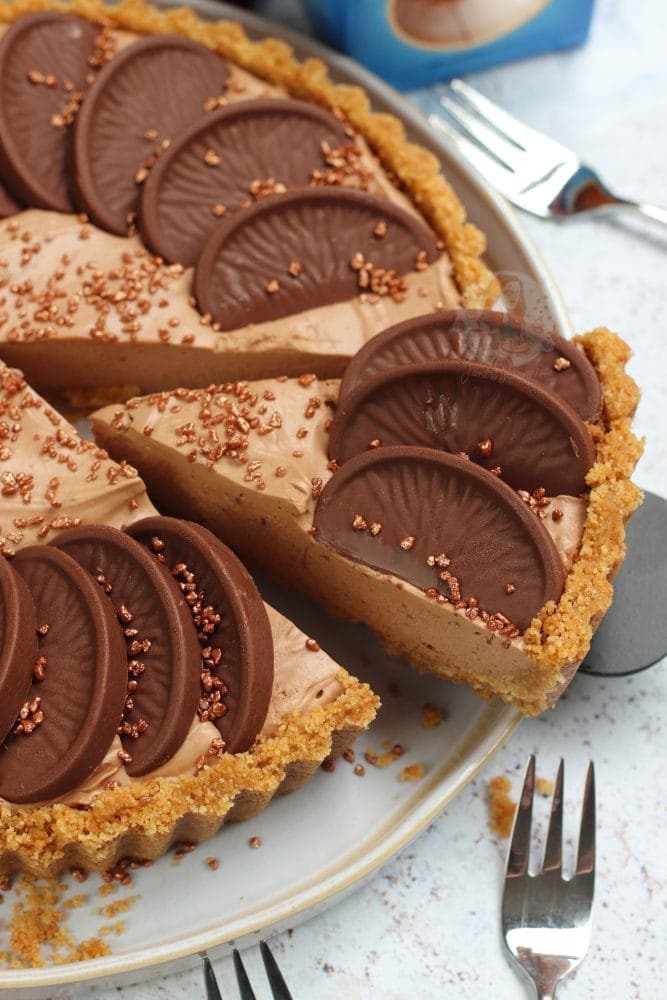 This is definitely going to be on my dessert table this Christmas as all of my taste testers utterly loved and adored eating it – some people may think when I say this that I have made it up to sound good – but honestly, they LOVED it. (And all the other recipes they review!)
For the base you can use other biscuits – but I love a digestive. It's the best base biscuit for any time of cheesecake or no-bake tart in my opinion and is the king of biscuits for basically anything else.
You could use Oreos like in my No-Bake Honeycomb Crunchie Pie, or you could use Graham Crackers or anything! The ideas are endless – and any biscuit would match the delicious creamy filling!
I realise that this dessert does look quite plain in comparison to most other desserts on my website, but that's not necessarily a bad thing. Honestly, just blitzing all the biscuits in, whipping the middle up and slapping on a load of Terry's Segments, and you have a simple yet DELIGHTFUL dessert.
You can make any other flavours you want as well, but I stuck to Terry's, because obviously… it's the best. ENJOY!
No-Bake Terry's Chocolate Orange Tart!
A DELICIOUS No-Bake Terry's Chocolate Orange Tart with a No-Bake Crust and No-Bake Filling - heaven!
Print
Pin
Rate
Ingredients
Biscuit Base
300

g

Digestives

100

g

Unsalted Butter
Tart Filling
300

ml

Double Cream

75

g

Icing Sugar

250

g

Terry's Chocolate Orange
Decoration
Terry's Chocolate Orange

Sprinkles
Instructions
For the Biscuit Base
Using a Food Processor, or a large bowl with a rolling pin, blitz your biscuits up to a fine crumb.

Melt your butter, and mix it in till combined.

Press into the sides and base of a 23cm Pie/Flan Tin - I tend to squish the sides in first, and then do the base of it. 
For the Filling
Chop the Chocolate up and melt in a bowl over a pan of simmering water - or in the microwave in short bursts on a low heat. Leave to cool slightly.

Whip the Cream and the Icing Sugar up to soft peaks, I tend to use an electric hand whisk for this bit as I am lazy, but you can easily do it by hand with a bit of arm power.

You don't want to whip the cream up too much, as soft peaks are best for folding in chocolate.

Fold through the slightly cooled Terry's Chocolate Orange, and then spread the mixture onto the biscuit base.

I then add my Terry's Chocolate Oranges slices and sprinkles now so they set into the tart - but you can also do this after.

Leave the Tart to set in the fridge for 5-6 hours, or overnight.
Notes
I nearly always use the Milk Terry's Chocolate Orange as its my favourite, but there are so so so many types now you can use which ever you fancy!
If you want a stiffer set, then don't whip the cream up, stir in the liquid double cream and it'll be less moussey!
You can easily double up the recipe to make a bigger & deeper pie – add another half of the base recipe (I.e. use 450g Digestives, and 150g butter) and double the filling recipe! Use a 25cmx5cm deep tart tin!
This dessert will last in the fridge for 2-3days, covered.
ENJOY!
Find my other Dessert & No-Bake Recipes on my Recipes Page!
You can find me on:
Instagram
Facebook
Pinterest
Twitter
Bloglovin'
Youtube
J x
© Jane's Patisserie. All images & content are copyright protected. Do not use my images without prior permission. If you want to republish this recipe, please re-write the recipe in your own words and credit me, or link back to this post for the recipe.