January 29, 2016
Jammie Dodger Cupcakes!
*This post may contain affiliate links. Please see my disclosure for more details!*
Delicious Vanilla & Jammy Cupcakes, topped with a Luscious Frosting, and a Jammie Dodger of course! The ultimate Jammie Dodger Cupcake!
Cupcakes are the absolute Bees Knees when it comes to treats – they're always a hit at parties, and they always go down well with my Trusty Taste Testers. Jammie Dodger Cupcakes though?! Oh my.
It doesn't matter what type of recipe it is for a cupcake, but cupcakes in general are ALWAYS what people will go for if there is a choice of cake! It means you get your own one, and you don't feel so bad if you have two!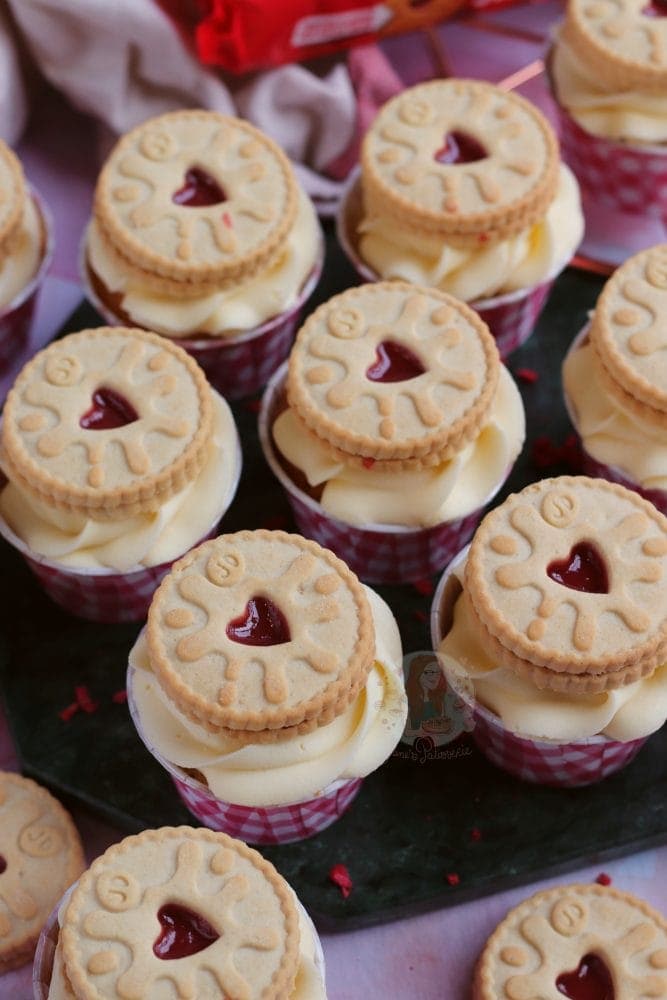 I posted my recipe for my Custard Cream Cupcakes way back in September, and they're always a hit with my friends and family – because come on, who doesn't love Custard Creams?! And the same with my Oreo Cupcakes – they're heavenly.
However, I have had SO many requests for these that I simply had to oblige. Biscuit related bakes will ALWAYS do well I find, as the biscuits themselves are so damn iconic! Bourbon Biscuit Cheesecake anyone?!
I used my Easy Vanilla Cupcakes for the base of the cupcake, and the vanilla frosting – but I obviously swapped a few things up so that it fit with the delightful and classic Jammie Dodger!
To make it a Jammie Dodger Cupcake, I added in a dose of jam into the middle of the cupcakes as I love Jam, and then added a Jammie Dodger.. not much difference, but still delicious. Enough to be a Jammie Dodger Cupcake!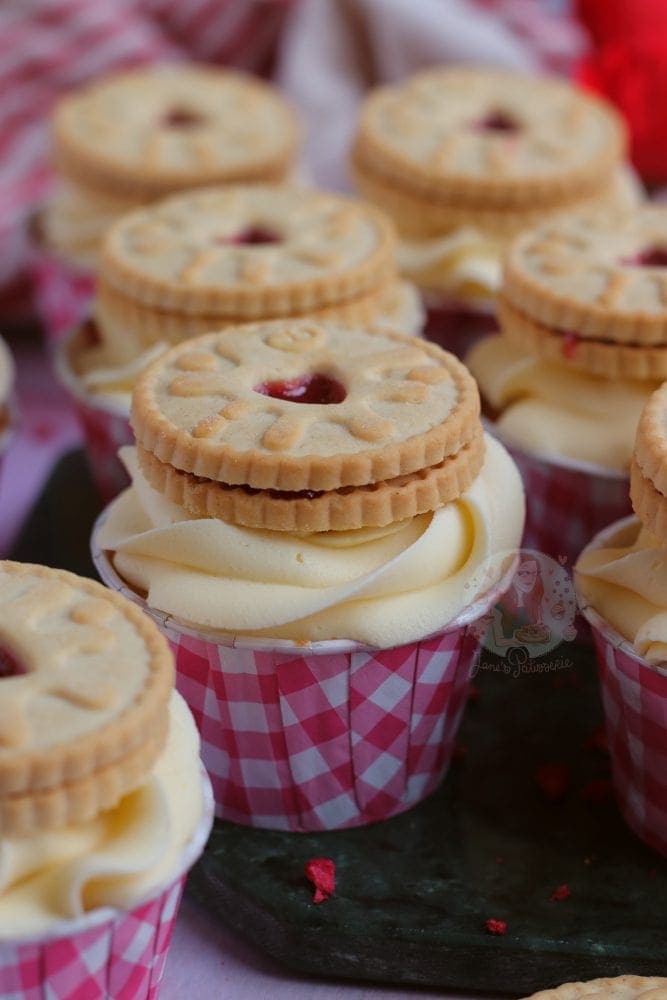 Jammie Dodgers have always been a favourite biscuit of mine, so making them into a cupcake was perfection in my mind – I hope you like the recipe!
As always, I used my favourite baking cups from Iced Jems – because I LOVE THEM. I can't help it, I just absolutely adore them. You can bake onto a flat tray, they turn into their own mini plate – and they're just so cute!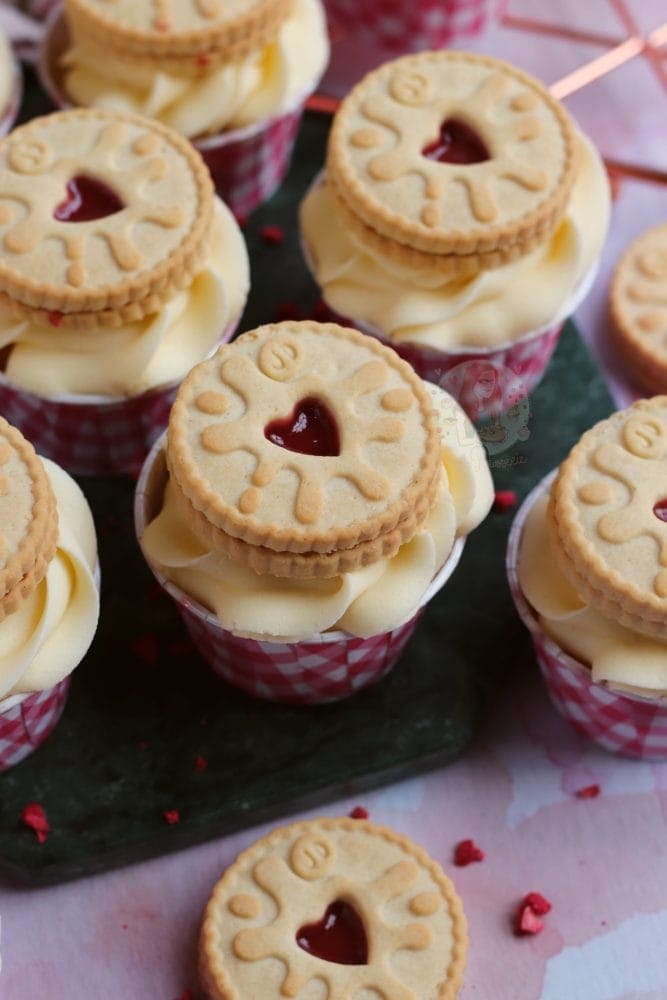 For the decoration, I used my other favourite… a 2D Closed star piping tip. You will notice after a while of following my blog that I obsessively use this tip. It creates the most beautiful swirl. However, you can basically use whatever you want as the Jammie Dodger goes on the top!
If you wanted, you could easily add in a Jammie Dodger into the bottom of the baking cup, but as most packets these days only contain 8 Jammie Dodgers, it was a lot of packets I'd have to buy.. so I resisted this time!
I personally found that raspberry jam worked best with these – but as you can get so many flavours of Jammie Dodgers these days, and that you can make your own Home-made Jammie Dodgers, you can use whatever jam you fancy in the middle!
I just loveeee a biscuit related cupcake – and I hope you love these too! Enjoy!!
Jammie Dodger Cupcakes!
Delicious Vanilla & Jammy Cupcakes, topped with a Luscious Frosting, and a Jammie Dodger of course! The ultimate Jammie Dodger Cupcake!
Print
Pin
Rate
Ingredients
Cupcakes
150

g

Unsalted Butter/Stork

150

g

Caster Sugar

3

Medium

Eggs

150

g

Self Raising Flour

1

tsp

Vanilla Extract
Buttercream
150

g

Unsalted Butter

(not stork)

300

g

Icing Sugar

1/2

tsp

Vanilla Extract
Extras
12 heaped

tsps

Jam

12

Jammie Dodgers
Instructions
Preheat your oven to 180C/160CFan and get 12 cupcake cases ready!

Cream together the Butter and Caster Sugar with an electric beater till smooth

Add in the Beaten Eggs, Flour and Vanilla and beat again till smooth!

Split between the 12 cases evenly - bake in the oven for 17-20 minutes. I usually do 18 minutes!

Once baked, cool on a wire rack!

Once the Cupcakes are cooled, hollow out the middle slightly like you would for a butterfly cupcake, and add in the spoonful of jam.

Beat the Butter until smooth – this can take a couple of minutes and its important that its room temperature so that it mixes in with the sugar easier.

Add in the Icing Sugar 1/3 at a time, making sure the sugar is fully incorporated until moving on! I use my KitchenAid for Frostings as the machine can make it so much lighter and fluffier!

Once all of the Sugar is in the Frosting mix, keep on beating the Frosting but add the Vanilla, and then I usually add in 1 tbsp of boiling water to get a smooth consistency.

Pipe or slather your frosting on to your cupcakes and add the delightful Jammie Dodger, and enjoy!
Notes
You can be adventurous and use a Jammie Dodger on the bottom of the cupcake as well, but they get a bit of a softer texture once they've been baked – but its up to you!
I also just use a Vanilla Frosting, but you can use a flavoured one too!
These Cupcakes will last in a container for 3 days at room temp!
I recommend using Baking Cups for the recipe as they're so amazing!
I used my favourite 2D closed star piping tip too!
ENJOY!
Find my other Cupcake Recipes on my Recipes Page!
You can find me on:
Instagram
Facebook
Pinterest
Twitter
Youtube
J x
© Jane's Patisserie. All images & content are copyright protected. Do not use my images without prior permission. If you want to republish this recipe, please re-write the recipe in your own words and credit me, or link back to this post for the recipe.