February 1, 2016
Terry's Chocolate Orange Truffles!
*This post may contain affiliate links. Please see my disclosure for more details!*
Luscious and scrumptious Terry's chocolate orange truffles that are perfect for a present, or your Valentines day treat!
Chocolate orange truffles
So yeah, I couldn't resist this recipe. I would apologise, but I am not sorry – its just so yummy! Like seriously, I made these for my family and friends as a test recipe for Valentines day this year, and I think I must have eaten half the batch myself! People say I am greedy… I say I am a Terry's chocolate orange addict.
Over Christmas I shared my chocolate truffles recipe, dressed up as little Christmas puddings and they were a massive hit – along with my Oreo chocolate truffles I was inspired to combine them and make these beauties.
Truffle mix
The truffle mix itself is a lot simpler than most, and I wanted to keep it that way as I didn't want to overpower the flavour of the chocolate orange! I did however, like the Oreo chocolate truffles, use a biscuit in the middle so that they were bulked out a bit more, and I find they are far easier to shape when biscuit is involved!
I obviously love the flavour of Terry's chocolate orange (like, you'd think I was sponsored by them with how much I go on about it, but honestly – its just a unconditional love) and truffle form is one of the best.
Other recipes
My Terry's chocolate orange cookies are one of my most popular recipes on my blog, along with my Terry's chocolate orange cupcakes so its no surprise that these, after I made them for the second time, were a MASSIVE hit with my taste testers!
If you wanted to experiment with the truffles, then my go to recipes would either be my Biscoff truffles or my delicious carrot cake truffles. Both flavours I absolutely love so sometimes I like making a batch of each keeping them for movie night!
Simple recipe
These are made up of few ingredients, and are much easier to make than you think. They can be used for homemade gifts which always goes down well – the pure joy you get from every bite is worth its weight in gold!
Handy tools!
I love making truffles and from time to time I get a lot of people asking how I get my coating smooth or how I don't get in a massive mess when making them. I used a very handy truffle dipping tool which is a massive help and I thoroughly recommend. Enjoy!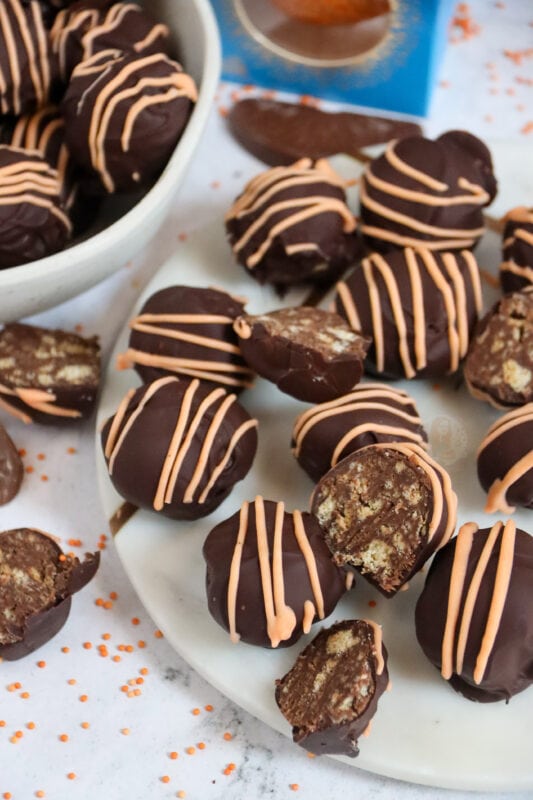 Terry's Chocolate Orange Truffles!
Luscious and scrumptious Terry's chocolate orange truffles that are perfect for a present, or your valentines day treat!
Print
Pin
Rate
Ingredients
Truffle Mix
175

g

milk or dark Terry's chocolate orange

175

ml

double cream

175

g

biscuits

I used digestives
Decoration
225

g

dark chocolate

50

g

white chocolate

orange food colouring
Instructions
Chop your Terry's chocolate orange up into small pieces and leave to the side

Chop your biscuits up to a tiny chunks-fine crumb and also leave to the side but be sure to keep them separate!

Heat the double cream in a pan until its just about to boil and then turn off the heat

Mix in the chocolate orange until it is fully combined and then mix the biscuits into the mixture as well

Alternatively, you can add the chocolate orange and cream to a bowl and microwave until smooth. Then stir the crushed biscuits into the mixture.

Pour it all into a container and leave in the fridge for at least 3-4 hours, or preferably overnight.

Using a cup of hot water, shape the truffles using a melon baller or two spoons to create small rounds – I dip my melon baller into the hot water each time to clean off any excess and make it easier for the mixture to dropout - I also then, if they are misshapen, quickly roll them in my hands to get round!

Place back in the fridge for a couple more hours or in the freezer for at least an hour so the mixture is very cold again to prevent the truffles melting when decorating.

Melt the dark chocolate for decoration and dip each truffle into it (trying to keep the coating light so that not much drips off) and rest on a piece of greaseproof paper

Once all of them are coated, refrigerate until hard

Melt the white chocolate and mix in a little of some orange food colouring

Drizzle on and leave to set in the fridge
Notes
Often if my truffles are misshapen I roll them in my hands so that it becomes smoother and hopefully rounder – you might want to wear some gloves for this though, as it can get messy!
I used this dipping tool to help me with the decorating of the truffles, but you could also stick each truffle into a cocktail stick and stand them up in some polystyrene so the excess drips off itself!
These truffles (if the cream has a good date) will last for 1 week in the fridge!
You can obviously decorate them how you like - but this is my preferred method!
Find my other recipes on my Recipes Page!
You can find me on:
Instagram
Facebook
Pinterest
Twitter
Youtube
J x
© Jane's Patisserie. All images & content are copyright protected. Do not use my images without prior permission. If you want to republish this recipe, please re-write the recipe in your own words and credit me, or link back to this post for the recipe.