April 1, 2016
Spring Pavlova!
*This post may contain affiliate links. Please see my disclosure for more details!*
A Delicious Spring Pavlova that would be a massive hit round the Dinner Table – Decorate with Whipped Cream & your favourite Fruit
Desserts are always a tricky one, when you try to find something that will suit an early dinner, a lunch, or even a normal dinner, then a pavlova is something that everyone will love!
The meringue part of the pavlova is sweet, crunchy and chewy.. and is absolutely full to the brim with freshly whipped cream and delicious seasonal fruit.
I know that meringues can be a bit daunting, but once you know how, they are easy. I have my eton mess with homemade meringues & eton mess traybake recipes up already – and I use mini meringue in them, but you can easily do whatever you like with meringue!
The same mix can make small meringues, or a mahoosively delicious one for this recipe! I love my mini easter pavlovas, or even my large easter pavlova that is quite new on my blog – they are all based on similar recipes just because I utterly adore my meringue recipe!
The pavlova should be made ideally the day before you want it – therefore it can dry out and be the perfect meringue texture – fill it last minute with some freshly whipped cream and some pre-prepared fruit then you are easily done.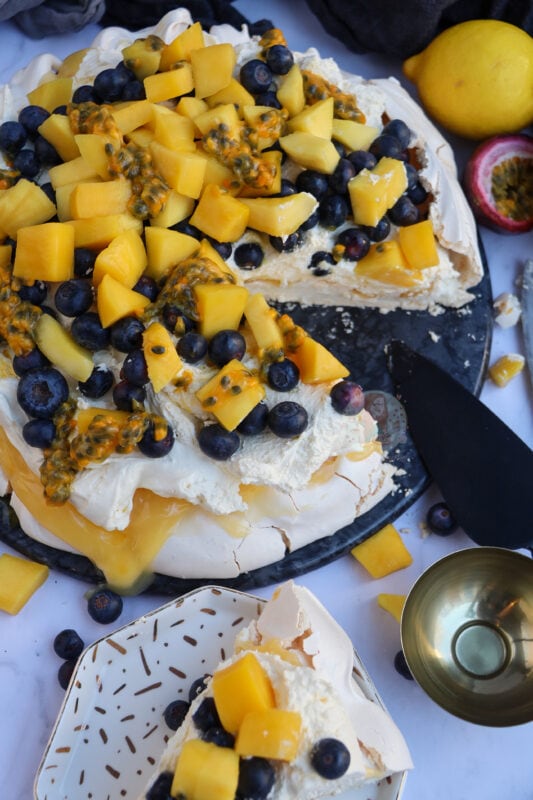 You need to make sure that the bowl and whisk you are using are spotlessly clean – a greasy or dirty meringue can ruin a meringue within seconds – so make sure to make they are clean. Add the egg whites to the bowl, and start to whisk up to stiff peaks.
I add my caster sugar one teaspoon at a time so I don't overload my meringue – I find larger spoonfuls can accidentally ruin a meringue so be careful. Just make sure to whisk the whole time! Then, you add the white wine vinegar and cornflour. These ingredients create the best and perfect texture to a marshmallowy meringue.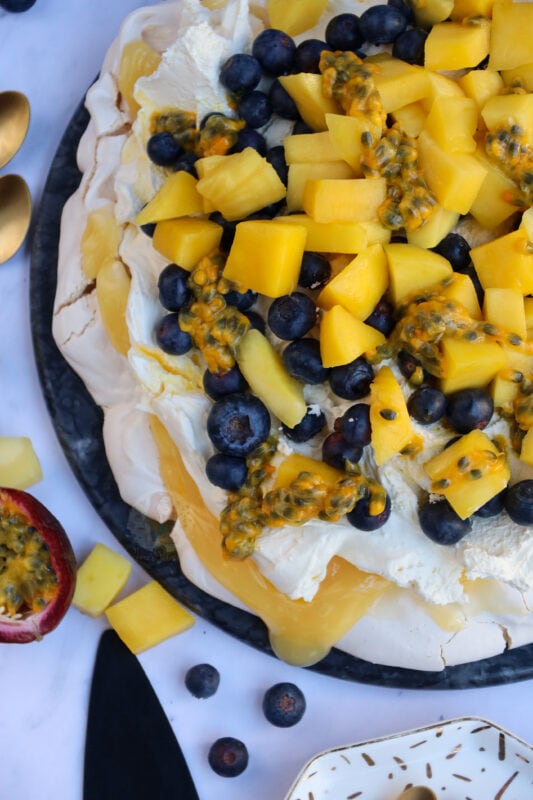 If you want a stress free dessert or you are craving something delicious then you should definitely make this beauty! You can leave the meringue to cool in the oven overnight, and top with the cream and fruit the next dat.
Of course, this recipe is ideal all year round.. just suit the fruit to the season! You could use whatever fruit you wish – summer berries, winter spiced berries, autumnal flavours – whatever you fancy! I used mango, passionfruit, and blueberries on mine – but you can do what you want!
The lemon curd was an extra bit of delicious because I just couldn't resist – and the sharpness to the flavour really complimented the sweetness of the meringue and topping ingredients.
I have many a dessert recipe, and many a meringue recipe – such as my Lemon Meringue Cheesecake, Chocolate Swirl Meringues, Eton Mess, and my Lemon Meringue Fudge! Honestly – I hope you love the recipe! x
Spring Pavlova
A Delicious Spring Pavlova that would be a massive hit round the Dinner Table - Decorate with Whipped Cream & your favourite Fruits!
Print
Pin
Rate
Ingredients
Meringue
5

large

egg whites

300

g

caster sugar

1

tsp

white wine vinegar

1

tsp

cornflour

1/2

tsp

vanilla bean extract
Filling and Decoration
300

ml

double cream

2

tbsp

icing sugar

fruit

(I used mango and passion fruit)

1

jar

lemon curd
Instructions
Meringue
Preheat your oven to 150ºC/130ºC Fan. Draw out a large circle onto a piece of parchment - roughly 10" in size and then place the parchment paper onto a large baking tray!

Whisk the egg whites with a stand mixer or electric whisk until they form stiff peaks.

When you reach this stage, start adding the caster sugar 1tsp at a time whilst still whisking.

Once all of the caster sugar is incorporated it should be glossy, at this point, whisk in the white wine vinegar, cornflour, and vanilla bean extract.

Whisk for a further few minutes to combine the ingredients

Dollop the meringue onto the parchment paper, within the circle you have drawn. Fluff with a fork to have a texture to the meringue.

Bake in the oven for 1 hour – turn off the heat of the oven and leave to cool completely in the oven, without opening the door. I bake my meringues late at night, and leave them to cool overnight to make things easier
Filling and Decoration
Prepare your fruit - chop up any fruits you are using. I chose the mango, and i spooned the inside of the passion fruit into a bowl!

In a separate bowl, whip up the double cream with the icing sugar.

Spread/dollop the lemon curd carefully over the meringue, then spread/dollop the cream onto the meringue as well on top of the cream, and then add the fruit on top! Enjoy!
Notes
I used the mango and passion fruit as I LOVE them combined with cream and meringue - and I think it makes the dessert look spring like! You can of course use whatever you like!
The icing sugar in the cream and the vanilla in the pavlova are optional, but I like my desserts sweet. The vinegar and cornflour in the pavlova are needed to stabilise the meringue, so please don't leave these out!
The pavlova is classic, and it nearly always will have some cracks in it but this is the nature of such large meringues, and is classic for pavlovas!
I used this

Basic baking tray

I use this

Vanilla extract

I use this

baking parchment
ENJOY!
Find my other recipes on my Recipes Page!
You can find me on:
Instagram
Facebook
Pinterest
Twitter
Youtube
J x
© Jane's Patisserie. All images & content are copyright protected. Do not use my images without prior permission. If you want to republish this recipe, please re-write the recipe in your own words and credit me, or link back to this post for the recipe.