August 4, 2016
Toblerone Brownies!
*This post may contain affiliate links. Please see my disclosure for more details!*
Chocolatey, Easy, and Super Delicious Toblerone Brownies, full of Toblerone Chunks.
I *accidentally* bought a large amount of Toblerone the other day, as I had a craving, and it was on offer. I did realise later, however, that three of the large Toblerones might have been a tad excessive (aka 1.2kg of the stuff) so I wanted to bake something with it. I know you can get a giant 4.5kg bar these days, but wow that's a lot of Toblerone!
My Toblerone Cookies have been really popular again recently after posting them on my Facebook page, and I figured that if you all love the cookies, you will LOVE the brownies. They are so fudgy, so delicious and full of the beautiful Toblerone flavour!
My No-Bake Toblerone Cheesecake has always been popular with people and I can understand why… Cheesecake is the best, Toblerone is the best. I wanted something indulgent, chocolatey and heavenly so I knew Brownies would be damn delicious and be a hit. I have made these a few times now so that I could get the recipe correct.
I decided that I would base this recipe on the base recipe that I have used for a majority of my brownies, my Triple Chocolate Brownies. I tried the recipe by just using 200g of Toblerone and then 200g of butter as the chocolate base, but it was a lot more watery then I imagined it could be.
I assume that this is because of Toblerone not being 'just chocolate' so I tried it again but with 300g of Toblerone, and it wasn't as bad… but still took ages to bake. It really is down to the cocoa content of the chocolate – which is why I always insist on people using dark chocolate (At least 70%)
I decided to give up with just using Toblerone, and using 200g of Dark Chocolate and 150g of Toblerone was the winning combination. You could easily just use 200g of Dark Chocolate for the recipe, and only use Toblerone for the chunks if you wish, but I thought I would make mine extra Toblerone-y.
I honestly adore this recipe. I know I basically have to say this, otherwise, why would any of you bake them? But seriously, I adore Toblerone, and I adore Brownies, so together with its heavenly. The chunks of Toblerone running through the Brownies which have a hint of the nougat/almondy chocolatey taste is just yum.
Sometimes brownies can take longer in some ovens, and that's usually down to swapping ingredients, or your oven, or your mixing method. When making brownies, I really recommend you stick to the recipe! Using DARK chocolate in the base mix along with the Toblerone is important! The cocoa content is what helps it bake.
If you are worried that you don't like dark chocolate, then don't be! It just creates a wonderful flavour. When you are mixing the mixture, you want to be careful when folding everything together. You whisk the eggs and sugar as mentioned but then FOLD WITH YOUR HANDS. I never recommend using a mixer for brownies other than the egg part!
Sometimes, ovens can play a part too. I usually find the tiniest of wobbles in the tray, and a mostly clean skewer is the best for knowing brownies are done. If you are worried, use the fridge technique to help firm them up! If you find they have a cakier texture, it just means they are over baked! I hope you adore this recipe, as I definitely did. Enjoy! x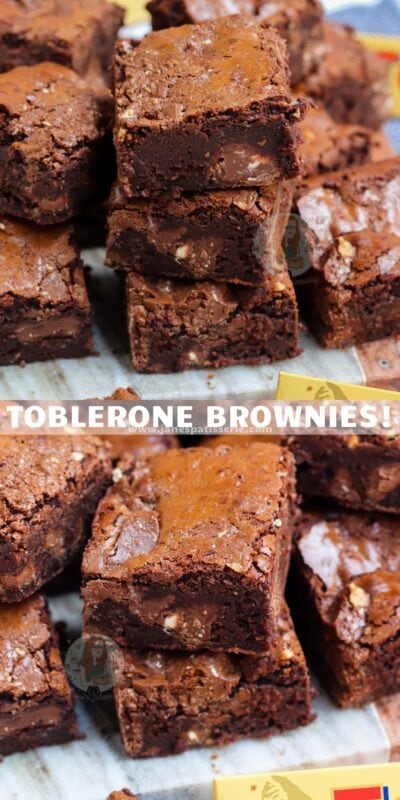 Toblerone Brownies!
Chocolatey, Easy, and Super Delicious Toblerone Brownies, full of Toblerone Chunks.
Print
Pin
Rate
Ingredients
200

g

Unsalted Butter

150

g

Dark Chocolate

150

g

Toblerone

Milk or Dark

3

Large

Eggs

(or 4 medium)

275

g

Caster Sugar

(or light brown sugar)

90

g

Plain Flour

35

g

Cocoa Powder

200-400

g

Toblerone

(chopped)
Instructions
Preheat your oven to 180C/160C Fan and line a 9x9″ square baking tray with parchment paper.

Melt together the Butter, Dark Chocolate and the 150g Toblerone in a heatproof bowl over a pan of boiling water, on the microwave in 20-second bursts until melted. Leave on the side to cool whilst you do the rest.

Using an electric whisk/stand mixer, whisk together the Eggs & Caster Sugar for a few minutes until the colour has turned pale, is very mousse like, and is double the original volume of the amount of eggs + sugar!


You will know its done because when you lift the whisk up out of the mix it should leave a trail for a couple of seconds before disappearing!


When whisked, pour the cooled chocolate/Toblerone/butter mix over eggs and fold together carefully.

Once completely combined, sift the cocoa powder and plain flour on top of the chocolate mix and then fold together again – still be careful to not knock out the air!

Once combined well, fold through the 400g Toblerone Chunks and pour into the prepared tin – bake in the oven for 25-30 minutes**! Once baked, leave to cool in the tin completely.

If you want that epic fudgy texture, you can wait for them to cool and then 'set' them in the fridge for an hour and cut them up after!
Notes
I use the Milk Chocolate Toblerone  but the Dark chocolate one would work too – I wouldn't recommend use White Toblerone for the 150g part, but the 400g chunks throughout the mix would work.

If your brownies are still too soft at 35 minutes, cover with foil and continue to bake for longer. I poke a skewer through them and wait till its mostly clean, and the mixture doesn't wobble in the tin.

 

Set the brownies in the fridge for a fudgey texture!

Warm these up in the microwave and serve with some ice-cream, a delicious dessert for any occasion!

These will last in an airtight container for up to 1 week if they last that long!
ENJOY!
Find my other Traybake & Brownie Recipes on my Recipes Page!
You can find me on:
Instagram
Facebook
Pinterest
Twitter
Youtube
J x
© Jane's Patisserie. All images & content are copyright protected. Do not use my images without prior permission. If you want to republish this recipe, please re-write the recipe in your own words and credit me, or link back to this post for the recipe.