November 3, 2017
My Blog's 3rd Birthday!
*This post may contain affiliate links. Please see my disclosure for more details!*
HAPPY THIRD BIRTHDAY TO THIS BLOG.
Yep thats right, I'm celebrating my blog's third birthday. Honestly, I don't care if people think its weird, but if you're a blogger you know its a thing to celebrate. Its a blogaversary you could say!
Genuinely, this blog has been utterly life changing. It has grown beyond my expectation and I am still in the stage of "holy s*** WHAT" when I see how many people view my blog daily, and the countries that view here, and even the exact blog posts that are popular each day.
When I first started, it was all a bit vague, and I attempted to post three new recipe posts a week with pretty poor pictures, but I have developed it up into what it is now. I only tend to post one new recipe a week on average as it takes up so much more time then I realised now. When I am trying to get on with the other factors of running a website such as the social media and the actual building/admin of the website, I run out of time to bake which is a little sad. HOWEVER, I feel like my website has grown to be something that people trust, and enjoy, and thats all that matters to me.
Countries from ALL ACROSS THE WORLD view this daily, and that is mind-blowing. Like genuinely, WHAT?! I can't believe it. I adore the fact that people bake my recipes across the country, even though I'm only from the south of the UK, it spreads so much further.
Even though I suffer from anxiety, my blog is almost a therapy and a relaxing thing for me, and when I get people tag me in pictures of my recipes, and tag their friends on social media and all the amazing lovely emails and comments I get I just can't help but enjoy what I do.
I still want this to be my career, and its going that way. With two eBooks released now, and my website growing each month and year I can't help but thank each and every one of you for your support. In my third year I am on track to get over 5 million views this year, whereas after my first year I was on half a million. It's grown that much in two years, and its all down to you guys. Thank you. x
My Blogs Third Birthday Cake…
For the Recipes
For the Sponges I used the cake part of my Caramac Cake recipe.
For the Buttercream I used x3 the buttercream from my Easy Vanilla Cupcakes recipe.
For the Chocolate Drip I used the the same method as my Oreo Drip Cake recipe.
For the mini meringues I used the same method as the mini meringues from my Eton Mess with Homemade Meringues post, but only made half the amount, and sprinkled on some Iced Jems Sprinkles, before I baked the meringues.
I then used an Iced Jems Happy Birthday Cake Topper!
For the Method
I followed a similar method to my Caramac Cake recipe, but used a Vanilla Buttercream, Chocolate Drip, and then the mini meringues on top. It's quite simple, but I think its nice!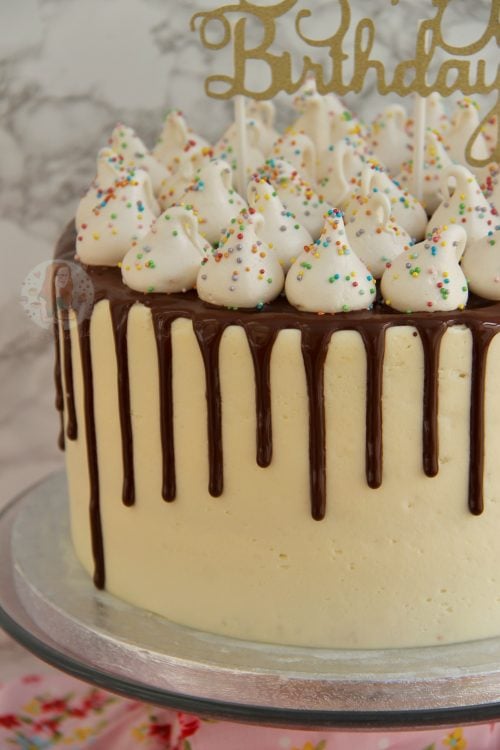 ENJOY!
Find my other Recipes on my Recipes Page!
You can find me on:
Instagram
Facebook
Pinterest
Twitter
Bloglovin'
Youtube
J x
© Jane's Patisserie. All images & content are copyright protected. Do not use my images without prior permission. If you want to republish this recipe, please re-write the recipe in your own words and credit me, or link back to this post for the recipe.