July 27, 2018
Summer Berry Cake!
*This post may contain affiliate links. Please see my disclosure for more details!*
A two-layer summer berry cake stuffed with berries, with a summer berry frosting, coulis, and even more on top!
Summer berry cake!
It's summer, and I HAVE HAD ENOUGH of all this sun. I am the summer grinch basically. I am a redhead, with very pale skin… and I hate the heat. Even more so, baking in this heat is a bit of a struggle to be honest if you have to be in the kitchen all day, but I still crave cake. I am a winter gal, but… I love summer berry flavours. Honestly, locally grown, and DELICIOUS fresh summer berries are the best treat to have.
Recently I posted my summer berry smoothie recipe because I am just so in the mood for berries all the time, but as people don't like my 'healthier' recipes so much, I decided to make a summer berry cake instead!I will admit that I made this in the morning and then decorated in the evening to avoid the heat during the day.. but you might be lucky and not have a kitchen that gets as hot as mine!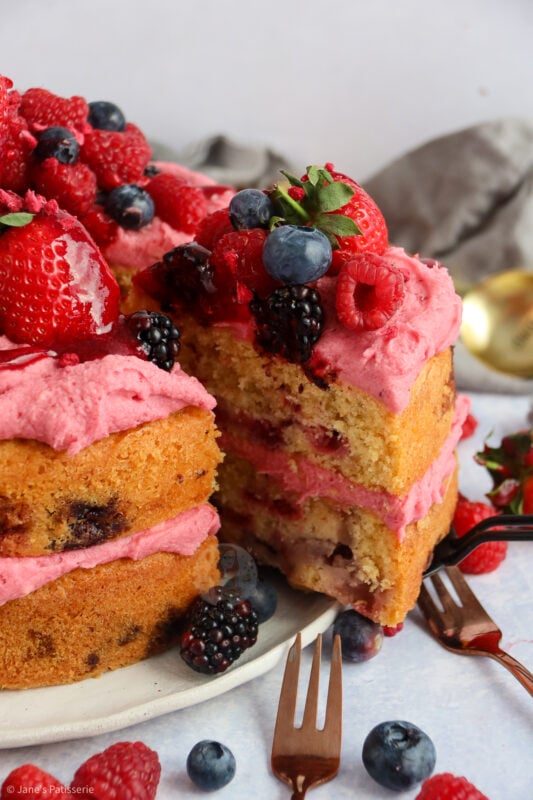 Cake
But anyway… look at it. This summer berry cake is fresh, fruity, light, and delicious. I did decide to go for a two layer cake in comparison to a three layer cake like I did with my Eton Mess Cake, because some people only want two layers.
The amount in the sponges are actually the same, but I love a chunky sponge designed to feed many. I love a decent cake slice, I'm not here for thin and sad looking cake – I want fun along with my cake.
I realise not everyone loves a massive slab of cake, but you can easily cut a thinner slice! Either way, this cake is delightful. It's a bit of a shock and horror moment that there isn't any chocolate in this cake because I do LOVE chocolate in a bake, but this is just something else.
It's the fruitiest cake whilst also being so incredibly fresh. Using your favourite summer berries in the cake means you get the flavour you want!
You can easily make a smaller cake, but why would you want to?! Either way, your fruit might sink a little… and you can try dusting the fruit with flour before mixing into the cake batter, but sometimes this does absolutely nothing for it. I tend to find the longer the cake is in the oven, the more the fruit sinks… but also if its a thin cake batter, they will sink anyway.
Fruit
I went for a mix of raspberries, strawberries, blueberries, blackberries and then some red currants on the top. Using your favourite berries in the cake, and in the homemade coulis, and then the decoration on top? Dreamy.
I didn't use red currants in the actual cake or coulis because I might have forgotten I had any at all… but do they really count amongst the summer 'Berries'? My friend said they were an imposter, but they looked pretty… so thats that.
Another recipe I adore in the summer berry theme is my summer berry cheesecake and this is literally the cake version. I adore it because every bite is fruity, and because its more than one fruit you get so many different flavours in each bite. The different textures as well, makes it even better. I love how soft the fruit makes the cake, keeping it moist, yet still deeeelightful.
Coulis
Making the coulis yourself is completely optional, as you can easily buy a jar from the supermarket.. but I love how you can basically make this coulis whatever flavour you want. For example, it could be made up of one fruit, or two, or 10 if you wanted. I generally find that the best flavouring is an equal mix of ripe berries.
I find if you use berries that are under ripe, they don't have any flavour. However, seeing as the sun is STILL AROUND… berries have no problem with being ripe. Usually, they're overripe, so perfect for making coulis with.
Buttercream
I used the coulis to colour and flavour my frosting and doesn't it just look amazing?! You don't need or want to add too much coulis because my god it'll end up like soup, but the amount I use is ideal.
This does depend on the idea that you have to use BLOCK BUTTER to make this buttercream. You cannot use a spread or margarine as it will make it far too runny!
I beat the butter on its for a little while, add the icing sugar and beat again for several minutes. This makes sure that its all combined really well, and then I GRADUALLY add the coulis whilst beating to make sure it whips up wonderfully.
Decoration
As you can tell from the photos, I pretty much just slathered my frosting onto the layers of cake, and then piled and piled fruit on top of the cakes. I added a drizzle of coulis as well because it always just looks so damn pretty.
You can decorate the cake however you fancy and want though, and that is always okay. Decoration is always personal, but with this beauty… the more fruit the better! ENJOY!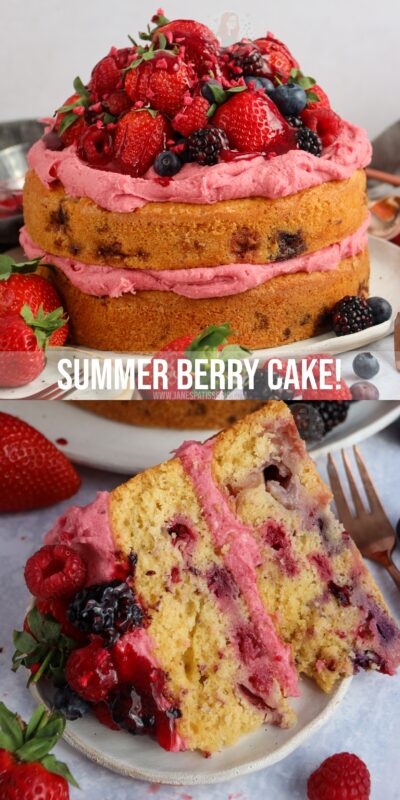 Summer Berry Cake!
A two-layer summer berry cake stuffed with berries, with a summer berry frosting, coulis, and even more on top!
Print
Pin
Rate
Ingredients
For the Cake
300

g

unsalted butter

300

g

caster sugar

350

g

self raising flour

6

medium

eggs

400

g

summer berries
For the Coulis
300

g

summer berries

100

g

caster sugar
For the Buttercream
200

g

unsalted butter

400

g

icing sugar

3-4

tbsp

coulis
For the Decoration
Strawberries

Raspberries

Blackberries

Blueberries

Red Currants

Fruit Coulis
Instructions
For the Cake!
Preheat your oven to 180C/160C Fan, and line two deep 8"/20cm tins with parchment paper.

Add your butter, sugar, self raising flour and eggs to a stand mixer bowl (or other bowl if you don't have a stand mixer) and beat together until smooth. 

Alternatively you can beat the butter and sugar until light and fluffy, and then add in the flour and eggs. 

Fold through the fruit, and split between the two tins.

Bake in the oven for 40-45 minutes, or until baked through. Sometimes because of the fruit it can take a little longer to bake, so keep an eye on it. A skewer should come out clean, and the cake shouldn't bake a bubbling/crackling sound when out of the oven.

Once baked, leave to cool in the tin for 20-30 minutes, and then remove carefully and cool fully on a wire rack. I find it easier to keep the parchment paper on the bottom of the cake when cooling because of all the fruit.
For the Coulis
Whilst the cake is cooling, make your coulis. Alternatively, you can do this at any time and store it in the fridge.

Add your fruit to a medium sized pan. I cut the tops of my strawberries and halve/quarter them depending on their size so they're the same size as the raspberries.

Add your the sugar to the pan, and heat the mixture on a medium heat. Stir it often so the sugar doesn't catch, and mash the fruit down as it softens.

Blitz the mixture so its smoother, and then pass it through a sieve to get rid of any seeds/lumps.

Leave the coulis to cool fully. Store it in the fridge whilst not using for up to 4 days.
For the Buttercream
Beat room temperature unsalted butter (NOT SPREAD) for a few minutes so its really smooth and supple. 

Add in the icing sugar and beat again.

Add in the coulis and beat until smooth. 
For the Decoration
Put your first layer of your cake onto a plate, and slather on half of the buttercream.

Add the second layer of the cake, and slather on the rest of the buttercream.

Decorate the cake with the berries of your choice, and a drizzle more of the coulis!
Notes
This cake should really be stored in the fridge because of the amount fresh fruit, but it does make it slightly firmer once refrigerated. 
Its best on the day of baking.
Frozen berries will produce more liquid when baking so it might take longer to bake. 
You can easily use any shop bought fruit coulis if you don't want to make it!
You can bake a smaller version of the cake by using two 8' tins and:

200g butter
200g caster sugar
200g self raising flour
4 medium eggs
300g of fruit
2/3 of decoration ingredients. 
ENJOY!
Find my other Cake & Summery Recipes on my Recipes Page!
You can find me on:
Instagram
Facebook
Pinterest
Twitter
Youtube
J x
© Jane's Patisserie. All images & content are copyright protected. Do not use my images without prior permission. If you want to republish this recipe, please re-write the recipe in your own words and credit me, or link back to this post for the recipe.
SaveSave