September 24, 2018
Pumpkin Spice Latte Cake!
*This post may contain affiliate links. Please see my disclosure for more details!*
Three layer pumpkin spice latte cake with pumpkin spice coffee sponges, and pumpkin spice buttercream frosting and a chocolate drip!
Autumn!!
So, the season is upon us… Autumn, pumpkin spice latte season… whatever you prefer. But either way, this is the ideal time to post another delicious recipe that involves the wonder that is pumpkin spice. Technically it was the first day of Autumn yesterday, so my timing really is on point.
Pumpkin spice drip cake
I have a few other pumpkin spice recipes on my blog already, such as my pumpkin spice cheesecake, pumpkin spice cupcakes and so on… but I wanted a full on cake. I wanted to create the look that I have been digging for a while now, with an all round beautiful drip cake! My favourite.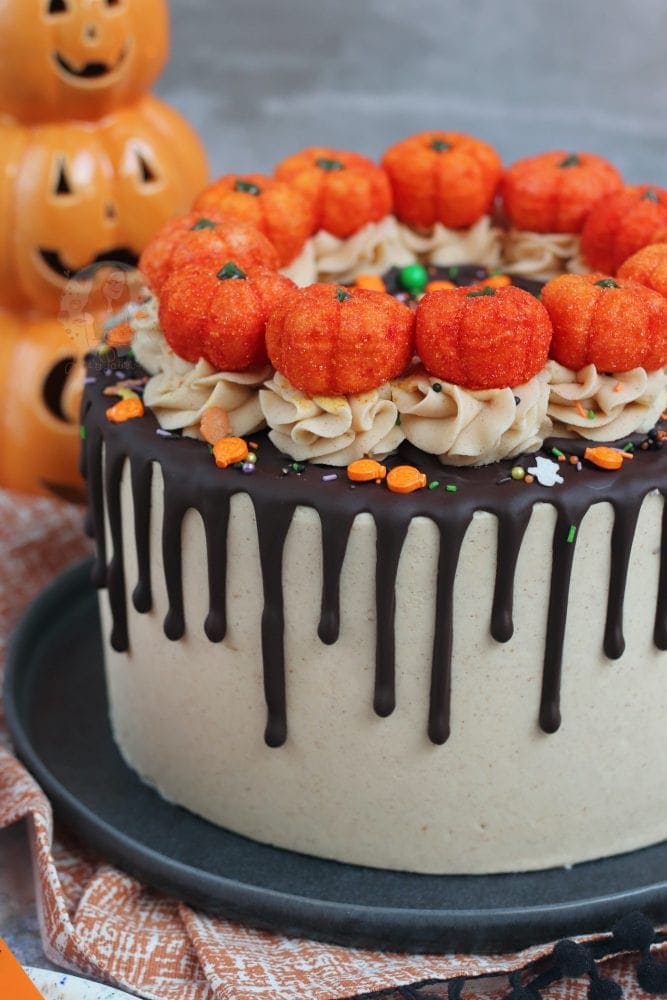 Pumpkin spice
The flavouring of pumpkin spice and I could be wrong here, basically originates from the famous Starbucks drink that is back without fail, every autumn.
It as far as I am aware doesn't actually contain any pumpkin, or at least the spices I used don't. It's a mixture of ground spices, that almost can taste Christmas like if you get the spices mixed up when making it.
Mix together ground cinnamon, nutmeg, cloves, allspice, and ginger and you have a wonderous warming flavour that suits drinks, desserts, and cakes.
Homemade pumpkin spice mix
My homemade pumpkin spice mix is so easy, and the recipe can be found at the bottom of this page.
The main flavouring you get is cinnamon, but the other spices, particularly the ground cloves and allspice, bring it back out of Christmas and into Autumn nicely. Because it is basically a lot of dried spices, you really don't need too much.
You can always use less or more than I specify, but that's entirely up to you. This is basically just a bigger version of my Pumpkin Spice Cupcakes. I have sort of increased it and multiplied it to make it a real showstopper!
Decoration
The cute little pumpkin sprinkles on top are from Wilton, and I am ever so slightly in love with them. I wanted to use the usual pumpkin marshmallows that I have used in the past, as I just couldn't resist them. The marshmallows are from Asda!
I didn't feel like the cake needed toooo much decoration as it looks quite showstopper like as it is, however… any drip cake is quite the showstopper. The contrast of a dark chocolate drip, with the bright orange pumpkins, is beautiful!
Smaller version
There are notes in the recipe on how to make a smaller version of this cake, but I love a three layer cake as you can tell. I always find the height of a three layer cake is pretty much the minimum needed for a drip cake, otherwise the drip won't have far enough to go!
Recipe update
This recipe post has been updated in October 2019, as I wasn't a fan of the original images at all. The original cake sponges were the same, and the decoration the same as my Nutella cake – you need about 2/3 of the buttercream for the original if you fancied making it that way!
I hope you all love this autumnal cake as much as I do!! Enjoy!! X
Pumpkin Spice Latte Cake!
Three layer pumpkin spice latte cake with pumpkin spice coffee sponges, and pumpkin spice buttercream frosting and a chocolate drip!
Print
Pin
Rate
Ingredients
Cake
400

g

unsalted butter

400

g

light brown sugar

400

g

self raising flour

8

medium

eggs

2

tsp

pumpkin spice mix

2

tbsp

instant coffee
Frosting
350

g

unsalted butter

700

g

icing sugar

2

tsp

pumpkin spice mix

1

tsp

vanilla extract
Decoration
75

g

dark chocolate

75

g

milk chocolate

150

ml

double cream

Halloween sprinkles

Halloween marshmallows
Instructions
Cake
Heat the oven to 180C/160C fan and line three 20cm/8inch cake tins with baking parchment – leave to the side.

In a stand mixer, beat together the butter and light brown sugar until light and fluffy.


Dissolve the instant coffee in 2tbsp of boiling water.

Add in the flour, pumpkin spice, eggs, and coffee and beat again briefly until combined. Try not to over beat the mixture! 

Divide the mixture between the three tins and smooth it over – bake for 25-30 minutes until a skewer comes out clean when poked, and when the cake springs back.


Once baked, leave the cake to cool in the tin for 10 minutes, and then remove and leave to cool fully on a wire rack. If the cake has domed slightly, leave the cake to cool upside down to flatten it slightly.

Frosting
Beat the butter on its own in a stand mixer or bowl for a couple of minutes so it's really supple and soft.

Add in the pumpkin spice mix, and the vanilla, and beat again.

Gradually add in the icing sugar until all of it is combined and beat for a good few minutes. 

If it's still really stiff, add one tablespoon of boiling water at a time, until its pipeable.
Decoration
For each layer of the cake, add a sponge, and slather on some of the buttercream. 

Repeat again with the next layer, and then the final layer.

Spread and smooth some buttercream around the top and sides of the cake - personally I find it easier to do a very thin coat first to seal in the crumbs, put the cake in the fridge for 20 minutes, and then do a thicker layer for the final coat.

Set the cake in the fridge again for 20 minutes.

Melt the dark chocolate, milk chocolate and cream carefully until smooth.

Carefully drip the chocolate down the sides of the cake with a small disposable piping bag and then cover the top with the rest of the chocolate. Leave the chocolate to sit for a few minutes, and then pipe on some swirls of buttercream.

Sprinkle on your favourite sprinkles and add some spooky marshmallows!
And you can find a homemade pumpkin spice mix here:
Ingredients
3

tbsps

ground cinnamon

2

tsps

ground ginger

2

tsps

ground nutmeg

1.5

tsp

all spice

1.5

tsp

ground cloves
Instructions
Add the cinnamon, ginger, nutmeg, allspice and cloves to a bowl and whisk until even and incorporated – store in a jar.
ENJOY!
Find my other Recipes on my Recipes Page!
You can find me on:
Instagram
Facebook
Pinterest
Twitter
Youtube
J x
© Jane's Patisserie. All images & content are copyright protected. Do not use my images without prior permission. If you want to republish this recipe, please re-write the recipe in your own words and credit me, or link back to this post for the recipe.
This post may contain Affiliate Links.