February 15, 2019
Salted Caramel Cheesecake Crêpes! – AD
*This post may contain affiliate links. Please see my disclosure for more details!*
Salted Caramel Cheesecake Crêpes with Bonne Maman!
This post is in paid partnership with Bonne Maman!
I really do think that Pancake Day, is underrated. It's advertised well, and nearly every cafe or restaurant under the sun does something special for it – but it's often forgotten about at home. I don't mean that it's forgotten about on purpose or anything, but usually it's an accident.
My Family has always been one of those classic families that sorta forget about Pancake Day. You will have the build up to pancake day, usually muddled in amongst some other celebration (this time Valentines), and you will see squeeze bottles of Pancake mix available in every supermarket.
However, when it comes to the actual day? We always forgot. You'd have a reminder of it the day before due to something you have seen on TV, or all the ingredients everywhere in the supermarket – but then whatever you have done in the day makes you forget!
This year, I wanted to change that. In partnership with Bonne Maman and their Colour Your Crêpe Campaign, I wanted to come up with a recipe that is so irresistible and delicious that you won't be able to forget about Pancake Day until you have demolished some of these bad boys by yourself. Also? Who doesn't love anything Salted Caramel?! Move over Lemon & Sugar.. it's time for something cheesecake related.
I'm not bashing Lemon and Sugar there, because that really is a classic, but come on… these just look insane don't they?! The trick? Practice. I often have a dud couple of crepes at the beginning whilst you get used to the heat of the pan, get the action of moving it around the pan to get it even, and the flipping.
I'm sure in nearly every household there has been a disaster at some point of a Pancake being flipped a little too vigorously and ending up on the ceiling, or on someones head (it's actually happened, don't judge.). But honestly, practice makes perfect. Most batches of Pancake mixture actually make quite a large amount of pancakes, as you need so little mixture per pancake! However, because these are classic and thin crepes, you can eat a lot more.
When I went up to London to learn how to make Classic French Crêpes with Bonne Maman before Le Chandeleur (French pancake day), they had everything. They had two different types of mixes – classic, and a buckwheat beauty which was naturally gluten and dairy free. They had sweet fillings, and savoury! Crêpes Suzette, Crêpes Traditionelle, Crêpes St Marie and more! Honestly, one of the most delicious afternoons I've ever had.
After having learned to make them in such a classic way, I wanted to post a recipe for you guys that you all would adore. I realise it's a bit OTT, in comparison to a classic Lemon & Sugar type make, but honestly so incredibly worth it. Bonne Maman are so well known for their insanely wonderful products, such as all their different jams… but they also have a Salted Caramel spread which is one of the best things on the planet.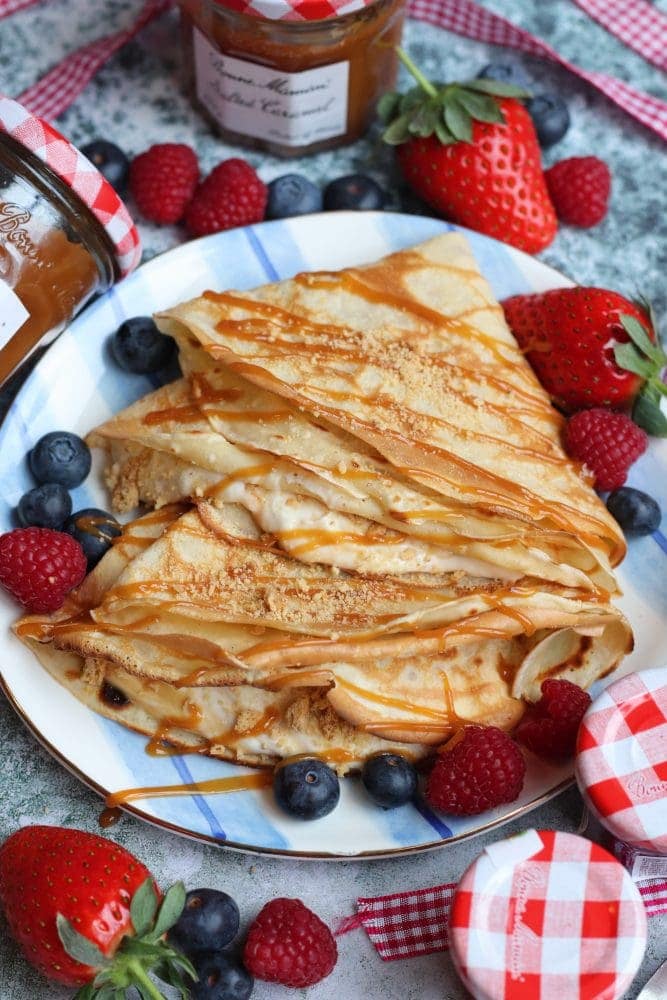 The actual part of this recipe that makes up the majority of it, is just a classic Crêpe recipe, as you can't mess with something so iconic. This recipe is very simple and works well with sweet or savoury fillings, and there's only technically three ingredients! Top that with ALL of the Salted Caramel, you have one of THE most incredible 'bakes' for Pancake Day this year.
Feel free to use the basic Crêpe recipe in whatever way you please however, because we all have our preferences. I obviously made this into a CHEESECAKE recipe because… I did. Whip up some mascarpone with a little Icing Sugar, and fold through some Bonne Maman Salted Caramel Spread, and then slather some of it onto a Crêpe!
I think sprinkled over some crushed biscuits for a little cheesecake texture, and folded the Crêpe into a triangle (in half, and then half again). I usually have two Crêpes per person, and with an extra Salted Caramel drizzle and some fresh berries you have a winner! HELLO HEAVEN!
You can find Bonne Maman products in most supermarkets such as Waitrose, Asda, Sainsburys, and more! If you fancy these, definitely give them a go! Or find some more recipe inspiration at Bonne Maman! Enjoy! x
Salted Caramel Cheesecake Crêpes!
Salted Caramel Cheesecake Crêpes with Bonne Maman!
Print
Pin
Rate
Ingredients
For the Crêpes
250

g

Plain Flour

3

medium

Eggs

1

Egg

Yolk

550

ml

Semi-Skimmed Milk
For the Cheesecake Filling
2

tbsps

Bonne Maman Salted Caramel

250

g

Mascarpone

2

tbsps

Icing Sugar
Extras
Biscuit Crumbs

Bonne Maman Salted Caramel

Berries

Melted Butter/Sunflower Oil
Instructions
For the Crêpes
Add the Plain Flour in a bowl and make a well in the middle.

Add the eggs into the well and slowly whisk together.

Whilst whisking together, add in the Milk as well.

Whisk until the mixture is smooth and its thin like single cream!

Leave the mixture to sit for 15-30 minutes or so!

Heat a Crêpe pan on a medium heat - add in 1tsp of melted butter or Sunflower Oil and rub over the pan to grease it!

Add a small ladleful of pancake mixture into the pan and swirl until the base of the pan is coated evenly!

Cook for 1-2 minutes or until the underside of the Crêpe is golden, and then flip and cook the other side.

Remove from the pan, and add onto a warm plate to keep warm.

As you go, stack the crêpes between layers of parchment paper to keep them separate.
For the Cheesecake filling!
Beat together your Mascarpone and Icing Sugar until smooth.

Briefly fold through the Bonne Maman Salted Caramel!
Serving!
Get a Crêpe, and add one heaped tablespoon of cheesecake mix to it.

Sprinkle over some crushed biscuits, and fold the crepe into a quarter shape!

Add an extra drizzle of caramel and some crushed biscuits to serve, along with some delicious fresh berries!
Notes
These beauties are best served fresh!
You can easily half the batch to serve four people. 
You can find Bonne Maman Salted Caramel at most supermarkets such as Waitrose, Sainsburys and Asda! 
You can switch the Mascarpone for any other Cream Cheeses!
I used the Le Creuset Crêpe pan gifted to me from Bonne Maman. 
This post is in paid partnership with Bonne Maman. 
Enjoy!
Find my other Recipes on my Recipes Page!
You can find me on:
Instagram
Facebook
Pinterest
Twitter
Bloglovin'
Youtube
J x
© Jane's Patisserie. All images & content are copyright protected. Do not use my images without prior permission. If you want to republish this recipe, please re-write the recipe in your own words and credit me, or link back to this post for the recipe.