May 1, 2019
Lemon Blueberry Bundt Cake!
*This post may contain affiliate links. Please see my disclosure for more details!*
A sweet, yummy and deliciously fruity lemon blueberry bundt cake!
Lemon and blueberry bundt cake
So… I am a chocoholic. I won't lie about.. I love chocolate a lot. However, I understand that there are people out there, who aren't. And don't get me wrong, as much as I love chocolate, I do love a bake without it… and lemon & blueberry is one of my favourite combinations.
Lemon and blueberry together is sweet, almost sour in a way, incredible fruity, and just so fresh! It's weird to describe a cake as fresh, but you'll get what I mean if you like a fresh cake too. Something about the two together is a marriage made in heaven.
Lemon and blueberry
My lemon & blueberry Cake was one of my favourite bakes from early last year, ever. It's still popular now, and it just looks insane. Because of this, I wanted to make a Bundt Cake version, as Bundt Cakes just look INSANE.
When you look at the photos you can see what I mean… the blueberries are speckled about, and the cake basically decorates itself. You can of course, not use blueberries… but that's part of the charm about this bake. It's heavenly.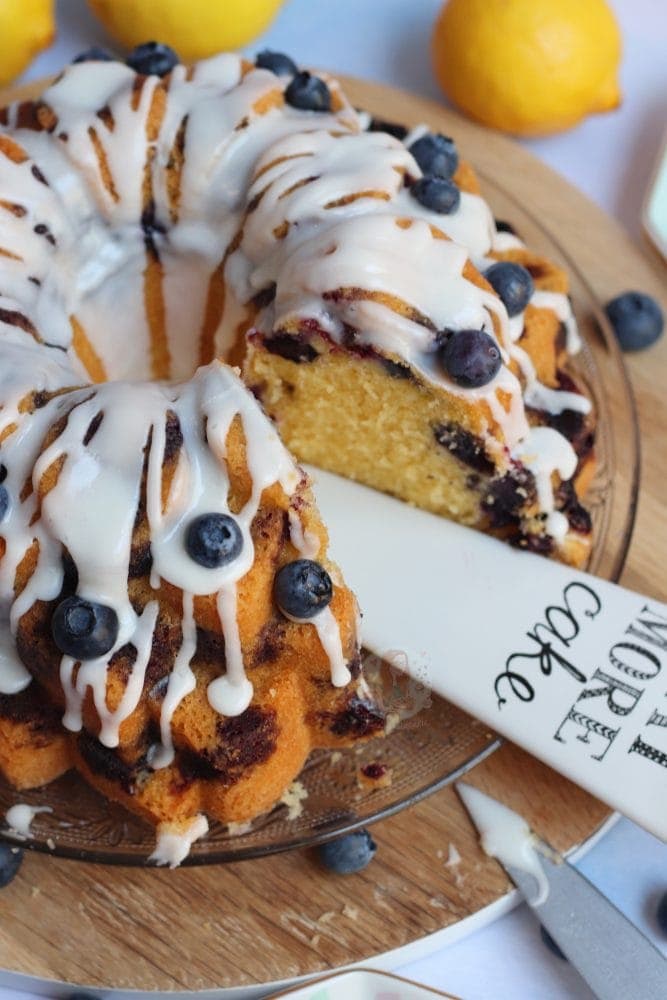 Tin
The best part about a bake like this, is the bundt tins tend to decorate themselves. The absolute BEST type of bundt tins, are from Nordic Ware. You literally cannot beat them, and any alternatives are usually just knock off versions of the Nordic Ware ones. They're such good quality, and the patterns are insane. The patterns themselves should really work whatever one you choose, as long as you line the tin correctly first.
Sometimes, using a fruit can make the pattern a little funny on top, but if you go for one like I have, then it'll be fine! I used the classic blossom bundt pan, and its stunning. I realise that they are a little pricey, but if you like a bundt cake, they are 100% worth the investment!
Prepping your tin
By line, I mean use the Wilton cake release! It's essentially a paste that you can brush about the tin quite heavily, and it'll make it a dream to get the cake out at the end.
Or, you can make your own cake release which I would 1000000% recommend doing. I use Nancy Birtwhistle's recipe which just uses three ingredients, and you can paste it on with a brush, and my bundt cakes come out without fail every single time!
Alternative flavours
This recipe also works incredible well with raspberries, if that takes your fancy more. Even blackberries would work well – or even a mixture. The only thing I would be carefully of, is not adding too much more fruit!
Decoration
One amazing thing about a bake like this, isn't not having to go completely overboard on the decoration. For example… in my marbled bundt cake, I just used melted chocolate and some sprinkles! And obviously for this one, I just settled with lemon icing and some more blueberries!
The easier the better really after a long bake in the oven. The shape of the cake is the show, and the flavours in this beauty carry it so well. I hope you all love this beauty too! Enjoy! xx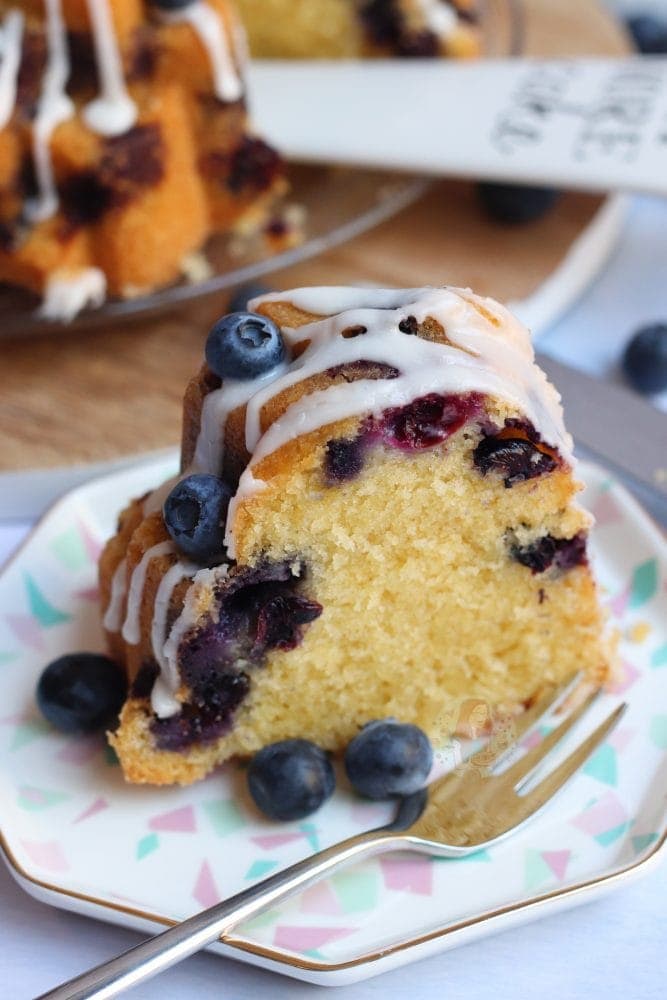 Lemon Blueberry Bundt Cake!
A sweet, yummy and deliciously fruity lemon blueberry bundt cake!
Print
Pin
Rate
Ingredients
For the Cake
300

g

unsalted butter

300

g

caster sugar

6

medium

eggs

(or 6 large)

300

g

self raising flour

2

tsp

baking powder

Zest

of 2

lemons

300

g

blueberries
Decoration
125

g

icing sugar

2

tbsp

lemon juice

100

g

blueberries
Instructions
For the Cake!
Preheat the oven to 180C/160C Fan and use the Wilton cake release to grease the inside of the bundt tin making sure that all areas of the inside of the tin are covered – leave to the side.

In a stand mixer, beat together the butter and sugar until light and fluffy. 

Add in the flour, eggs, baking powder and lemon zest and beat again briefly until combined – try not to over beat! 

Add half your blueberries to the mix, and fold through.

Pour into the prepared tin, and sprinkle the rest of the blueberries on top. (They'll sink when it bakes)

Bake for 50 minutes-60 minutes until baked through – check this by poking a skewer into the deepest part of the bundt.

Once baked, leave the cake to cool in the tin for 10 minutes, and then remove carefully and leave to cool fully on a wire rack.

For the Decoration
Whisk together the icing sugar and lemon juice and carefully drizzle onto the cake, and sprinkle over the fresh blueberries. 
Notes
You can coat your blueberries in a tablespoon of flour/cornflour if you want to help prevent them sinking - but this isn't a guarantee. 
Some blueberries will just sink straight to the bottom, but it'll be the top when it's turned out, so it won't matter! 
This cake will last for 3 days once made! 
You can use frozen blueberries if you wish, but be prepared for the cake to take longer to bake!
If you don't have the wilton cake release to use, you can butter and flour the tin.
If you cake gets stuck and won't come out, it wasn't greased enough. 
I use the Nordic Ware Blossom Bundt Pan for this recipe! 
Find my other recipes on my Recipes Page!
You can find me on:
Instagram
Facebook
Pinterest
Twitter
Youtube
J x
© Jane's Patisserie. All images & content are copyright protected. Do not use my images without prior permission. If you want to republish this recipe, please re-write the recipe in your own words and credit me, or link back to this post for the recipe.