May 25, 2019
Vegan Chocolate Cake!
*This post may contain affiliate links. Please see my disclosure for more details!*
A delicious, fudgey, and insane three-layer vegan chocolate cake!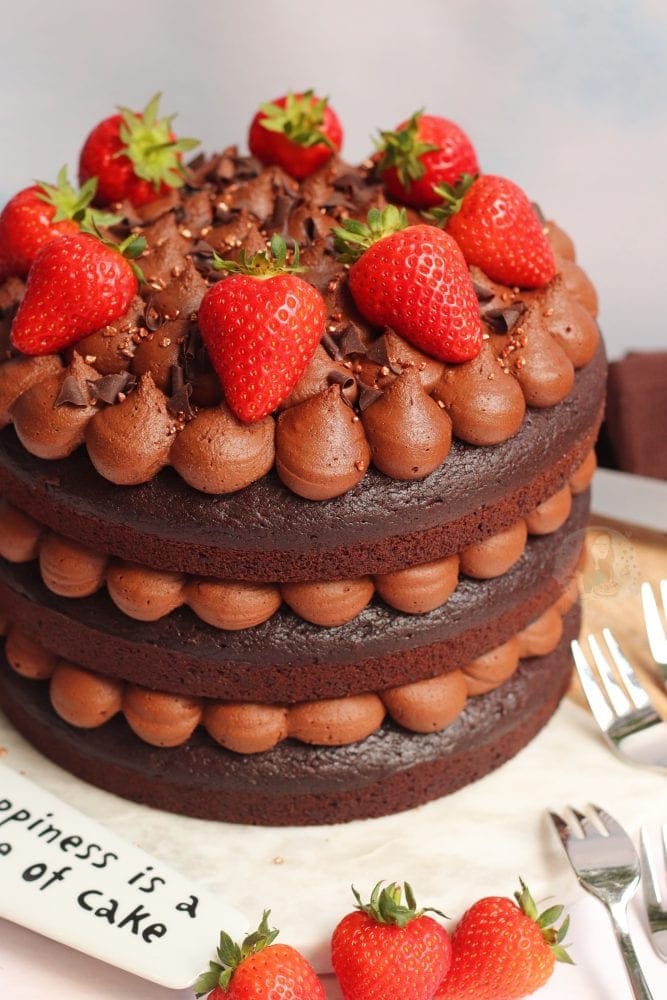 Vegan chocolate cake
So, LOOK HOW AMAZING THIS CAKE LOOKS! I couldn't resist saying that. I am not trying to blow my own trumpet here, but I just adore how this cake looks in all the photos. It also tastes amazing.
This cake, is completely and utterly deliciously VEGAN. Don't worry, it also tastes amazing for non-vegans.
There is so much stigma around vegan food – and it bugs me. There is no reason that vegan food can't be delicious – and this cake proves it! Look at ittttttttt!!!
Vegan recipes
I have a friend that is one of those people who is skeptical, but even he admits that the vegan recipes I have made for this blog are 'bl**dy delicious' and he always wants another slice. This particular one? He didn't even realise it was vegan until I told him.
This recipe is based on my vegan Biscoff cupcakes and my vegan vanilla cupcakes, but morphed into chocolate, and made into an irresistible three-layer chocolatey fudgey delicious showstopper.
There was basically no reason as to my the sponges from my other vegan recipes couldn't be made into a chocolate version, by simply using cocoa powder in place of some of the flour, and then increasing it all to make it into a cake!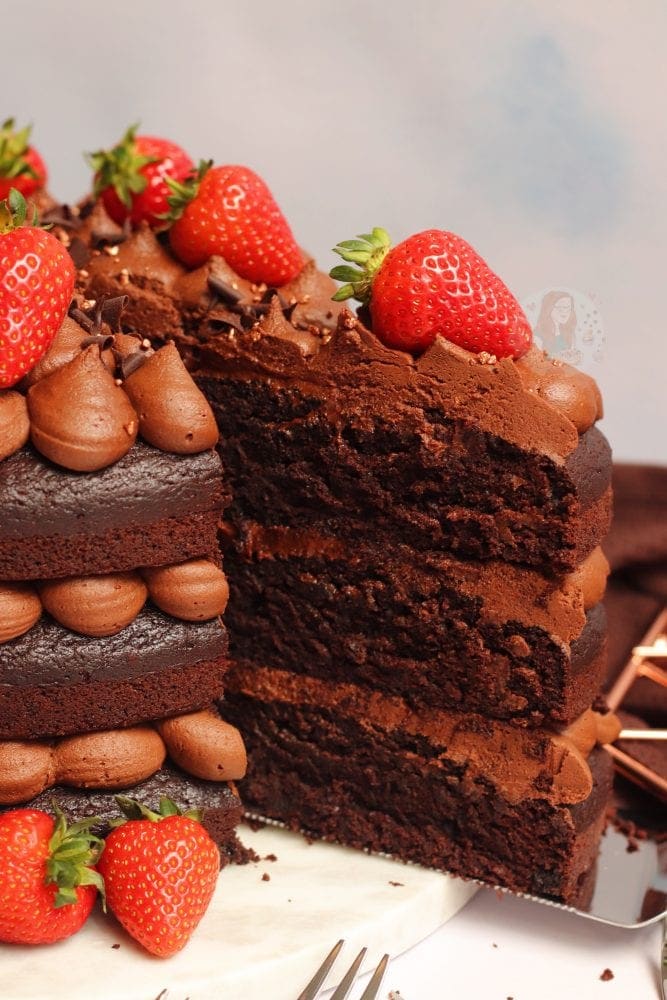 Two layer cake
I did originally make this as just a two-layer cake, but the sponges aren't that high in depth – so three looked much better, and just means you get even more delicious in every slice! You can make it just two layer if you prefer though – notes below!
Keeping it simple
I am personally not vegan myself, but I do often think that some recipes are quite daunting, because of all the extra ingredients that you don't tend to have lying around the house. For this cake, I tried to reduce this massively.
A classic chocolate sponge uses five ingredients, this uses seven. I really don't think that's too bad – and the only thing I think people will tend to not have is the white wine vinegar – but this is really cheap to buy so no worries!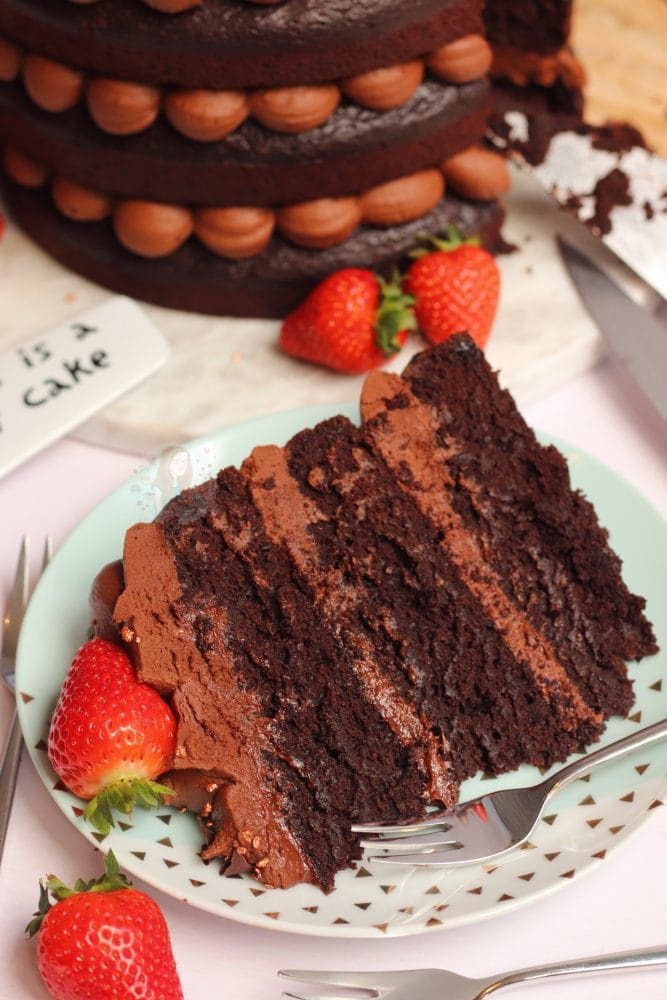 Cocoa powder
The recipe itself is just an increased amount as I say from the vegan cupcakes, but then using a dark and delicious (and vegan) cocoa powder gives it such a dark and fudgey taste.
I use the Dr Oetker fine dark cocoa powder (that does have a warning of 'may contain') but otherwise, does say it's suitable for vegans. There are many others you can also buy however!
Frosting
For the deeeelightful chocolate frosting, I used the same recipe that I use on my dairy & gluten free chocolate cake recipe. It's increased to make it enough for a three layer cake, but otherwise its the same.
Chocolate
On my the dairy free recipe though, I received a very negative and nasty comment about 'how I was trying to poison people by telling them to use chocolate.' I will say this again, MOST DARK CHOCOLATES ARE DAIRY FREE.
I use Callebaut chocolate, but I often find that a large percentage of supermarket own dark chocolate is also vegan, and it's so cheap! So no, I am not trying to poison anyone.
Vegan butter
I use Stork block, Vitalite, or other dairy free spreads – and they all work well. When making it, it does make a veeeery soft frosting, but adding in the chocolate firms it up eventually as the dark chocolate will harden.
Enjoy!
This cake is so fudgey, so delicious, and epic. My vegan chocolate cake! X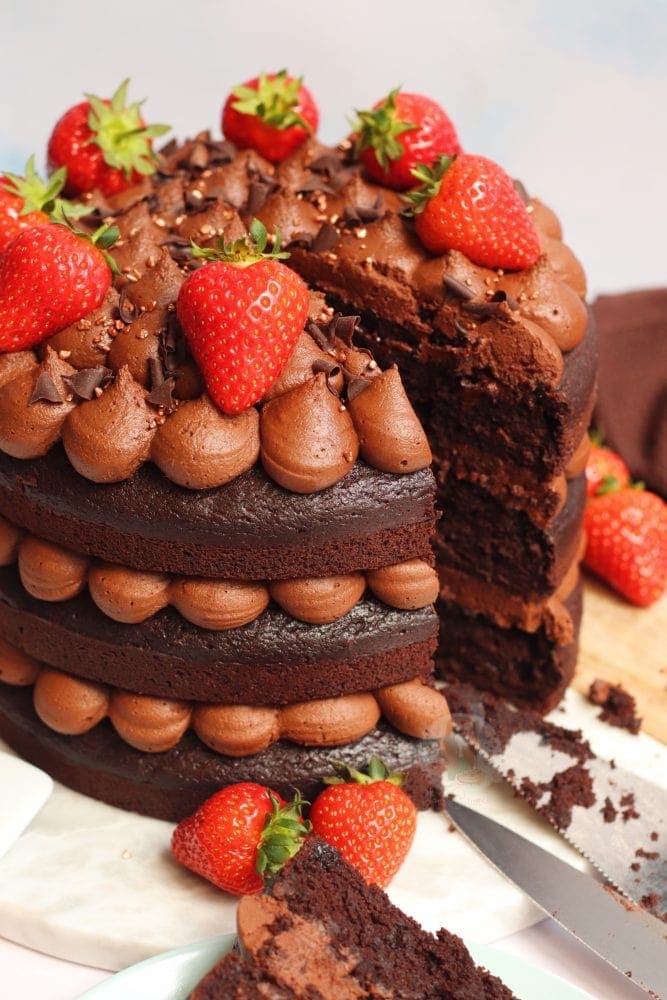 Vegan Chocolate Cake!
A delicious, fudgey, and insane three-layer vegan chocolate cake! 
Print
Pin
Rate
Ingredients
Vegan Chocolate Cakes
550

g

self raising flour

125

g

cocoa powder

450

g

light/dark brown sugar

600

ml

almond milk

(or other dairy free milks)

2

tsp

vanilla extract

265

ml

vegetable oil

1.5

tbsp

white wine vinegar
Vegan Chocolate Frosting
300

g

dairy free spread

2

tsp

vanilla extract

500

g

icing sugar

275

g

dark chocolate
Instructions
For the Cakes!
Preheat your oven to 180C/160C Fan, and line three 8"/20cm cake tins with parchment paper on the bottom.

In a large bowl, add your flour, sugar and cocoa powder.

Whisk them together so they're evenly distributed.

Pour in your milk, vanilla, oil and vinegar.

Mix the mixture until smooth - try not to over mix however. I just use a spatula.

Split evenly between the three tins, and bake for 30-35 minutes.

Once baked, leave to cool in the tins for 10-15 minutes, and then move on to a wire rack to cool fully. Be careful when handling the sponges as they will be very soft and could break easily.

Once cooled, refrigerate the cakes for 10-15 minutes before decorating to make them easier to handle.
For the Frosting!
Carefully melt your dark chocolate until smooth. I do it in the microwave on short bursts! Leave to cool slightly.

Beat your dairy free spread on its own briefly to smooth it.

Add in your icing sugar and vanilla and beat again until smooth.

Add in the melted chocolate, and beat again!
To Decorate!
Add your first sponge to a plate/boad, and pipe/spread 1/3 of the frosting onto the first cake.

Repeat this with the second cake, and then with the third!

Decorate with fresh fruit, and vegan friendly sprinkles!
Notes
This recipe will last for 3 days! Can be kept at room temperature, but fridge will do - it will just go quite solid!

For a two layer version use:

350g self raising flour, 

100g cocoa powder, 

300g light/dark brown sugar, 

400ml almond milk, 1.5

tsp vanilla, 

175ml vegetable oil, 1 

tbsp white wine vinegar - split between two tins and bake for the same time!

Use 2/3 of the ingredients for the decoration!

You can use any dairy free milk, and any dairy free spread!
I used Callebaut chocolate, but any dairy 
ENJOY!
Find my other Recipes on my Recipes Page!
You can find me on:
Instagram
Facebook
Pinterest
Twitter
Youtube
J x
© Jane's Patisserie. All images & content are copyright protected. Do not use my images without prior permission. If you want to republish this recipe, please re-write the recipe in your own words and credit me, or link back to this post for the recipe.