June 26, 2019
Funfetti Cake!
*This post may contain affiliate links. Please see my disclosure for more details!*
A three-layer funfetti cake with all the colourful sprinkles, and a vanilla buttercream frosting!
Funfetti!
It's been a while since my blog had a little bit of colour on it, and a Funfetti Cake is 100% the best way to get that going. I love a funfetti cake, but in the UK they are much harder to come by. That's not because people don't want them, but because most of the sprinkles in the UK are awful!
For those of you who don't know, a funfetti cake is essentially a basic or vanilla sponge, but with LOADS of sprinkles inside to give a confetti type of effect – but it's all edible. Funfetti cakes are very popular in America, and they always look amazing!
Sprinkles
The problem we have over here in the UK, is that a lot of sprinkles just don't have the same colourings or additives to make the sprinkles bright enough to bake with – a lot of the colours used in the sprinkles in America are in fact banned over here, because there are just TOO many additives!
Therefore, it makes it very difficult to get the effect you want. You can buy cake mixes in the uk, such as the Pillsbury funfetti cake mix online, which is probably the easiest way to get where you want – but its a box cake mix, and I know a lot of you aren't a massive fan of those.
The sprinkles I use…
So, the sprinkles that I use for these recipes? These glorious funfetti sprinkles! These are the only ones I have tried so far… that work! You can try any supermarket ones, and they will either just disappear completely into the sponge, or just turn green.
I realise that buying some sprinkles online just for a cake seems a bit OTT, but if you want a good funfetti cake, and you're in the UK like me and don't have access to be best sprinkles ever, then it is SO worth it!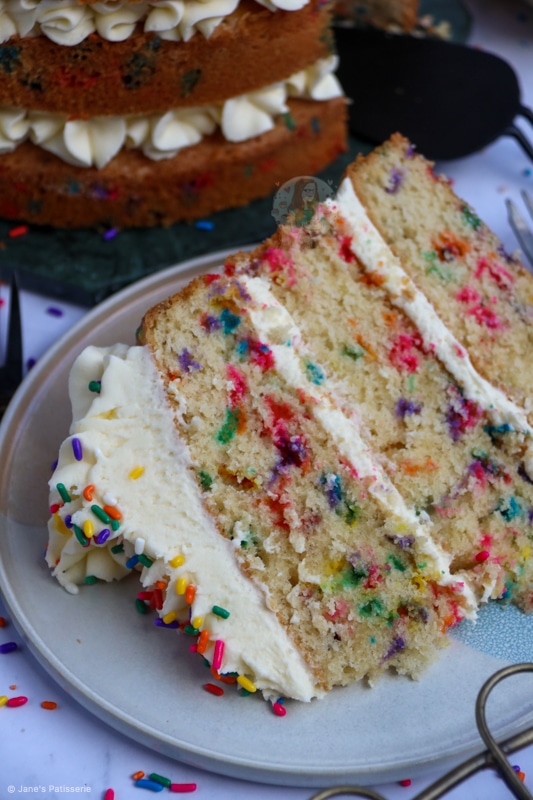 The next catch, is having enough sprinkles. To get lots and lots of colour and fun in the funfetti cake you do need to use lots of sprinkles I am afraid. The sponge itself is just a classic sponge, so it's hard to get wrong!
Supermarket sprinkles
You can of course try supermarket sprinkles, or even branded ones that you can buy in shops, but be warned that they may not work. The really tiny sprinkle balls, and the sugar strands you can buy at supermarkets tend to be the worst as they're already so small – so they just vanish!
Quantities
The amount you put into the cake will depend on how big you want the cake to be – as I made a three layer cake as usual, I found the two pots (120g) of sprinkles perfect for the sponges – if you were going to make a smaller version of the cake, you can easily use less sprinkles though!
As I didn't want to take the mickey with the sprinkles, I didn't use sprinkles in the frosting – I knew I would need a lot, and you don't even see most of the frosting as it's on the inside of the cake, so I just sprinkled some on top!
There are notes in the recipe on how to make a smaller two layer cake, but I hope you enjoy the recipe either way! x
Funfetti Cake!
A three-layer funfetti cake with all the colourful sprinkles, and a vanilla buttercream frosting! 
Print
Pin
Rate
Ingredients
Sponges
400

g

unsalted butter

(room temp)

400

g

caster sugar

400

g

self raising flour

8

medium

eggs

1

tsp

vanilla extract

120

g

funfetti sprinkles
Decoration
300

g

unsalted butter

(room temp)

600

g

icing sugar

1

tsp

vanilla extract

funfetti sprinkles
Instructions
For the Cakes!
Preheat your oven to 180ºc/160ºfan and line three 8"/20cm cake tins with parchment paper!

Beat the unsalted butter and caster sugar together until light and fluffy.

Add in the self raising flour, eggs and vanilla extract to the mix, and beat again until smooth.

Split the mixture evenly between the three tins - bake in the oven for 30-35 minutes, or until baked through! Check with a skewer (it should be clean!)

Leave your sponges to cool in the tin for 10-15 minutes, and then on a wire rack to cool fully!
For the Decoration!
Beat your room temperature unsalted butter for a couple of minutes to loosen it and make it lighter!

Add in the icing sugar a bit at a time and mix in fully!

Add in the vanilla extract, and beat again. If your mixture is really stiff (and I mean, you will not be able to pipe with it - add in 1-2tbsp of boiling water to make it easier to pipe)

Using your favourite piping tip, pipe buttercream onto your sponges, and add each layer of cake as you go!

Once you have piped all of the buttercream on, sprinkle the cake with some more Funfetti Sprinkles and enjoy!
Notes
I would not recommend using cheap and basic sprinkles from the supermarket (if you are in the UK at least) as they don't work!
If you are lucky enough to live elsewhere in the world with much better sprinkles - try others!
This cake will last for 3-4 days in a cake box! 
To make a smaller version use:

250g butter/sugar/flour and 5 medium eggs 
1/2tsp vanilla, and 60g sprinkles
Bake in the oven for 25 minutes or so! 
Use 200g butter/400g sugar for the frosting!
ENJOY!
Find my other Recipes on my Recipes Page!
You can find me on:
Instagram
Facebook
Pinterest
Twitter
Youtube
J x
© Jane's Patisserie. All images & content are copyright protected. Do not use my images without prior permission. If you want to republish this recipe, please re-write the recipe in your own words and credit me, or link back to this post for the recipe.