July 20, 2019
Mars Bar Brownies!
*This post may contain affiliate links. Please see my disclosure for more details!*
Easy and fudgey Mars Bar brownies! So chocolatey, so delicious!
Mars Bars brownies
It's the time to have something so chocolatey, that you'll want to make them again and again. These Mars Bar brownies is exactly that. So unbelievably chocolatey and fudgey they are on a next level. Are you intrigued yet?
Anyway. I thought I would start this recipe post off with a statement that makes you go these MUST be good, and then you'll see the pictures and be like oh heyyy look at them, yes, they are amazing. And I really hope you guys did because I certainly did.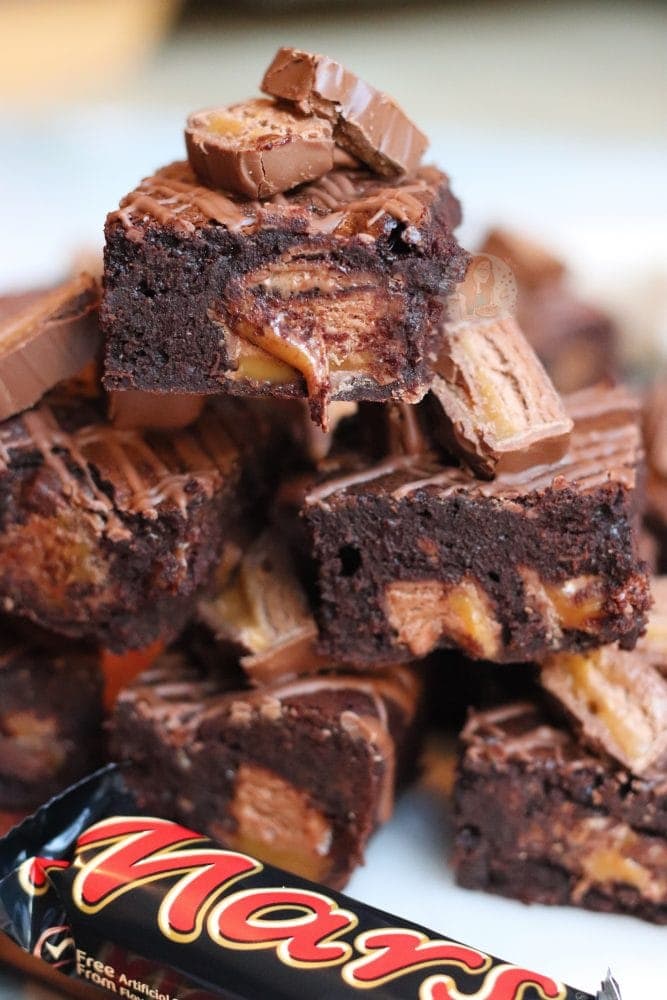 Mars bars and Milkyway bars (US)
From the beginning I must say that Mars Bars in the UK, are Milkyway bars in the US, so if some of my American readers are a little confused right now, just roll with a Milkyway instead. I finally found out why there is a different in name the other day (due to a family spat back in the day), and I was surprised that that was all it was.
Even so, Mars Bars are the one. They are slightly underrated in my opinion, but I do adore them. For those who have never experienced the wonder that is a Mars Bar… they are nougat and caramel, coated in milk chocolate. They are delightful.
Mars Bar recipes
When I was thinking about what chocolate bars I should bake with, I wanted to use one I hadn't tried in a while. I've used Mars Bars four times on this blog already, my favourite time being my Mars Bar cheesecake, but it was so long ago!
These brownies came about because of my craving for something Mars Bar, and also because they were on offer in the supermarket I was in at the time so that made the bake cheaper. Always handy in my books. I couldn't resist!
Dark chocolate
I went for a classic style brownie, that I have used in so many recipe posts now. And I will say it time and time again, PLEASE USE DARK CHOCOLATE IN THE BROWNIE MIXTURE. I don't really care if you 'don't like dark chocolate' it will make such a good brownie, and not too 'dark' a flavour, so PLEASE stick with it.
If you use milk chocolate, the mixture is so much thinner, and when people moan to me that their brownies didn't bake properly, and say they switched to milk chocolate then that is why. It doesn't work the same, and doesn't make them nearly as fudgey. Dark chocolate is the best.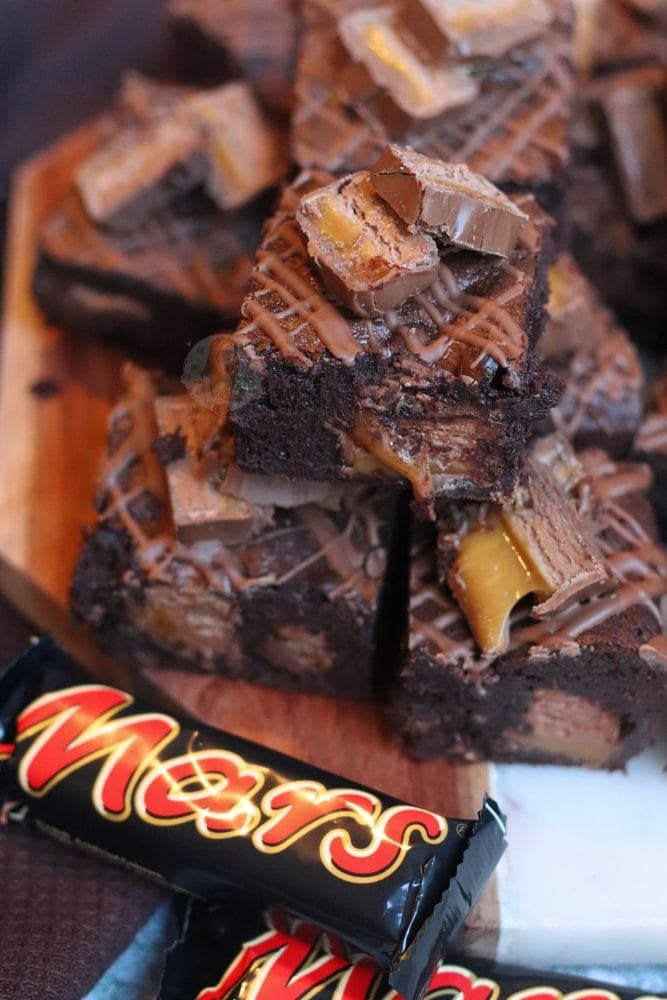 Brownie
The key really is to make the brownie mixture as thick as possible, and dollop on all your Brownie bits. When the caramel and nougat bakes, it'll make little pockets of deliciousness for you to enjoy, and they are just a combination to behold. SO tasty!
Freezing Mars Bars
I realise its a faff, but freezing the Mars Bar bits before baking really is the best practice so they don't explode everywhere completely and utterly, but its not completely essential. However, if you can, I would 100% recommend it!
These brownies are so fudgey, so moreish, and delightful. I really hope they live up to your expectations for my latest Mars Bar creation! Enjoy! X
Mars Bar Brownies!
Easy and fudgey Mars Bar brownies! So chocolatey, so delicious!
Print
Pin
Rate
Ingredients
Brownies
200

g

dark chocolate

200

g

unsalted butter

3

large

eggs

(or 4 medium)

275

g

light brown sugar

100

g

plain flour

50

g

cocoa powder

300

g

Mars Bar

(chopped & frozen)

100

g

milk chocolate chips

(optional)
Optional Decoration
50

g

milk chocolate

(melted)

Mars Bar pieces
Instructions
Preheat your oven to 180C/160C Fan and line a 9x9" baking tin with parchment paper!

Melt together your dark chocolate and unsalted butter until smooth in the microwave or in a bowl over a pan of simmering water. Leave to cool for a few minutes

Using an electric whisk/stand mixer, whisk your eggs and sugar together for 5 minutes or so on high speed, or until the mixture has doubled in volume, is alot paler, and leaves a trail for a few seconds when you lift the whisk out.

Pour in the chocolate/butter mix and fold through very carefully.

Add in the flour and cocoa powder and fold through carefully again.

Add in your frozen chunks of Mars Bar and chocolate chips and fold in. Pour the mixture into the tin and bake in the oven for 25-30+ minutes.

Leave to cool in the tin, and then enjoy!

To decorate your brownies if you fancy it... melt your chocolate and drizzle over the brownies, and add pieces of Mars Bar to each one! Set in the fridge, then chop up and enjoy!
Notes
Please try and freeze the Mars Bar first as it'll work so much better!
These will last for one week+!
You can use caster sugar instead of the brown sugar, the brown sugar just works really well for the Mars Bar theme!
If your brownies are taking much longer than stated to bake, your oven may have been the wrong temperature, or you over mixed your batter. Keep adding on 5 minutes till they're done and cover with foil if need be!
ENJOY!
Find my other Recipes on my Recipes Page!
You can find me on:
Instagram
Facebook
Pinterest
Twitter
Youtube
J x
© Jane's Patisserie. All images & content are copyright protected. Do not use my images without prior permission. If you want to republish this recipe, please re-write the recipe in your own words and credit me, or link back to this post for the recipe.
229 Comments