November 13, 2019
Chocolate Orange Shortbread Cookies
*This post may contain affiliate links. Please see my disclosure for more details!*
Simple Terry's Chocolate Orange Shortbread Cookies with Chocolate Orange Shortbread, Terry's Chunks, and a Terry's Drizzle!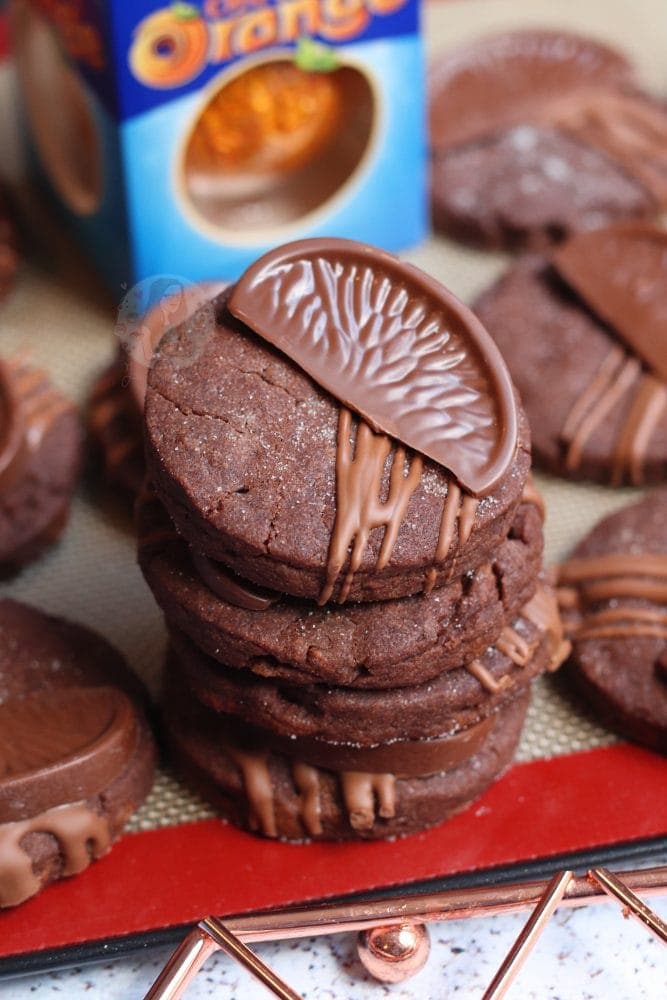 It's Christmas season, the weather is colder, and all I want is something delicious. Honestly, I am not one for thinking 'you can eat more at Christmas than you can at any other time' as I believe that you can eat delicious food, all year round, but I do crave Terry's that bit more at Christmas.
We all know that I am completely and utterly obsessed, and I genuinely doubt that it will ever change. Imagine ducking one of these into a Terry's Hot Chocolate! I really should give that a go…
Anyway! I was craving shortbread the other day, and my first recipe e-book has my favourite recipe for Triple Chocolate Shortbreads in, but I didn't have any of the chocolates required in my cupboard. The rare and random occasions I don't have any dark/milk/white chocolate, and it's all I crave.
I swear it always works out like that doesn't it… you crave something, and it's the one thing you don't have. However, I did have a rather large stash of Terry's Chocolate Orange's in my cupboard as I always stock up on a few more for winter baking, so didn't see why they wouldn't work!
I gave it a go, and they were delicious. However, I felt like the recipe was missing something – I wanted them to be MORE chocolate orange themed. Therefore, these beauties were born. A chocolate shortbread biscuit flavoured with orange, studded with terry's chocolate orange chunks.
Giving it a little more pizzazz I gave them a drizzle of chocolate, and a segment on each cookie – but that was just me loosing the plot slightly. Not even slightly essential, but damn tasty. Heaven in every bite. HEAVEN.
Making the biscuit dough is really quite simple, as a basic shortbread is only three ingredients, and with the cocoa powder and orange added in, it's still really simple. You have to make the dough, and roll it out onto a lightly floured surface and roll!
I roll the dough out with a lightly floured rolling pin, to prevent it sticking, and then cut out my cookies! I used a 6cm round biscuit cutter, and it made them a decent sized cookie each! You have to make sure to dunk the cutter in flour each time!
Once you have rolled the dough out, and cut out as many cookies as you can, lightly re-roll, and cut out more until you run out of dough. Stick them in the fridge for 30-60 minutes so they firm up after being rolled and kneaded so much.
After baking give them an (optional) sprinkle of caster sugar, a drizzle of Terry's Chocolate Orange and an extra segment if you fancy… and enjoy! x
Terry's Chocolate Orange Shortbread Cookies!
Simple Terry's Chocolate Orange Shortbread Cookies with Chocolate Orange Shortbread, Terry's Chunks, and a Terry's Drizzle!
Print
Pin
Rate
Ingredients
Terry's Chocolate Orange Shortbread Cookies
175

g

Unsalted Butter

75

g

Caster Sugar

235

g

Plain Flour

35

g

Cocoa Powder

Zest of

1

Orange

200

g

Terry's Chocolate Orange

(finely chopped)
Extras
Sprinkle of Caster Sugar

Terry's Chocolate Orange
Instructions
Line two large Baking Sheets with parchment paper and leave to the side.

Cream together the Butter and Sugar until light and fluffy.

Add in the Plain Flour, Cocoa Powder and Orange and mix together till a dough is formed!

Add in the chopped Terry's Chocolate Orange and mix through.

Dust your work surface with some spare flour and roll your dough out till its 1cm thick.

Using a round 6cm cutter, cut the cookies out and put onto the baking tray. Re-roll and continue till you have used up all the dough! (It won't take much kneading to re roll!)

Chill in the fridge for at least 30 minutes!

Preheat your oven to 180C/160C Fan, and bake in the oven for 15-18 minutes until baked through (they'll be relatively firm)

Take the trays out of the oven and sprinkle on some caster sugar and leave the cookies to cool on the trays for 5 minutes, then transfer to cool completely on a wire rack.

Drizzle over some melted Terry's Chocolate Orange, and add on a segment each if you fancy - Enjoy!
Notes
You can easily use a different type of chocolate if you wanted, just use the same amount, or you will get less cookies!
Also, you could not use any chocolate at all, but you'd get even less cookies then!
The amount you can make from this depends on how accurately you roll out the dough, and how big your cutter is... so I roll mine to 1cm thickness, and with a 6cm round cutter I got about 16-18 cookies, and its perfect.
You can swap the zest for a teaspoon of orange extract!
Enjoy!
ENJOY!
Find my other Recipes on my Recipes Page!
You can find me on:
Instagram
Facebook
Pinterest
Twitter
Youtube
J x
© Jane's Patisserie. All images & content are copyright protected. Do not use my images without prior permission. If you want to republish this recipe, please re-write the recipe in your own words and credit me, or link back to this post for the recipe.