January 11, 2020
Chocolate Chip Banana Bread!
*This post may contain affiliate links. Please see my disclosure for more details!*
Delicious and Moist Chocolate Chip Banana Bread – Perfect way to use up Bananas, and it's just SO Yummy!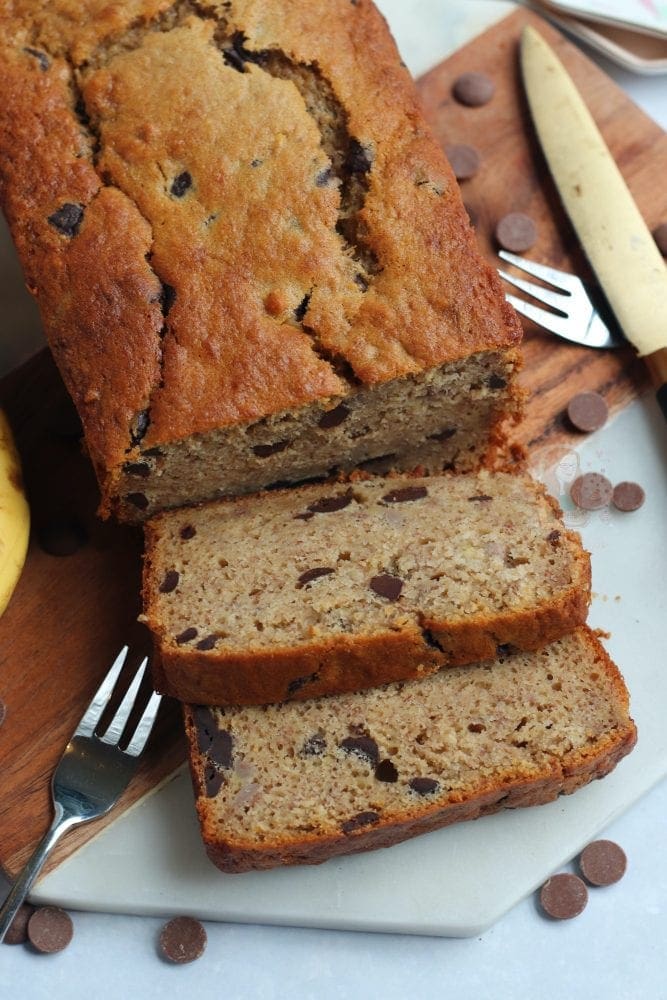 YES THAT IS CORRECT – THE RECIPE YOU HAVE ALL BEEN WAITING FOR IS HERE! And I must say… I've heard it's delicious.
To explain from the beginning… I can't eat banana. Banana makes me poorly, which is why there have never been any banana related recipes on my blog. I've mentioned this ~several~ times, but you lot still want them.
The second reason it has taken so long to get them to you, is I was having to get my family to taste test – and their "yeah it's good!" wasn't really descriptive enough. It's hard to test a bake that you shouldn't eat!
Anyway… several banana breads later, and several taste testers later, I am 100% certain that this is delicious – and the chocolate chips are my little flare of yay! But, these are optional.
So! I was inspired by Sally's Baking Addiction for this one – but altered slightly to suit what I found worked personally for me! However, I am no banana bread expert.
I wanted the banana bread to fit my favourite and now well used loaf cake tin (this one) and it does perfectly! I realise you can make banana bread in basically any shape or whatever, but a loaf tin seemed ideal for a 'bread'!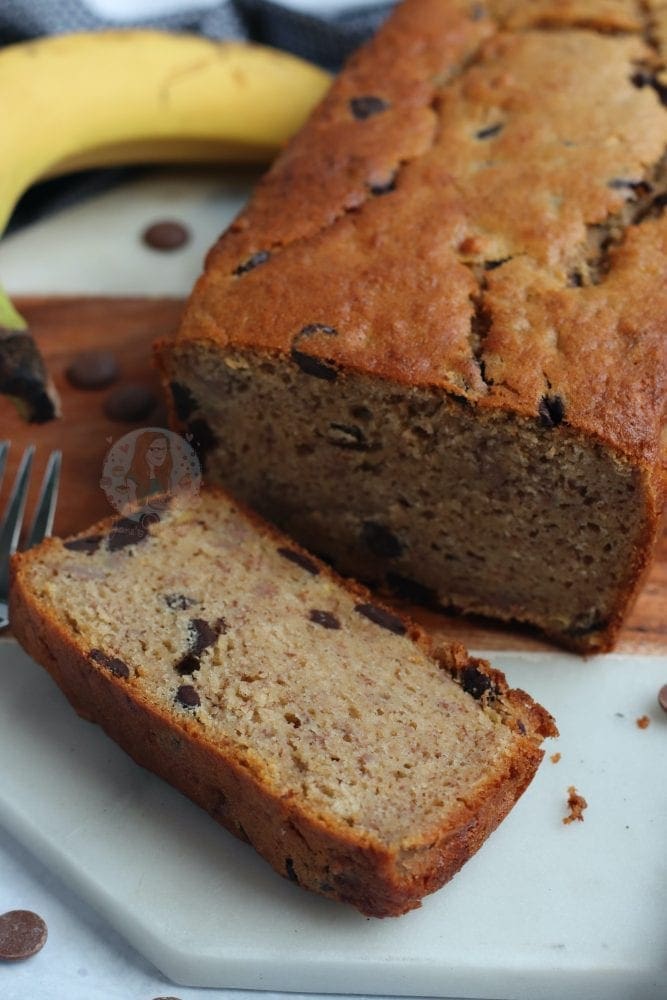 For the sponge itself – it's quite simple! The best trick I found was the easiest way to mash up your bananas is using the mixer! I shove the very over ripe and squidgy bananas in the bowl with the paddle attachment and mix till they're mushed! Easy!
The sponge is easier when you reverse the basics of a normal cake – cream together the butter and sugar, the wet then add in the dry ingredients. It will look rather disgusting at the beginning, middle and end, but what do you expect from a mix full of mushed up fruit?!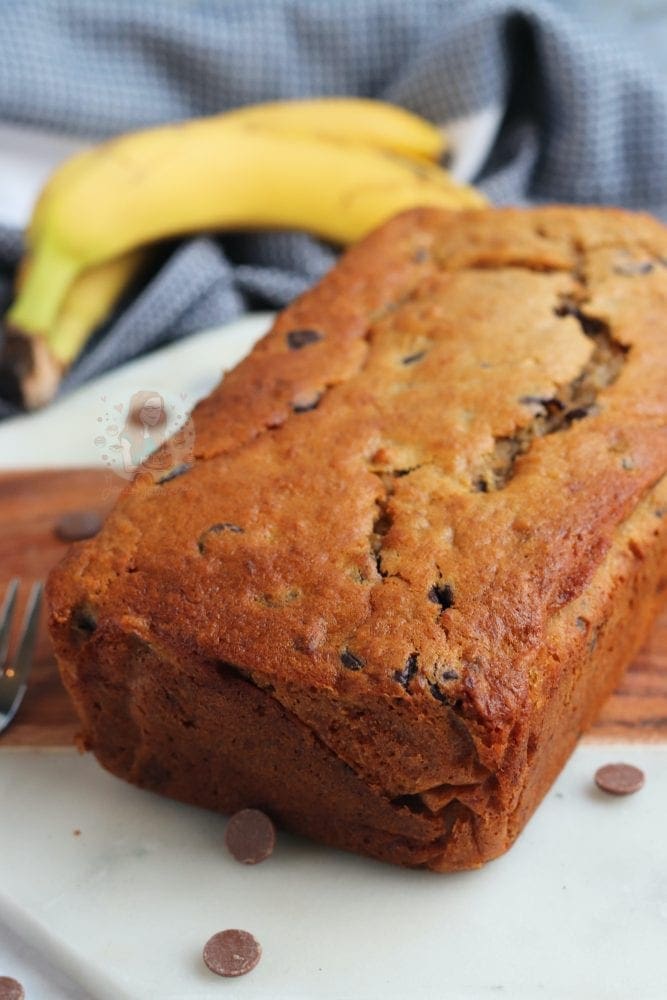 I used soured cream as I found it baked best with it – and 4 large ripe bananas worked best for me. Banana bread doesn't rise that much so it will look like a lot of mix, but trust me it works!
I obviously decided to add in the chocolate chips, but these are 100% optional – I just couldn't resist. I wanted the recipe to be ever so slightly different, and also my taste testers adored the addition! Either way, I hope you adore this recipe! Enjoy!
Chocolate Chip Banana Bread!
Delicious and Moist Chocolate Chip Banana Bread - Perfect way to use up Bananas, and it's just SO Yummy!
Print
Pin
Rate
Ingredients
4

Large

Ripe Bananas

125

g

Unsalted Butter/Stork

150

g

Light Brown Sugar

250

g

Self Raising Flour

1

tsp

Baking Powder

1/2

tsp

Ground Cinnamon

3

Medium

Eggs

75

g

Soured Cream

1

tsp

Vanilla Extract

150

g

Chocolate Chips
Instructions
Preheat your oven to 180C/160C Fan and line a 2lb loaf tin with parchment paper!

Mush your bananas up till they're soft and mushy!

In a new bowl, add your Butter and Sugar and beat till smooth and light.

Add in your Eggs, Banana, Soured Cream and Vanilla and beat again - it may look gross, but roll with me.

Add in the Flour, Baking Powder, and Cinnamon and beat again till combined!

Fold through the Chocolate Chips - pour into the tin!

Bake in the oven for 60-70 minutes - after 30 minutes, quickly and carefully cover lightly with foil to stop it browning too much!

Once baked, leave to cool fully and enjoy!
Notes
This recipe is inspired by Sally's Baking Addiction! 
The baking time can vary, but it shouldn't take much longer at all than the recipe says - a skewer might not necessarily come out clean because of the chocolate!
This recipe will last for 4-5 days easily - and tastes amazing throughout! 
I recommend using this cake tin to bake the recipe in! 
Find my other Recipes on my Recipes Page!
You can find me on:
Instagram
Facebook
Pinterest
Twitter
Youtube
J x
© Jane's Patisserie. All images & content are copyright protected. Do not use my images without prior permission. If you want to republish this recipe, please re-write the recipe in your own words and credit me, or link back to this post for the recipe.