January 18, 2020
Vegan Victoria Sponge!
*This post may contain affiliate links. Please see my disclosure for more details!*
A delicious two-layer vegan Victoria sponge with vanilla buttercream frosting, strawberry jam and more!
Veganuary!
Oh hey January, it's been a while… obviously. It honestly doesn't feel like it should be January already?! I still feel like it should be about September time, definitely not January, and a new decade.. but here we are!
And as most of you know by now, January = Veganuary. It's a month dedicated to encouraging a vegan lifestyle and diet, and I thought I would treat you guys to a classic, turned vegan. And in genuine honesty, I LOVE THIS RECIPE.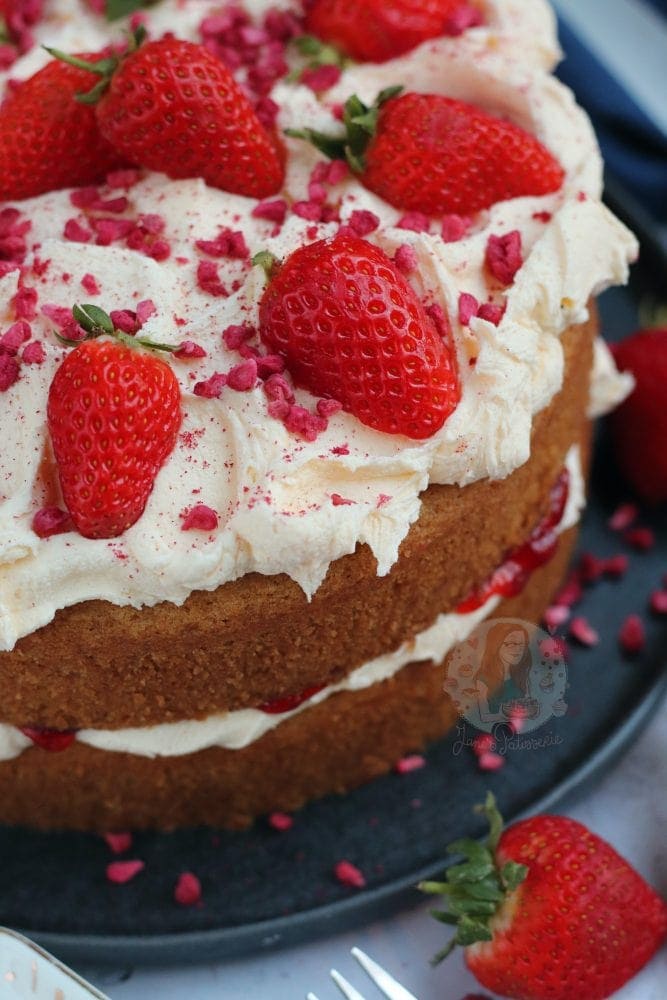 Vegan Victoria sponge
Something about this cake… It's so soft, so delicious, and so good. Genuinely think it's just as good as the original non-vegan version, and that's saying something. I will say before anyone comes for me for calling it a vegan Victoria sponge and not using a classic 'fresh cream filling' that 1) you can't as it's vegan, and also… I don't care.
The amount of vanilla/Victoria style cakes that are called a Victoria sponge that have a different middle is so broad, that I will call is a Victoria sponge. It means you know what you are getting – a vanilla sponge, vanilla centre, and jam/fresh fruit.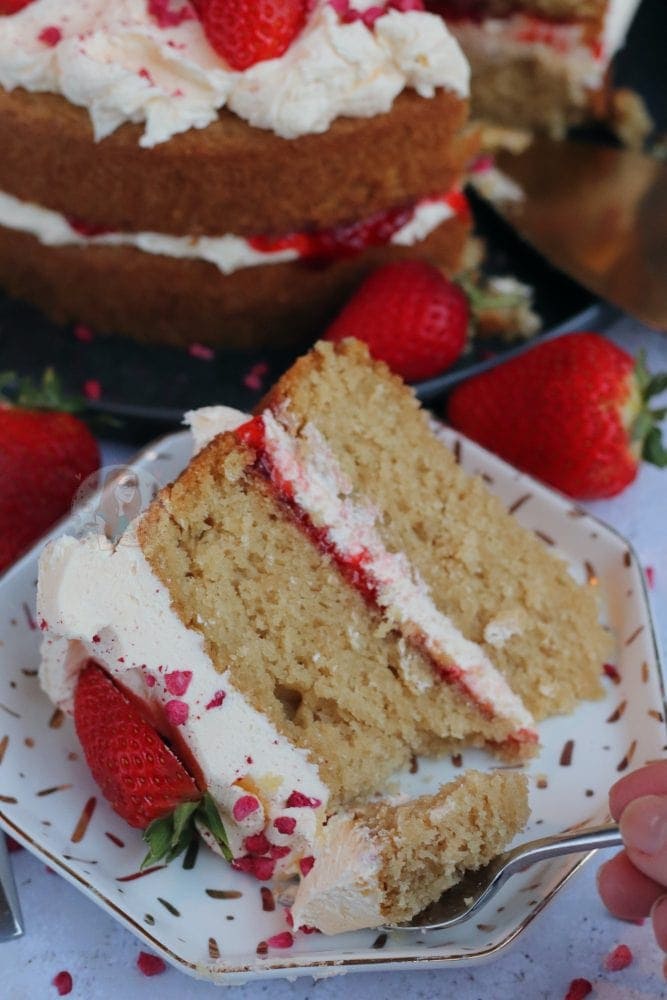 I based this recipe on my vegan vanilla cupcakes and my vegan Biscoff cupcakes as I just love them. They are obviously different as this needed to be increased to get the right sizing, and to suit a sponge rather than cupcakes.
Alternative milk
I tend to use almond milk in my vegan baking as it's my personal favourite amongst the dairy free milks – but you can use any. I generally tend to avoid Soya as it's my least favourite by far – but it's up to you. It won't affect the bake too much, but I would also say coconut milk could potentially bake weirdly.
Sugar
There was a slight change in the recipes here – I found that if I used all caster sugar, the colour of the sponge was vary pale and anaemic and not that pleasant – so I tried using half caster and half light brown sugar, and it produced a lovely looking sponge. With something like a Victoria sponge you want it too look decent from the outside!
Vanilla
I use my favourite Nielsen Massey vanilla as it's the only one I will EVER use – and I recommend using it down to the ground. Extract, paste and pods are the ones you should try to use – essence is rarely actually vanilla so I avoid it at all costs!
Oil and vinegar
For the oil, I use vegetable oil as I generally have it around. I find it much cheaper than coconut oil, and it works so beautifully in this bake. Also, I use white wine vinegar as it's my favourite – but you can easily use apple cider vinegar! Both work wonderfully. Generally though, any white vinegar will work!
Buttercream
For the buttercream, it's an obvious thing to say… but make sure you use dairy free/vegan butter. You just need to remember that dairy free butter tends to be softer, so can be slightly slacker in general.
Jam
For the jam, just make sure it's vegan friendly – most should be but there are some curveball products out there. Randomly you'll come across something with gelatine in, and it's weird!
Decoration
For the decoration though, you can easily just use fresh fruit if you prefer – like I used for the decoration! The freeze dried raspberries always look very cute though!
Top tips!
And one last thing… when making it, DO NOT OVER MIX IT. The mixture needs barely any mixing, so I use a bowl and a spatula. Also, keep an eye on it when baking. The skewer will come out clean when baking – but cooling in the tin helps the sponge not break apart as it's so soft! I hope you love this recipe as much as I do! Enjoy! x
Vegan Victoria Sponge!
A delicious two-layer vegan Victoria sponge with vanilla buttercream frosting, strawberry jam and more!
Print
Pin
Rate
Ingredients
For the Cake
450

g

self raising flour

150

g

light brown sugar

150

g

caster sugar

1

tsp

baking powder

1

tsp

bicarbonate of soda

400

ml

dairy free milk

(I use Almond)

175

ml

vegetable oil

2

tsps

vanilla extract

1

tbsp

white wine vinegar
For the Decoration
150

g

dairy free/vegan butter

350

g

icing sugar

1

tsp

vanilla extract

Jam

Strawberries
Instructions
For the Cake
Preheat your oven to 180C/160C fan and line two 8"/20cm cake tins with parchment paper!

In a large bowl, add your flour, sugars, bicarbonate of soda and baking powder and mix until it's all mixed together evenly.

Add to the bowl your dairy free milk, vegetable oil, vanilla and white wine vinegar.

Mix as little as possible, until combined.

Split evenly between the two tins and bake for 35-45 minutes. I check from 35 minutes onwards!

Once baked, leave to cool fully in the tins.
For the Decoration
Beat your butter on it's own to make it lovely and smooth.

Add in your icing sugar and vanilla and beat again until combined, lovely and fluffy. I use my mixer with the paddle attachment!

Get your first sponge, and spread over half of the buttercream.

Add on a few tablespoons of jam and spread.

Add on the second sponge, and spread on the rest of the buttercream.

Decorate how you fancy - I used fresh fruit and freeze dried raspberries! Enjoy!
Notes
This recipe is based on my vegan vanilla cupcakes and vegan Biscoff cupcakes recipes!
I used baking powder and bicarbonate in the cake sponges (and not in the cupcakes) as I felt it baked much better for the larger sponge size - I don't think the cupcakes need it though. 
I used Tate & Lyle icing sugar which is a vegan icing sugar. 
This cake is very soft - and will last for at least three days! 
If your sponge turns out rubbery, it's most likely over mixed. I personally have never experienced this!
Find my other Recipes on my Recipes Page!
You can find me on:
Instagram
Facebook
Pinterest
Twitter
Youtube
J x
© Jane's Patisserie. All images & content are copyright protected. Do not use my images without prior permission. If you want to republish this recipe, please re-write the recipe in your own words and credit me, or link back to this post for the recipe.