February 24, 2021
Mini Egg Loaf Cake!
*This post may contain affiliate links. Please see my disclosure for more details!*
A delicious and easy oil based chocolate cake topped with Mini Egg themed buttercream frosting, and all of the mini eggs!
Mini Egg loaf cake
I mean.. was this recipe ever not going to happen?! Let's be honest, we all know it was happening. My Creme Egg Loaf Cake is one of your easter favourites so far this year, but I am a Mini Egg fan through and through and I am obsessed!
I always base my recipe ideas from requests (side note, if you ever have a request.. do leave a comment!) and this is one of the ones that was just insanely requested. It's something I wanted to do for a while, but didn't just want to make the same as the Creme Egg one and swap the colours/chocolate.
Sponge
I have also had SO MANY REQUESTS for a chocolate cake made with oil… and here it is! This recipe does not use butter, it uses a mixture of vegetable oil and milk to create a lovely (and I will use the word moist here) chocolate cake that is irresistible.
I love making a classic chocolate victoria sponge style chocolate cake and I have absolutely nothing against it – but I wanted to give you guys something different and what a lot of you wanted! So, this recipe is even easier to make, and it almost guarantees a soft cake.
Dry ingredients
Chocolate cake can be naturally a little dry if over baked, whereas this sponge is just delightfully light and does not dry out. It's also incredibly easy to mix up – if I'm honest, you almost do not want to use a mixer for it as it may over mix the mixture!
You add the dry ingredients (the self raising flour, cocoa powder and light brown soft sugar) to a bowl, and whisk them together to combine them. I like to combine these first so that there are no lumps of sugar and all of the ingredients are evenly distributed.
Oil and milk
You then add in the eggs, vegetable oil, and full-fat/whole milk. I use vegetable oil as at the moment its the one I use the most of, but sunflower oil also works well. You can try other oils such as olive oil, but they have more taste and can transfer the taste to the end result.
It is VERY important to use full-fat/whole milk in a cake mixture like this. Please use it, please don't use a lower fat one, as it can cause problems with the bake.
Tri-colour buttercream
For the frosting, it is just another American buttercream frosting, but they are just so easy!! It's easy to colour the frosting to the three colours I tend to use for a mini egg cake (like in my mini egg drip cake, and my mini egg chocolate cake).
The easiest method to make the tri-colour buttercream is to make all of the colours up as you want – and then get some clingfilm. You can line the colours up on the clingfilm, and then roll the clingfilm up into a sausage. Then, this is easy to snip the end off, and add to a piping bag with your choice of piping tip!
Decoration
This is all completely optional of course, but this is just how I do it! I obviously then add a load of mini eggs on the top – because thats the theme of the bake.
I do not add mini eggs to the cake mixture, because they would just sink! Not worth it in my opinion!! You can add sprinkles as well as or instead of, a chocolate drizzle, the choice as always is yours! I hope you love the recipe! Enjoy! x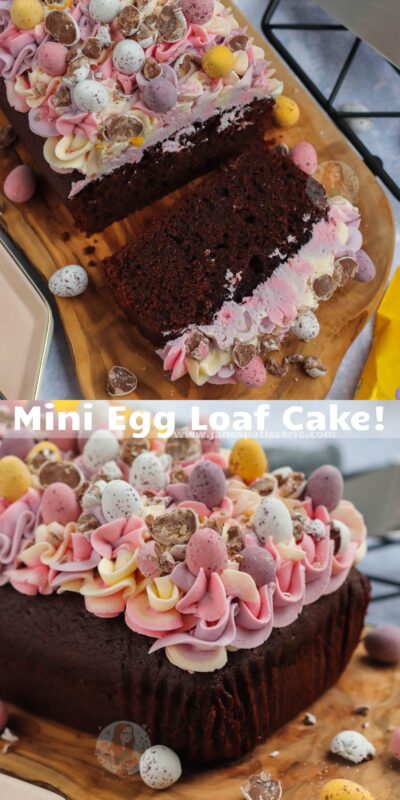 Mini Egg Loaf Cake!
A delicious and easy oil based chocolate cake topped with Mini Egg themed buttercream frosting, and all of the mini eggs! 
Print
Pin
Rate
Ingredients
Cake
200

g

self raising flour

50

g

cocoa powder

200

g

light brown sugar

3

medium

eggs

150

ml

vegetable oil

150

ml

whole milk
Buttercream
125

g

unsalted butter

(room temp)

250

g

icing sugar

1

tsp

vanilla extract

Purple/pink food colouring
Decoration
200-300

g

Mini Eggs

Sprinkles
Instructions
For the Cake
Preheat your oven to 180ºC/160ºC fan, and line your 2lb loaf tin with parchment paper!

Add in the flour, cocoa powder and sugar to a large bowl and whisk to combine.

Add the eggs, vegetable oil and milk to the bowl and whisk briefly until combined again.

Pour into your tin and bake for 50-55 minutes, or until baked through. I test my cake with a skewer!

Leave the baked cake to cool in the tin.
For the Buttercream
Beat the butter on its own for a few minutes to loosen and make it smooth.

Add in the icing sugar and beat again! If necessary, add in 1tbsp of boiling water (ONLY IF IT'S VERY THICK)

Add in the vanilla and beat again.

Split the buttercream into three - colour one to a purple colour, the second to a pink colour, and leave the other.
For the Decoration
Add your buttercream to a piping bag - it's easiest to add the buttercreams onto some cling film in lines, roll it into a sausage, and then add into your piping bag.

Pipe onto your cake using your favourite piping tip, and however you want to pipe it. I did swirls, in rows!

Add on some Mini Eggs and sprinkles for decoration!
ENJOY!
Find my other Easter Recipes on my Recipes Page!
You can find me on:
Instagram
Facebook
Pinterest
Twitter
Youtube
J x
© Jane's Patisserie. All images & content are copyright protected. Do not use my images without prior permission. If you want to republish this recipe, please re-write the recipe in your own words and credit me, or link back to this post for the recipe.