July 24, 2021
Peanut Butter NYC Cookies!
*This post may contain affiliate links. Please see my disclosure for more details!*
Giant, thick and chunky peanut butter NYC cookies stuffed with peanut butter chips, white chocolate chips, and more!
NYC cookies
Oh, heyyyy to the newest NYC Cookie recipe on the block… PEANUT BUTTER! Yes, that's right, I have finally published the peanut butter version of my ever so popular NYC Cookies and I hope you guys are excited.
I love having recipe requests – it's the way I know what to publish, and what to write about in my new recipe book… but this one? Oh gosh. I can't explain it. After the original NYC chocolate chip cookie recipe was published it's all I was getting requests for!
Peanut butter NYC cookies
I never used to like peanut butter-related bakes as I couldn't eat peanuts for a while (Weird… I know…) but now I am just obsessed. I love it! These cookies are a little mind-blowing I won't lie and, obviously, I am in love with them.
The base recipe is based on the NYC chocolate chip cookie recipe, but with a few changes. The actual base recipe for the cookie dough is slightly different, as it partially uses peanut butter in place of some of the butter!
Dough
I wanted to make sure that these were as peanut butter-like as I could – so using peanut butter seemed ideal. It still uses the same plain flour, cornflour, raising agents, sugars, and such… but the peanut butter is life-changing.
As always, I love using cornflour for a 'vanilla' cookie dough. It creates a softer, more lovely, and just insane texture for the cookies – I use cornflour a lot in my baking, but mainly for cookie bakes. You can leave it out, but use 25g more plain flour!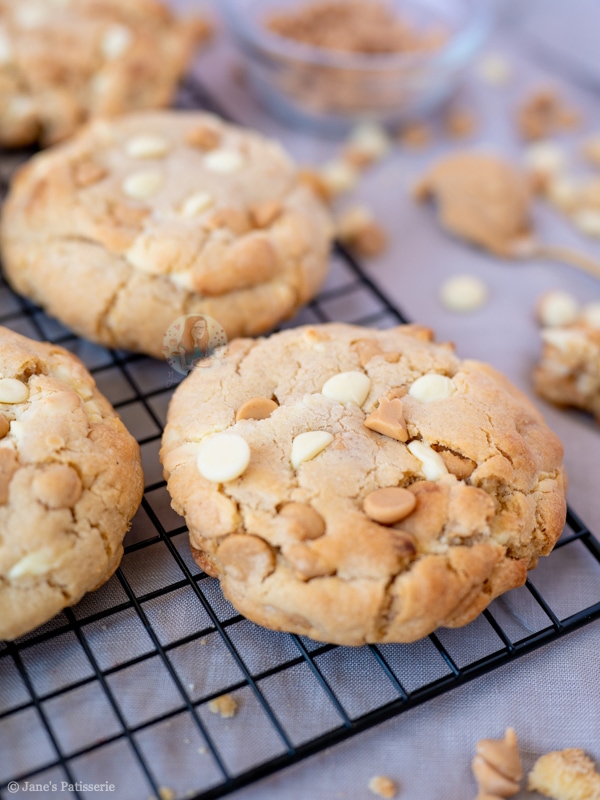 Ingredients
Same as with my other cookies as well, you can swap the plain flour for self-raising flour, but you also want to remove the baking powder! You still want to use the cornflour if you can, and also the bicarbonate of soda.
I love as always using a mix of light brown soft sugar and then white granulated sugar in my NYC Cookies – but you can use all light brown soft or even dark brown soft – but using just white granulated will make paler cookie dough!
Flavour
One thing I feel I should also mention is the type of salt I use – I tend to use Maldon sea salt flakes ~all~ of the time as I love it. Table salt is not the same, and I think should be avoided – but if it's all you have, just use a pinch!
For the insides of these peanut butter NYC cookies, I decided to switch things up a bit and use a mixture of white chocolate chips (you can of course use whatever flavour chocolate you want!), some peanut butter chips (I found Reese's ones in Sainsbury's!), and some chopped peanuts.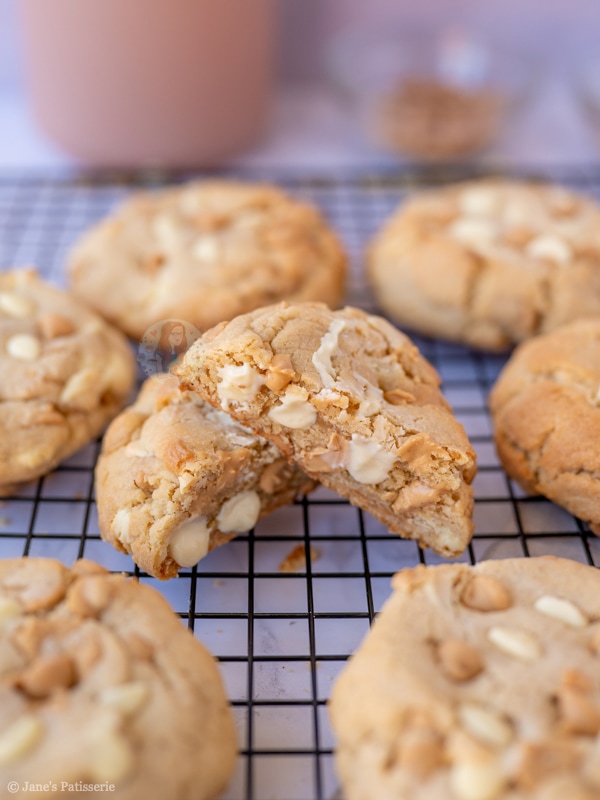 Adaptable recipe
As always, you can change the peanut butter chips to something else, such as Reese's pieces, or chopped peanut butter cups, you can use salted peanuts or flavoured peanuts – or anything!! As long as you like it, go for it!
I made the cookies NYC size because they are such a hit – but you can make smaller ones. If you want normal size cookies, make them 60-65g each and bake for about 8-9 minutes. The NYC ones are definitely the best though.
Leave to cool!
Make sure to follow the instructions and LET THE COOKIES COOL ON THE TRAY. I often get comments that the cookies still seem raw when they come out of the oven, and it's because they technically haven't finished baking.
The 30 minute cooling period on the tray makes them perfect! I hope you love this recipe as much as everyone who has tested these beauties has – enjoy!! x
Peanut Butter NYC Cookies!
Giant, thick and chunky peanut butter NYC cookies stuffed with peanut butter chips, white chocolate chips and more!
Print
Pin
Rate
Ingredients
100

g

unsalted butter

100

g

peanut butter

100

g

light brown soft sugar

75

g

white granulated sugar

1

large/medium

Egg

1

tsp

vanilla extract

(optional!)

275

g

plain flour

1

tbsp

cornflour

1 + 1/2

tsp

baking powder

1/2

tsp

bicarbonate of soda

1/2

tsp

sea salt

150

g

white chocolate chips

100

g

peanut butter chips

100

g

peanuts

(chopped)
Instructions
Add the unsalted butter, peanut butter, light brown soft sugar and white granulated sugar to a bowl and beat until creamy - I use my stand mixer with the beater attachment!

Add in the egg and vanilla extract and beat again.

Add in the plain flour, cornflour, baking powder, bicarbonate of soda, and salt and beat until a cookie dough is formed. (If the mixture is too dry, add 1-2tbsp of milk - dryness can come from certain brands of peanut butter!)

Add in the white chocolate chips, peanut butter chips and peanuts and beat until they are distributed well.

Weigh the cookies out into eight cookie dough balls - they're about 125g each!

Once they are rolled into balls, put the cookie dough in the freezer for at least 30 minutes, or in the fridge for an hour or so!

Whilst the cookie dough is chilling, preheat the oven to 180ºC Fan, or 200ºC regular! If your oven runs hot, go for 160ºC-170ºC.

Take the cookies out of the freezer/fridge and put onto a lined baking tray. I put four cookies per tray!

Bake the cookies in the oven for 11-12 minutes. I don't personally flatten the cookies, as they flatten enough during baking - however, if you like flat cookies, flatten them a bit before baking.

Once baked, leave them to cool on the tray for at least 30 minutes, as they will continue to bake whilst cooling!
Notes
These are best eaten on the day of baking, but can be revived by microwaving for 15-30 seconds, or putting into a hot oven for 2-3 minutes!
I used smooth peanut butter for these. 
I found my Reeses peanut butter chips in Sainsburys!
Once baked, these will last for 4-5+ days!
I recommend these large baking trays!
If you prefer your cookies flatter, you can squish them down slightly before baking but I don't do this personally!
If you don't want to use cornflour you can remove it and use 25g more flour instead. 
If you can't access one of the sugars, use all of the other one - i.e. all granulated, or all light brown sugar. Using other sugars can change the texture. 
If you want to make smaller cookies (60g) - they take about 9 minutes to bake! 
ENJOY!
Find my other Recipes on my Recipes Page!
You can find me on:
Instagram
Facebook
Pinterest
Twitter
Youtube
J x
© Jane's Patisserie. All images & content are copyright protected. Do not use my images without prior permission. If you want to republish this recipe, please re-write the recipe in your own words and credit me, or link back to this post for the recipe.