October 23, 2021
Gingerbread Mummies!
*This post may contain affiliate links. Please see my disclosure for more details!*
Utterly spooktacular gingerbread mummies with the best gingerbread biscuits, fondant icing, royal icing and more…!
Gingerbread mummies
It's the season to be scared, so some spooky gingerbread mummies seem like the ideal next bake for me… because lets be honest, don't they look a little spooktacular?! Oh gosh yes, sorry. Bad joke.
Anyway! I wanted to post a spooky biscuit bake this year that was actually just a bit of fun! No, they aren't scary at all – but in reality, no baking is actually spooky or scary, it's all just delicious and fits the theme.
Gingerbread
This recipe is based on the original gingerbread people recipe that is on my blog – and I just love it. I love the spices in the cookies, and I think they just bake so easily! Also, there is charm in not having to chill the dough.
Occasionally I get comments saying my gingerbread didn't work and I chilled the dough – you are not supposed to chill it! This can actually bake the biscuits differently, causing them to balloon slightly or come out of shape.
Dough
When you make the dough for the gingerbread mummies, you don't want to over knead it – so if you are using your hands to make the dough, you want to rub the cold unsalted butter into the dry ingredients with just the tips of your fingers.
Just using the tips of your fingers means you don't warm the dough up too much, and therefore accidentally melt the butter too much. I do recommend to use actual unsalted butter as well, and not a baking spread!
Shape and bake
When shaping the dough you can use whatever size cutter you want, but the smaller the cutter the less time they take to bake, and the larger the cutter, the longer they take to bake!
Just keep an eye on the biscuits until they are turning a deeper golden colour and firming up. I find these a perfect texture as they had their shape but are always nice and chewy gingerbread. For those wanting a firm snap, you will need to bake for slightly longer!
Roll out icing
For the decoration of these biscuits I used a combination of royal icing sugar, and roll out icing – I wanted to have options for how they looked! Also, the edible eye sprinkles just gave a hilarious element to it because they look so silly.
I used a ready made white roll out icing because I'm not normally the biggest fan of roll out icing when it comes to covering cakes – but biscuits its just easy! I used the same size cutter that I used for the biscuits (which will have spread ever so slightly naturally), and stick the fondant onto the biscuits using a little water and a brush.
You can choose to double the amount of fondant icing if you preferred to make all the biscuits covered, or you can leave this out and just use royal icing instead!! It depends on what your flavour choices are.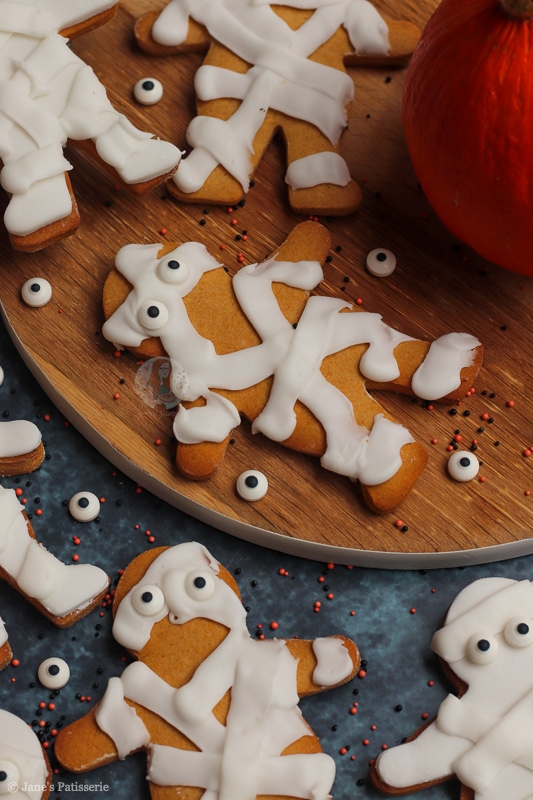 Royal icing
For the royal icing, I've gone down the easy route and used ready made royal icing sugar – This is usually in a purple box in the baking aisle, and is different to normal icing sugar! They do not just swap between themselves.
To make the royal icing sugar, I used 250g royal icing sugar and 35ml of water, beaten together until thick and smooth. This put into a large piping bag with a small petal tip is what I used to make the lines on the biscuits.
Decoration
This bit is meant to be a little messy – and you can see mine are not perfect at all, but that's part of the charm! Mummies are not perfect at all, and decorating them in lines using the petal tip is so fun!
I didn't decide to completely cover the gingerbread mummies in icing because I wanted to still see the gingerbread underneath, so if you want to completely cover them, or just use royal icing for the cookies and not fondant – double the quantities.
The edible eye sprinkles can be found in most shops right now – but I bought mine here. I also used this royal icing sugar for the decoration! You just a little of the royal icing to stick the eyes down and you are done! Enjoy! X
Gingerbread Mummies!
Utterly spooktacular gingerbread mummies with the best gingerbread biscuits, fondant icing, royal icing and more...!
Print
Pin
Rate
Ingredients
Biscuits
375

g

plain flour

1

tsp

bicarbonate of soda

3

tsps

ground ginger

120

g

unsalted butter

(cold & cubed)

175

g

light brown soft sugar

5

tbsps

golden syrup

1

medium

egg
Decoration
250

g

ready to roll white icing

250

g

royal icing sugar

Edible eye sprinkles
Instructions
Biscuits
Preheat your oven to 190ºC/180ºC fan and line 3 baking trays with parchment paper.

Add the plain flour, bicarbonate of soda, and ground ginger to a large bowl and add the cold, cubed unsalted butter to the bowl.

Rub the mixture together with your fingertips until it resembles breadcrumbs! (Or mix the four ingredients in a food processor till its breadcrumbs!)

Mix the sugar into the mix and combine, and then add the golden syrup and egg - beat with a spatula/your hands until it is a smooth dough.

Knead the biscuit dough in the bowl slightly to bring it together and then roll the dough out onto a lightly floured work surface.

Roll it out to 1/2cm thickness and cut out your desired shapes - I made 16 'dead' people out of mine.

Place them on the lined baking trays and bake in the oven for 10-11 minutes, cool on a wire rack fully.
Decoration
Once the biscuits have been cooled fully, you can decorate them.

Roll the icing out quite thinly on to a surface dusted with regular icing sugar (not the royal icing sugar).

Carefully cut out the same size shapes as the people you made earlier, and stick these to the biscuits using some water brushed on with a pastry brush. I did this on half of the biscuits.

In a bowl, add the royal icing sugar.

Pour in 20ml of water, and start to beat - you really want to try and mix it in before adding any more water as the mixture needs to be really thick - gradually add more as you go. You do not want to add more than 35 ml of water as it will not work.

Once the royal icing sugar is thick and lovely - use a piping bag with a small petal tip to pipe stripes of 'cloth' onto the 'dead' people to make the mummies!

I piped more onto the plain biscuits, and only a few strips of cloth onto the mummies with fondant icing on.

Add some edible eye sprinkles per biscuit, using the royal icing as glue.
Notes
If you want fondant icing on all the biscuits, you made need to double. 
If you want to just use royal icing sugar, you will need to double the amount. 
You can use any size gingerbread cutter, just keep an eye on the biscuits turning a deeper golden. 
These will last for 1+ weeks in an airtight container. 
These biscuits can be frozen for 3+ months. 
For this bake I used:
ENJOY!
Find my other recipes on my Recipes Page!
You can find me on:
Instagram
Facebook
Pinterest
Twitter
Youtube
J x
© Jane's Patisserie. All images & content are copyright protected. Do not use my images without prior permission. If you want to republish this recipe, please re-write the recipe in your own words and credit me, or link back to this post for the recipe.