November 10, 2021
Gingerbread Cupcakes!
*This post may contain affiliate links. Please see my disclosure for more details!*
Easy and sweet gingerbread cupcakes with a gingerbread sponge, ginger buttercream frosting, and the cutest decoration! Perfect Christmas cupcakes.
Gingerbread
Ohhhhh HELLO to my first Christmas recipe of 2021… GINGERBREAD CUPCAKES! Yes, that is right, I thought I would start off with an absolute bang and do something that I get requests for over and over all of the time… this beauty of a recipe.
I have many gingerbread recipes on my blog such as my gingerbread loaf cake, my gingerbread millionaires shortbread, and my gingerbread trifle just to name a few… but cupcakes? Cupcakes are where it is at as they are easy, simple and delicious.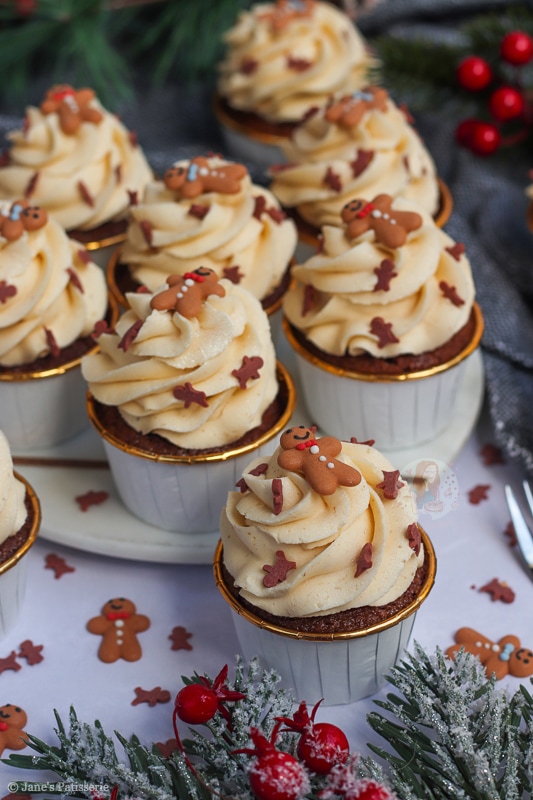 Sponge
A gingerbread cake is meant to be denser, fudgier in a way and just absolutely perfect for the colder weather… and these gingerbread cupcakes emulate that exactly. The cake is not your average sponge cake with spices added in, it's just on its own little level.
This sponge uses butter, dark brown soft sugar, golden syrup, and black treacle melted together in a pan – this bit is important as it makes sure that everything will incorporate really well. I use dark brown soft sugar and black treacle as I want the deep flavour, but these can be switched to light brown soft sugar and just golden syrup if needed.
Flour and spices
The mixture uses self-raising flour in comparison to plain flour as the raising agent comes in handy for cupcakes – and I love it slightly lighter in cupcake form. But don't worry, because of the ingredients mentioned earlier on, you still get a deep texture on these beauties.
The spices I use in my gingerbread cupcakes are simple ground ginger and ground cinnamon. Yes, they are 'gingerbread' but gingerbread spices aren't always just ground ginger. You can even add in a little nutmeg you wanted, but honestly, if you don't like cinnamon, you can just add in a smidge more ground ginger instead.
Eggs and milk
In contrast to a victoria sponge where the dry ingredients should match the weight of eggs in their shells, you don't need nearly as much egg here. I only use two medium eggs for these – and it's perfect. You do, however, use a reasonable amount of milk.
The milk is a key part of these gingerbread cupcakes, and cannot be left out. It is also important to use whole milk, and not semi skimmed or skimmed. I stand by this – for the best bake, you need to use full fat ingredients (like I always say!) so it is worth buying it.
Frosting
For the frosting, I went for a ginger flavoured buttercream frosting – because why not?! It's the dream of dreams. The ground ginger in the buttercream creates an ever so slightly less sweet topping, but something that marries SO well with the gingerbread cupcake sponge still.
I always believe in doing what you want when it comes to flavours, and whilst the chemistry behind the ratios of ingredients, types of ingredients etc need to stay the same, the flavouring can change. Use less or more ground ginger, use more cinnamon, use a little mixed spice… do what you want to do!
Decoration
As always, for the decoration, I used my favourite piping tip because I wanted the most beautiful swirl… and this piping tip is by far my favourite one to use, and has been for a good while. I also use these piping bags because I find them so good to use, and easy to hold.
I found these cute gingerbread sprinkles, and these larger gingerbread person toppers for the cupcakes – but obviously these are not entirely essential – I just think they are so so cute and I am slightly in love. I hope you guys love these gingerbread cupcakes as much as I do – enjoy! x
Gingerbread Cupcakes!
Easy and sweet gingerbread cupcakes with a gingerbread sponge, ginger buttercream frosting, and the cutest decoration! Perfect Christmas cupcakes. 
Print
Pin
Rate
Ingredients
Cupcakes
125

g

unsalted butter

125

g

dark brown soft sugar

125

g

golden syrup

125

g

black treacle

250

g

self raising flour

2

tsp

ground ginger

1/2

tsp

ground cinnamon

2

Medium

eggs

175

ml

whole milk

(warm)
Buttercream
200

g

unsalted butter

(not stork) (room temp)

400

g

icing sugar

1

tsp

ground ginger

1

tsp

vanilla extract
Instructions
Cupcakes
Preheat the oven to 180ºc/160ºfan and get 12 muffin size cupcake cases, or baking cups ready.

In a pan, gently heat the unsalted butter, dark brown soft sugar, golden syrup and black treacle together in a pan until smooth, allow to cool for 10 minutes.

In a large bowl, sift the self raising flour, ground ginger and ground cinnamon together and pour in the butter/sugar/treacle mix – stir to combine.

Add in the eggs and stir to combine.

Finally, add the slightly warmed milk and mix again.

Split the mixture between the cupcake cases.

Bake in the oven for 20-24 minutes, or until baked through. Leave to cool fully.
Buttercream
Beat the room temperature unsalted butter on it's own for a few minutes to loosen it and make it lovely and soft.

Add in the icing sugar, ground ginger and vanilla extract, and beat again. Continue beating until the buttercream is lovely and fluffy and perfect - about five minutes. If the buttercream is really stiff, add 1-2tbsp boiling water but only do this if essential.
Decoration
Pipe the gingerbread buttercream onto the cupcakes with the piping tip of choice, and decorate with some gingerbread person toppers, and some gingerbread sprinkles.
Notes
These cupcakes will keep in an airtight container for 3-4 days! The flavour keeps on getting better as the days go on.
For this recipe I used:
These cupcakes will freeze frosted or unfrosted for up to three months in a freeze proof container. 
ENJOY!
Find my other recipes on my Recipes Page!
You can find me on:
Instagram
Facebook
Pinterest
Twitter
Youtube
J x
© Jane's Patisserie. All images & content are copyright protected. Do not use my images without prior permission. If you want to republish this recipe, please re-write the recipe in your own words and credit me, or link back to this post for the recipe.