December 11, 2021
Christmas NYC Cookies
*This post may contain affiliate links. Please see my disclosure for more details!*
Giant chunky Christmas NYC cookies with milk and dark chocolate chunks, M&Ms, a chocolate dip, and more!
Christmas NYC cookies!
Am I right in saying that I couldn't safely resist baking a Christmas NYC cookie?! Because yeah that's right. I may have done a few too many at this point, but I really don't care… I am fully in the festive spirit and loving my cookie-filled life.
I wanted to do a Christmas NYC cookie that goes a little over the top in comparison to my gingerbread NYC cookies that we all know and love from last year – and take it up a notch – so you get these… a delicious vanilla cookie dough, stuffed with chocolate chips, M&Ms, AND dipped in chocolate!
Similar recipes
These beauties are without a doubt one of my favourite cookies I have ever done, and can you blame me?! Just look at how festive, fun and delicious they look!! The vanilla cookie dough colours, the chocolate, and all the red, white, and green!
This is another one of those bakes that is awfully similar to my other cookies, but I am so in love with the theme I really don't care. Something about the chocolate chips and M&Ms absolutely gets me. You can of course adapt the cookies and customise them in many ways…
Dry ingredients
In these cookies I used purely light brown soft sugar compared to my normal combination of light brown soft sugar and granulated sugar. You can use all white granulated sugar, this will just result in a light coloured cookie, or you can use dark brown soft sugar like in my gingerbread nyc cookies, and get a darker cookie with a more caramel flavour.
I use plain flour in my NYC cookies, with the addition of baking powder AND bicarbonate of soda. Baking powder and bicarbonate of soda are different products, and do different things. Baking powder actually contains a small amount of bicarbonate of soda, but they are not interchangeable.
If you can't use plain flour, you can use self raising flour – this requires you to remove the baking powder from the recipe, but still use the bicarbonate of soda. The end results of the cookies should be the same, but by habit, I always use the plain flour!
Flavour
I left the flavouring of the dough to vanilla as I wanted what many would call a 'plain' dough. You don't even have to include the vanilla if you don't want to, but it is a very tasty addition.
You could alternatively use orange extract, lemon, peppermint etc – flavour them how you like. Sometimes when I make batches of these, I add a little peppermint as it married with the chocolate dripped park of the cookie perfectly!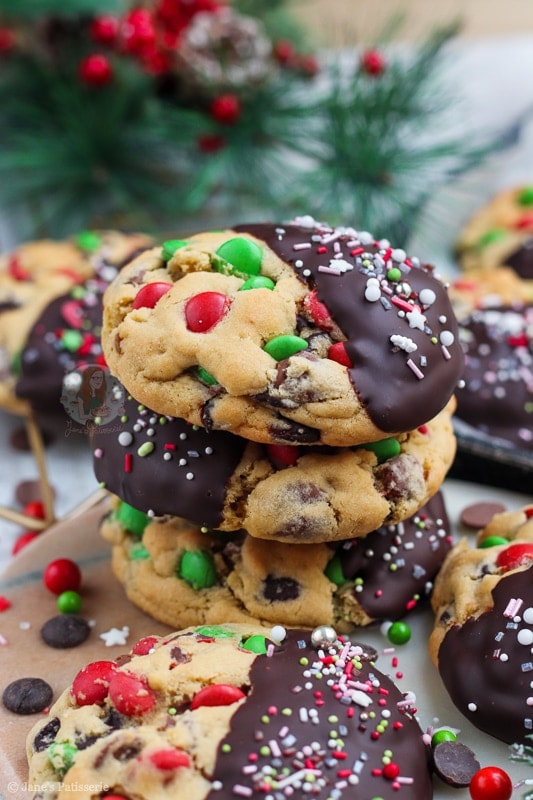 Chocolate
I decided, just like my original chocolate chip NYC cookies to use a combination of milk chocolate chunks and dark chocolate chunks, but that is up to you. I love the deeper colours and flavours of the chocolate with the green and red M&Ms… which I did definitely just pick out of sharing bags.
There may be better ways to get red and green sweets, but I knew I would happily eat the other colours M&Ms… so that's up to you if you join me. Other than M&Ms, you can use smarties, or other green and red chocolate sweets! It's up to you.
Decoration
I then decided because I wanted to go completely overboard with these Christmas NYC Cookies, was to dip the cookies in chocolate, kind of like my christmas pudding cookies, and then sprinkle on some sprinkles.
The contrast of the dark chocolate with the sprinkles looks really cute in my opinion, but you can use whatever chocolate you fancy to dip. I really hope you love this festive Christmas NYC Cookie recipe as much as I do! Enjoy!! x
Christmas NYC Cookies!
Giant chunky Christmas NYC Cookies with milk and dark chocolate chunks, M&Ms, a chocolate dip, and more! 
Print
Pin
Rate
Ingredients
Cookies
125

g

unsalted butter

175

g

light brown soft sugar

1

large/medium

egg

1

tsp

vanilla extract

300

g

plain flour

1 + 1/2

tsp

baking powder

1/2

tsp

bicarbonate of soda

1/2

tsp

sea salt

100

g

milk chocolate chips

100

g

dark chocolate chips

100

g

green/red M&Ms

(Picked out of multipacks)
Decoration
100-150

g

dark/milk chocolate

christmas sprinkles
Instructions
Add the unsalted butter and light brown soft sugar to a bowl and beat until creamy.

Add in the egg and vanilal extract and beat again.

Add in the plain flour, baking powder, bicarbonate of soda, and sea salt and beat until a cookie dough is formed!

Add in the milk chocolate chips, dark chocolate chips and M&Ms and beat until they're distributed well!

Weigh the cookies out into eight cookie dough balls - they're about 120g each!

Once they're rolled into balls, put your cookie dough in the freezer for at least 30 minutes, or in the fridge for an hour or so!

Whilst the cookie dough is chilling, preheat your oven to 180ºC Fan, or 200ºC regular! If your oven runs hot, go for 160ºC-170ºC.

Take your cookies out of the freezer/fridge and put onto a lined baking tray. I put four cookies per tray!

Bake the cookies in the oven for 11-13 minutes. I don't personally flatten the cookies, as they flatten enough during baking - however, if you like flat cookies, flatten them a bit before baking.

Once baked, leave them to cool on the tray fully.

Once cooled, melt the dark/milk chocolate for the decoration, and then dunk each cookie halfway into the chocolate and rest on a lined baking tray.

Sprinkle each cookie whilst still wet with christmas sprinkles, and then leave to set fully.
Notes
Once baked, these will last for 4-5+ days!
You can freeze the raw, shaped cookie dough for 3+ months and bake straight from frozen (12-14 minutes).
You can use any chocolate you fancy, I just love the combination of milk and dark chocolate!
You can use chocolate bars chopped up instead of chocolate chips, just make sure the chunks aren't too big!
If you want a lovely texture - you can add in 1 level tbsp of cornflour, and take out 25g of the flour!
I used dark chocolate on the decoration but you can use any. 
You can use any green and red chocolate sweets, but I used M&Ms. 
If you want to make smaller cookies that are then not NYC style (60g) - they take about 9 minutes to bake! 
ENJOY!
Find my other recipes on my Recipes Page!
You can find me on:
Instagram
Facebook
Pinterest
Twitter
Youtube
J x
© Jane's Patisserie. All images & content are copyright protected. Do not use my images without prior permission. If you want to republish this recipe, please re-write the recipe in your own words and credit me, or link back to this post for the recipe.