December 30, 2021
Hot Chocolate Cake!
*This post may contain affiliate links. Please see my disclosure for more details!*
A delicious four-layer hot chocolate cake with a hot chocolate flavoured sponge, hot chocolate marshmallow buttercream frosting and all the decoration!
Hot chocolate cake
If you know me well, you know I am fully and utterly hot chocolate obsessed. I am utterly in love with them – especially in the cold winter months like it is right now. I have genuinely been nicknamed the hot chocolate queen by my friends and family because they know it is my favourite!
Something about a cold afternoon or evening, wrapped up in a blanket and watching something cosy on tv just makes me so happy – and translating that cosy feeling into a cake makes it even better. This hot chocolate cake is one of my new favourites for sure!
When I have a hot chocolate I like them as they come – a thick deep dark chocolate drink topped with a light whipped cream, a flake and some mini marshmallows = oh hello there. I do also love ordering a flavoured hot chocolate – mint chocolate probably being my favourite.
If you come to my house, it is full of all different hot chocolate powders – I have rocky road, mint chocolate, chocolate orange, Turkish delight etc… and they are all high quality. It's important when baking with hot chocolate powder to use a powder that is designed to be mixed with MILK and NOT with water.
Sponge and cocoa powder
When making the sponge for this hot chocolate cake, I followed the same idea as my back to basics chocolate drip cake. The only change you have to do is swap the cocoa powder for the hot chocolate powder. If you want to make life simpler you can just use cocoa powder if you want! It will still be deliciously chocolatey.
Some powders, can have lots of sugar added into them as that's how you make the flavours – so I find its best to use a higher cocoa content hot chocolate powder so that it mixes into the mixture well. I love using green & blacks, or even the supermarket own versions – I tend to avoid cadburys, galaxy, Malteser etc.
Crumb coat, buttercream and chilling
Once the cakes are ready to decorate I use the buttercream to sandwich the cakes together, do a crumb coat, and decorate the outside. I use a small angled spatula to help spread the buttercream onto each layer as it's far easier, and this is useful for a crumb coat. Crumb coats are important as it literally seals the crumbs in, to prevent them touching the outside of the bake once decorated.
For the buttercream on my hot chocolate cake I used a combination of hot chocolate powder and also marshmallow fluff. I wanted to make something that was a bit more exciting compared to a normal buttercream – so using the combination of the hot chocolate powder and fluff made it insanely delicious.
It's important to chill cakes like this hot chocolate cake with each stage, just to make sure that it works well and is easier to achieve the end result. I find working from a chilled cake after the cake crumb also makes the final stage of smoothing around the top layer of buttercream just so much easier!
Tins and a smaller version
I used these 8″ cake tins when baking these sponges, as I prefer them when I am baking deeper cakes. When making a four layer cake I prefer to bake two cakes, and then split each sponge into to layers each. It means the cake bakes softer and is delicious to work with.
If you want to make this cake smaller, you can half the recipe and bake into one tin to make a two layer cake. You can also just make it a layer cake and not a drip cake if you want – but this is all up to you. I went for a showstopping hot chocolate cake because YUM!
Hot chocolate powder and marshmallow fluff
The marshmallow fluff can be very sticky to work with – but its worth it. The marshmallow fluff softens the buttercream ever so slightly making it easier to work with – but also sticky a bit in itself.
I used this hot chocolate powder for the cake and the buttercream, and it weirdly has a drying effect so it was perfect with the stickiness of the fluff. I also dusted some powder over the top of the cake as I wanted the decoration on this cake to be OTT on purpose!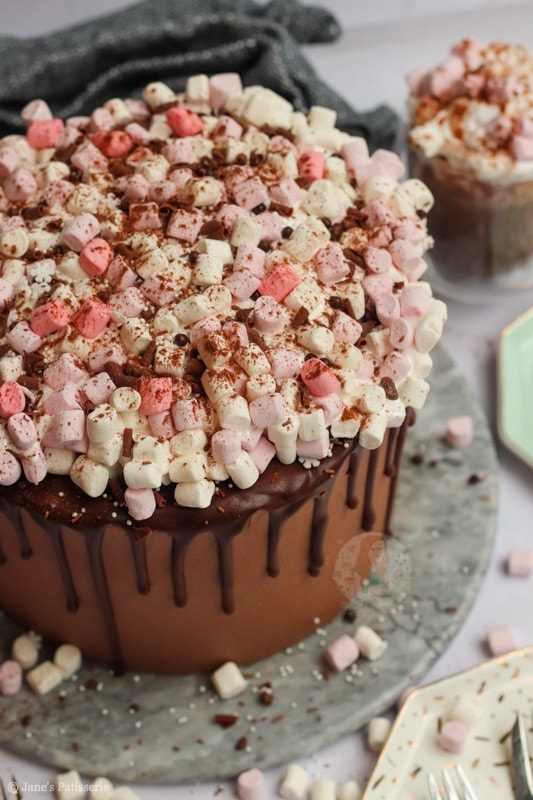 Topping
I couldn't just stop at a hot chocolate marshmallow buttercream frosting with this hot chocolate cake – I had to add a chocolate drip, because I am obsessed, then added on an absolute tonne of mini marshmallows. I used some leftover buttercream to add on the mini marshmallows, with a little more of the fluff – this is optional though.
If you want to top with marshmallow fluff you can, but it doesn't 'set' in place very well and will spread and more likely spill over – so it's best to use leftover buttercream, or as little fluff as you can concentrated to the middle of the cake to prevent a sticky marshmallow mess!! Enjoy. x
Hot Chocolate Cake!
A delicious four-layer hot chocolate cake with a hot chocolate flavoured sponge, hot chocolate marshmallow buttercream frosting and all the decoration! 
Print
Pin
Rate
Ingredients
Cake
500

g

unsalted butter

500

g

light brown soft sugar

9-10

medium

eggs

400

g

self raising flour

100

g

hot chocolate powder
Buttercream
500

g

unsalted butter

(room temp)

900

g

icing sugar

100

g

hot chocolate powder

200

g

marshmallow fluff
Ganache
75

g

dark chocolate

75

g

milk chocolate

150

ml

double cream
Decoration
spare buttercream

50

g

mini marshmallows

sprinkles
Instructions
For the Cake
Preheat your oven to 170ºC/150ºC Fan, and line two 8"/20cm cake tins with baking parchment.

In a stand mixer, or a large bowl, beat together the unsalted butter and light brown soft sugar until light and fluffy.

Add in the eggs, self raising flour, hot chocolate powder and beat again until combined well. 

Split the mixture between the two tins.

Bake the cakes in the oven for 50-60 minutes, or until baked through - check with a skewer to make sure they're done! 

Leave the cakes to cool in the tins for 10 minutes, and then take out and leave to cool fully on a wire rack! 
For the Buttercream
Beat the unsalted butter on its own for minute or two, to soften it and loosen it. 

Add in the icing sugar and hot chocolate powder and beat well until smooth and fluffy.

Add in the marshmallow fluff and beat again until smooth.
For the Decoration
Split the two cakes into four layers in total.

Put the first cake onto a cake board of plate. Add a little buttercream and spread. Repeat with the second and third sponges. Add the final sponge on top.

Using a small amount of buttercream, spread and smooth around the cake sides and top for a crumb coat and add to the fridge for at least 30 minutes.

Once set, add more buttercream onto the tops and sides of the cake, and smooth around covering the cake completely in buttercream.

I add the buttercream on using a small angled spatula, and smoothed around the edge with the large metal scraper! You need to make sure there is more buttercream on the sides of the cake than you need, as some will be removed as you smooth it over.

Once finished, put the cake in the fridge again for at least 30 minutes.

Add the dark chocolate, milk chocolate and double cream to a bowl, and microwave until smooth.

Using a small piping bag or a teaspoon, drip the ganache down the sides of the cake. The more you push over the edge, the further the drip will fall.

Set the cake in the fridge again for 30 minutes!

Finish the cake off by dolloping leftover buttercream on top, and pressing in the mini marshmallows. Sprinkle on anything else you fancy!
Notes
This cake lasts for 3-4 days at room temperature!
For this Cake I used (affiliate links):
You can use half of the recipe to make a two-layer cake - half the sponge recipe, and half the buttercream! 
ENJOY!
Find my other recipes on my Recipes Page!
You can find me on:
Instagram
Facebook
Pinterest
Twitter
Youtube
J x
© Jane's Patisserie. All images & content are copyright protected. Do not use my images without prior permission. If you want to republish this recipe, please re-write the recipe in your own words and credit me, or link back to this post for the recipe.