January 22, 2022
Salted Caramel Cheesecake Cookies!
*This post may contain affiliate links. Please see my disclosure for more details!*
Easy and delicious chocolate chip cookies stuffed with a salted caramel cheesecake centre… my new favourite, salted caramel cheesecake cookies!
Cheesecake cookies
So we all know that one of my favourite things to bake is cookies, but also… we all know I have an obsession with making cheesecake. So I finally thought, why am I not combining these favourites to create something utterly insane and delicious?! SALTED CARAMEL CHEESECAKE COOKIES… Oh, my days.
I always use the same style base to my cookies because I just love the cookie dough – it is similar (with ever so slight differences) for my cookie bar recipes and my NYC Cookie recipes, and even just normal cookie recipes… it works! It is the dreamiest of dreams to work with.
Cookie dough
Whenever you make stuffed cookie dough, you have to make sure that the cookie dough is quite dry, and not sticky. If the dough turns out sticky, you may have to add in a bit more flour to counteract it – just to make rolling the cookie dough possible!
I mix my cookie dough with my stand mixer and the paddle attachment – with fridge-cold baking margarine (or room temp unsalted butter), the one egg, and the vanilla – I do not add any more liquid. The cookie dough is the perfect consistency with the rest of the ingredients.
Chocolate
If you want to make a chocolate cookie dough, that is definitely possible – you can remove 50g of flour, and add 35g of cocoa powder. You don't need quite as much cocoa powder because cocoa powder can be quite drying! However, if you find it is a bit sticky, add 15g more flour in.
I used a mixture of milk and white chopped chocolate in these cookies rather than chocolate chips – the chocolate chips I use are quite large in my opinion and I wanted to make sure the chocolate was chopped finely enough so that the cheesecake filling wouldn't ooze out! I just used a bar of chocolate and chopped it down.
Cheesecake filling
For the filling in these salted caramel cheesecake cookies, I decided to use a really basic cheesecake filling, and there is a reason – I wanted the flavour of my salted caramel cheesecake, but it couldn't risk being too soft. Therefore, I used a mixture of full-fat soft cheese (I used a mixture of mascarpone and cream cheese), a salted caramel sauce and a touch of icing sugar.
It may seem a bit weird, but as long as you are using full-fat soft cheese, and only stirring the mixture together with a spatula, it should stay quite thick. This means when you are portioning the cheesecake mixture so you can freeze them, they won't go everywhere! If you used a normal cheesecake mix with double cream as well, this may go rather wrong.
I used a salted caramel sauce from the supermarket, but you can use carnations caramel with 1/2 tsp sea salt added, or you can even try a spread such as nutella, or biscoff to flavour the cheesecake! The possibilities and flavour combinations are utterly endless and the dream.
If you are worried, you can put the cheesecake mixture into an ice cube tray, and freeze them that way – but I dolloped a spoonful onto a lined tray, and then froze that – and it worked! I will say though, cheesecake cookies fresh out of the oven are a little weird, warm cheesecake mixture isn't the best…
Bake and chill
Bake for about 11-12 minutes, let them cool on the trays, and then even shove them in the fridge to speed up the process if you fancy eating them quicker. These salted caramel cheesecake cookies are one of the few I would say it is best to chill FULLY to then enjoy, so the cheesecake mixture has set back to a solid, and so that you don't have the weird cheesecake experience…. But honestly, the wait is worth it!
Tools
I used my normal 5cm cookie scoop when making these – I didn't weigh the cookie dough. I find it far easier to just use a scoop for this style cookie, as it's a consistent size, and it's much quicker! If you do want to weigh them though, simply add all the ingredient weights together and divide by the quantity of cookies you are making.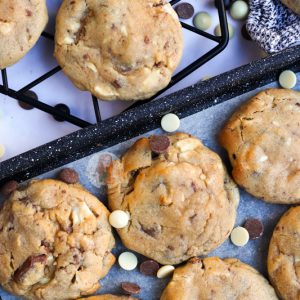 Salted Caramel Cheesecake Cookies!
Easy and delicious chocolate chip cookies stuffed with a salted caramel cheesecake centre... my new favourite, salted caramel cheesecake cookies! 
Print
Pin
Rate
Ingredients
Cheesecake filling
360

g

full-fat soft cheese

(I used half philadelphia, half mascarpone)

60

g

salted caramel sauce

25

g

icing sugar
Cookies
125

g

unsalted butter

175

g

light brown soft sugar

1

medium

egg

1

tsp

vanilla extract

300

g

plain flour

1

tbsp

cornflour

1/2

tsp

bicarbonate of soda

1/2

tsp

sea salt chunks

100

g

white chocolate

(finely chopped)

100

g

milk chocolate

(finely chopped)
Instructions
Cheesecake filling
Add the full-fat soft cheese, salted caramel sauce, and icing sugar to a small bowl and mix with a spatula/spoon until combined.

Dollop tablespoon sized amounts of the cheesecake mixture onto a lined tray.

Place the tray in the freeze for at least an hour to freeze until solid.
Cookies
Preheat your oven to 200ºc/180ºfan, and line two-three trays with parchment paper.

Add the unsalted butter and light brown soft sugar to a bowl and beat until creamy.

Add in the egg and vanilla extract and beat again.

Add in the plain flour, cornflour, bicarbonate of soda, and sea salt and beat until a cookie dough is formed.

Add in the finely chopped chocolate and beat until they are distributed well!

Scoop the cookies using a 5cm scoop onto a lined tray and place in the fridge until your cheesecake mixture is frozen (if it is ready, carry on to the next step).

Press each cookie dough ball in your hand until flat, and add a frozen ball of cheesecake mixture to the middle. Wrap the cookie dough around the cheesecake ball and make sure it is sealed.

Add 6 cookies to each tray and then bake in the oven for 11-13 minutes, or until golden.

Remove the trays from the oven and leave the cookies to cool fully on the trays. Then, set the cookies in the fridge so the cheesecake sets quicker!
Notes
You can freeze the raw cookie dough easily, and bake from frozen if you don't want to bake the entire batch - add 1-2 minutes to the baking time. 
See notes on the post about how to adapt the flavours of the cookies! 
Once baked, these will last for 3-4+ days, in the fridge. 
ENJOY!
Find my other Recipes on my Recipes Page!
You can find me on:
Instagram
Facebook
Pinterest
Twitter
Youtube
J x
© Jane's Patisserie. All images & content are copyright protected. Do not use my images without prior permission. If you want to republish this recipe, please re-write the recipe in your own words and credit me, or link back to this post for the recipe.