January 29, 2022
Creme Egg Fondants!
*This post may contain affiliate links. Please see my disclosure for more details!*
Delicious and super easy creme egg fondants with a chocolate fondant cake, stuffed with a molten creme egg centre.
Soooo.. yeah… LOOK AT THESE BUNDLES OF GOODNESS! Can we honestly believe it?! No, we can't. I finally posted a recipe that I have wanted to post for many years now… creme egg fondants. Yeah, I know. YUM.
These beauties of a bake are probably one of the most indulgent bakes that I can think of posting because just look at them! They are far easier to bake compared to what you think they will be, and they are 100% worth it.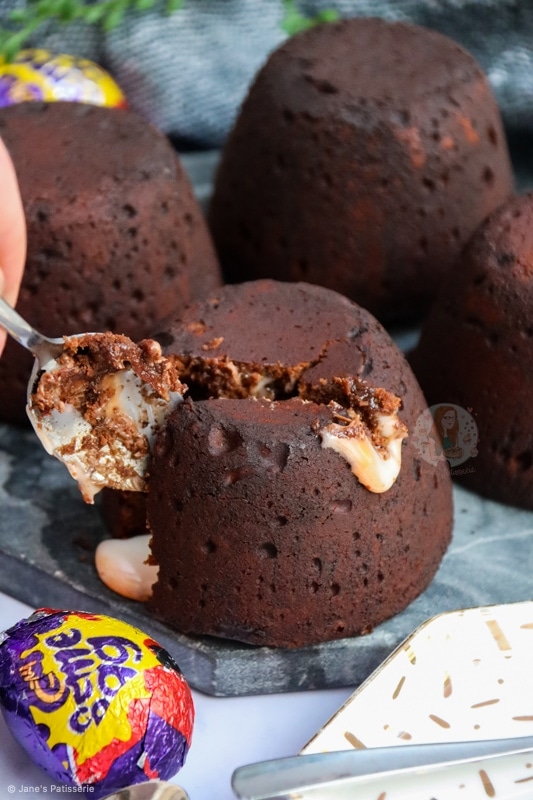 Creme egg fondants
These creme egg fondants are made up of a few ingredients – butter, chocolate, eggs, sugar and flour – and then stuffed with a frozen creme egg. You do also need some butter and some cocoa powder to line your pudding moulds though.
I use some basic 8cm pudding moulds for these fondants, and they are a perfect size. The recipe makes 4, which is ideal! You can easily multiply the recipe up if you wanted more – just multiply up in twos.
Preparing the pudding moulds
It's so important with the pudding moulds to line them correctly, so these precious beautiful creme egg fondants do not get stuck inside the moulds! You need to use a little melted butter – and brush the butter in the direction of the mould, so up the sides!
You then need to dust cocoa powder into the moulds and shake it around so it's completely covered. It's best to lightly tap out the excess, but trust me – this stage is so important! The direction of the butter and the cocoa powder will make it so easy.
Fondant mixture
For the actual creme egg fondant mix, it's so easy! You melt together the dark chocolate and unsalted butter until they are smooth (like you would with a brownie) and let it cool slightly. You then have to whisk your eggs, egg yolks and sugar together.
I whisk the eggs, yolks and sugar together with my electric whisk as you want them to combine really well – again, kind of like a brownie. The mixture should become much lighter in colour, and leave a trail when the whisk is lifted out of the mixture.
You then pour in the melted butter/chocolate mixture and beat. You do not necessarily have to be super careful and fold the mixture (which may sound odd!) but honestly, I just stir it in! I then add my flour and stir again.
I find it far easier to pour the mixture into the moulds with a jug – just so I don't spill it down the sides! The amount of mixture is perfect for the four moulds, so you don't want to waste any really! We all need that chocolatey goodness in our lives.
Creme eggs
You then have to press in the FROZEN creme eggs – it is so important that they are frozen, it prevents them completely collapsing and being destroyed whilst they are baked! I lay them into the pudding moulds on top of the mixture on their sides, press them in slightly, and cover the top of them lightly with the mixture.
This recipe will work with anything else soft-centred like the creme eggs – caramel eggs, Lindt chocolates etc! Just always make sure to freeze them first for best results.
Baking fondants
During this process, you have hopefully heated your ovens up (As they should always be ready to bake, no mixture should ever be left sat unless it is specified to do so!) and you can bake! They really don't take long – about 11-13 minutes, that's it!
You have to leave them for about 10 minutes to settle after baking, but then they are ready to serve. You need to serve them straight away so that the chocolate is still quite gooey and delicious, and so that the creme egg is lovely and runny. I 100% recommend devouring these, even if you aren't a massive creme egg fan… they are amazing!
Find all the recipe details below! Enjoy! Jane x
Creme Egg Fondants!
Delicious and super easy creme egg fondants with a chocolate fondant cake, stuffed with a molten creme egg centre. 
Print
Pin
Rate
Ingredients
Prep
15

g

unsalted butter

(melted)

15

g

cocoa powder

(for dusting)
Fondants
4

regular

creme eggs

(frozen)

100

g

dark chocolate

(at least 70%+)

100

g

unsalted butter

100

g

light brown soft sugar

2

medium

eggs

2

egg yolks

100

g

plain flour
Instructions
Prep
Start by making sure your creme eggs are frozen solid (AT LEAST 1 hour) - I do mine overnight though.

Prep 4 x 8cm pudding moulds by brushing the melted butter all over the inside of the mould - I use a pastry brush for this.

Dust the inside with the cocoa powder, making sure the cocoa powder covers all of the melted butter and tapping out any excess cocoa powder.
Fondants
Preheat the oven to 200ºc/180ºfan.

In a small bowl, add the dark chocolate and unsalted butter and melt until smooth - I do this in the microwave.

Once melted, leave it to cool for 10 minutes.

In a new bowl, add the light brown soft sugar, eggs and egg yolks and whisk together for a couple of minutes, until the colour of the mixture is much lighter and the whisk leaves a trail in the mixture when it is lifted out of the bowl.

Pour in the chocolate/butter mixture, and stir until smooth.

Add in the plain flour, and stir until smooth again.

Split the mixture evenly between the four pudding moulds, and carefully press in a frozen creme egg (on it's side). Press the creme egg in fully, and cover the top if you can still see it with mixture.

Once the creme eggs are covered, place the fondant's in the oven and bake for 11-13 minutes.

Take them out of the oven and let them cool for 10 minutes in the pudding moulds, and then turn out and serve immediately.
Notes
I use these pudding moulds
These are best served fresh - but can last 2+ days after. You can reheat them in the microwave!
You can substitute the creme eggs for caramel eggs, or anything soft-centered of a similar size (that has also been frozen prior to baking) 
I use this dark chocolate in my baking
ENJOY!
Find my other recipes on my Recipes Page!
You can find me on:
Instagram
Facebook
Pinterest
Twitter
Youtube
J x
© Jane's Patisserie. All images & content are copyright protected. Do not use my images without prior permission. If you want to republish this recipe, please re-write the recipe in your own words and credit me, or link back to this post for the recipe.