February 7, 2022
Valentine's Treat Box!
*This post may contain affiliate links. Please see my disclosure for more details!*
A fun and delicious way to celebrate Valentine's day – all your favourite goodies, in a Valentine's treat box!
I have always wanted to create something fun like a treat box, and this is definitely one of the best ways to do it – all of your and your partner's favourite treats, in a box! Yes, I have gone slightly overboard, but that is just me really isn't it. I am obsessed with this Valentines treat box.
I started off with this recipe by using a wooden box – this is basically just for the photos and the video. You do not need to use a wooden box like I have (it's designed for a display box for a shop) so I would recommend using a 12 hole cupcake box if you wanted a large treat box, or a 6 hole cupcake box for a smaller one (without the inserts).
I used a really cute heart wax paper to line my box – because it is so cute. I am not lying when I say, I really wanted this valentine's treat box to look perfect and it really does in my eyes! You can leave a box empty, or line it with a cutely coloured tissue paper for example.
Treat boxes are not a new thing and I always love seeing people make treat boxes with my recipes – they are just so much fun! They can be great for any time of year, but I really did want my first one to be valentine's themed, and I am so excited to see all of your creations.
For this box, I was thinking about what red, pink, and white treats I have on my blog, as well as other little bits that are just fun and usually loved by everyone – I wanted to make sure some bits were homemade, but it was also easy enough to make.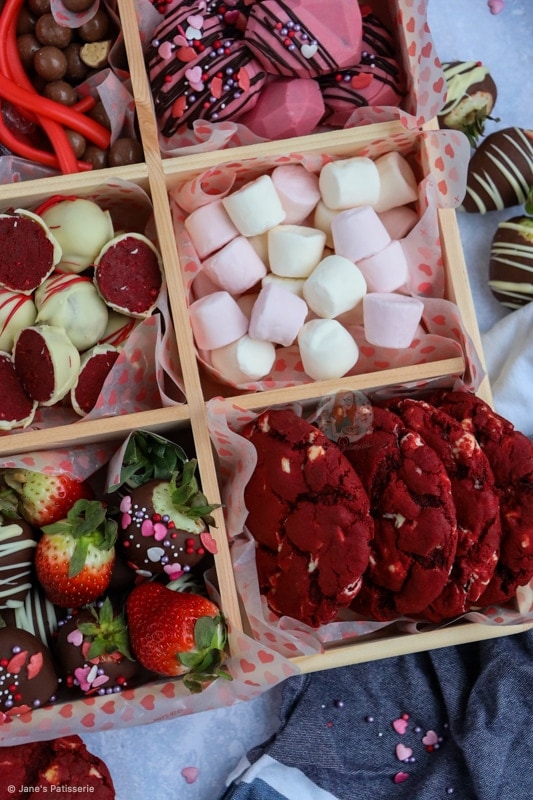 Red Velvet NYC Cookies
My first bake to involve was 100% going to be my red velvet nyc cookies – they are literally bright red, and just seem utterly ideal for a treat box like this. As the box I used was quite large, I used four full-sized cookies! You can easily use just two if you are using a smaller style box such as the 6 hole cupcake box.
As an alternative, you make smaller versions of the cookies! They won't necessarily be 'NYC' anymore – but that is purely based on size. They would still be utterly delicious but making 60g cookies, and baking for 8-9 minutes is ideal! Then you can fit more cookies in the box.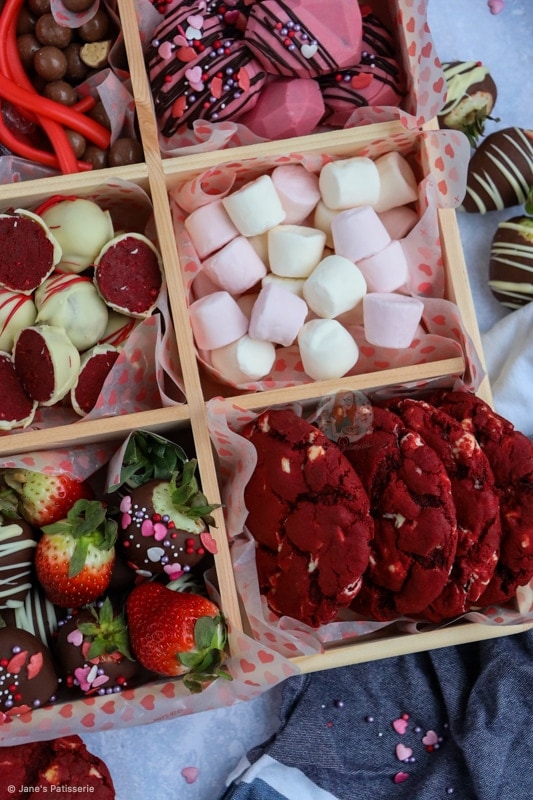 Red Velvet Truffles
I posted this recipe last week, and I am just obsessed – these red velvet truffles are cute, red so perfect for valentines day, and they are just a bit of fun, to be honest! They were immediately popular amongst you guys, so I thought they could be included in this Valentine's treat box.
If you wanted to swap it up a little you could change the decoration up to a red coating, with a white drizzle etc – but that is up to you. I always find truffles are related to Valentine's day because they are seen as a luxury – so definitely give these ones a go.
Alternatively, you could try something a bit more chocolate-themed such as my Bailey's truffles – the epitome of indulgence – or even my peppermint truffles! It is completely up to you.
Chocolate Geometric Hearts
One thing that I definitely could NOT resist making… was the chocolate geometric hearts! They have been so viral before, and I have never posted anything with them – until now! No, sorry, no specific recipe yet.. but they are just so easy to make anyway! I used this mould for them to make 6, and I am in love.
I used about 150g of white chocolate for the shells – coloured a dusty pink. I used a spoon to spoon in some of the melted and coloured chocolate to cover the edges of the mould and let it set fully in the fridge. You can use whatever chocolate you want though, I just wanted a pink theme! Or, you can even use some candy melts.
I then used about 200g of Nutella to fill the hearts – I found this easier after melting the Nutella a bit so that it would fill all the gaps! You can basically fill the hearts with anything that will set a bit easier – or even cookie dough or truffle mixture!
Make sure when filling the moulds to leave a gap at the top, to fill with the rest of the melted chocolate (so that the hearts are sealed. I set mine in the fridge until the hearts were solid, removed them from the mould, and then decorated them with some dark chocolate and some sprinkles!
Chocolate Coated Strawberries
We all know how popular chocolate-coated strawberries are for Valentine's day right?! It is probably one of the treats I associate most with Valentine's and that is totally okay… they are epic, so easy, and utterly delicious.
I made a mixture of strawberries for the decoration so I had a little bit of variety – some plain strawberries just because I love them, some chocolate coated with a white chocolate drizzle, and some chocolate coated with some valentine's sprinkles!
I used about 200g milk chocolate for the base coating of 12-15 strawberries, and about 25g white chocolate for half of the strawberries, along with some sprinkles for the other half.
Marshmallows & Sweets
I have put the last two sections of my Valentine's Treat Box into one as they really don't need much description – I tried to use sweets I know I'd love to eat as well as the other person sharing the treat box – but what you use is up to you!
Chocolate coloured sweets, pink and white marshmallows, red sweets, purple sweets… it's all under the same idea! You can of course use whatever you want though – it's entirely up to you!!
Summary
Other ideas for a valentines treat box could be things such as my red velvet cupcakes, or even my valentines cookie bars… you can genuinely use whatever you want!! I haven't put amounts on what I have used really as it does depend on who you are serving.
Generally, I think two of anything big is best – but smaller things you can have a couple of – such as the sweets or truffles! You can make anything really pretty with some extra sprinkles or some pretty tissue paper – but just have fun with one of these! Enjoy!
Find my recipes on my Recipes Page!
You can find me on:
Instagram
Facebook
Pinterest
Twitter
Youtube
J x
© Jane's Patisserie. All images & content are copyright protected. Do not use my images without prior permission. If you want to republish this post, please re-write the post in your own words and credit me, or link back to this post for the post.