February 14, 2022
All about… Cheesecakes!
*This post may contain affiliate links. Please see my disclosure for more details!*
All about… Cheesecakes! A post about how to fix no-bake cheesecakes, and tips & tricks to help!
Welcome to my new blog series "All about…" – a series designed to talk all about a type of bake, the bests tips and tricks for the bake, and how to fix it if it goes wrong. To start – CHEESECAKES!
When you are making a cheesecake there are many things that can go wrong – but this is true of basically most bakes in the world, not just cheesecakes. Baking is chemistry, and it relies on so much accuracy and elements that it is impossible to say a cheesecake recipe is 'fool proof'. I genuinely will never say a recipe is, because something can change.
Whether a recipe fails due to ingredients, temperature, time, equipment and so on – there are many contributing factors as to why a cheesecake recipe may fail – and this blog post is hopefully here to help you fix any errors and save those cheesecakes!
Some important factors to consider when making a cheesecake, is to be patient, use full fat ingredients, and don't stop looking at your mixer. These three points are so key it is insane! But I shall explain why – just make sure to have fun whilst baking though.
Some of the many reasons cheesecakes can fail is the mixture has split or curdled, the mixture has seized, the cheesecake mixture has become runny, the base of the cheesecake is too hard, and so on – and some of the reasons behind these are all the same but there are a few ways to fix them.
Split/Curdled Cheesecake Mixtures
When your cheesecake mixture splits or curdles, it will often look like cottage cheese, or just a little bit lumpy. It will look like it's quite runny, or becoming more runny – but the texture will have soft lumps inside it. (Almost like split cake mix!)
Cheesecake can split or curdle for a few reasons – often it's down to the temperature of ingredients. When making cheesecakes (particularly no-bake cheesecakes) the soft cream cheese MUST be full fat, but it should also be at room temperature. However, the double cream should still be cold.
If all ingredients become too warm, it is more likely to split because the cold nature of the cream is what helps it whip better. If you are making a plain cheesecake such as my no-bake vanilla cheesecake, you can probably get away with cold ingredients, but generally the cream cheese should be room temp.
Often a cheesecake mixture can split or curdle because of over mixing – I often get comments of 'how long do I mix for?' and annoyingly, I can't say for certain. How long depends on what brand of mixer you use, whether you are using a stand mixer or hand mixer, or even just your arm and a balloon whisk. It varies, and you just need to keep an eye on the mixture. You need to check your mixture often, to make sure it won't over mix.
If a mixture is under whisked, it tends to be thicker, and looks like softly whipped cream – it'll have a smooth texture, and look a bit like meringue almost – if it is under whisked, it may be slightly soft set, but this is better than over whisked.
If you turned your mixer on, walked away for 10 minutes, you will probably come back to a over whisked and split mixture.
How to solve a split/curdled cheesecake mixture
You can solve and fix a split cheesecake mixture by making the mixture smooth again – the best way I have found is to add the mixture to a pan on a really low heat, and stir constantly and have it on the heat as little as possible and stir until it is smooth. This process will bring the mixture back from being split.
Once your mixture is smooth again, because it has been partially melted – it will NOT set by itself. Unfortunately, the best way to then still save the mixture is to use a setting agent such as gelatine. I know it's not the best (you can get vegetarian versions) but it is the only way to make it set!
It's best to follow packet instructions as brands can vary – but generally I would add a powder sachet of gelatine to a bowl, and dissolve in 2 tbsp of boiling water. You will want to mix it until the lumps of gelatine have disappeared. You can then whisk this into the cheesecake mixture and let it set over night.
Or, you can add the mixture to a bowl, as it will work amazingly as a mousse – the cheesecake will set to a point itself, but it will not have the same firm hold – so if you don't want to use a setting agent, you can add the mixture to a dish and serve it as a cheesecake mousse, or freeze the mixture and make an ice cream instead.
Seized Cheesecake Mixtures
When a cheesecake has seized – it will involve chocolate. A seized mixture usually happens when a melted chocolate is added to a cheesecake mixture, beaten together, but the chocolate solidifies really quick and looks like there are solid lumps of chocolate in the mixture.
Sometimes this can happen and only have partially seized, and sometimes the entire cheesecake mixture will seize – you can see that it's different to a split/curdled mixture because the seized mixture is often still thick, and the lumps are hard not soft.
The reason this happens is down to temperature of ingredients – sometimes it's because the chocolate was too hot going into a cold cheesecake mixture, or some of the cheesecake mixture was too cold (such as if your cream cheese wasn't at room temp).
Whenever I add chocolate I prefer to add the chocolate after I have beaten together the cream cheese and icing sugar – and before the double cream. This is a choice, you can add the chocolate in last – but I find it's much less likely to seize if you do it before the cream.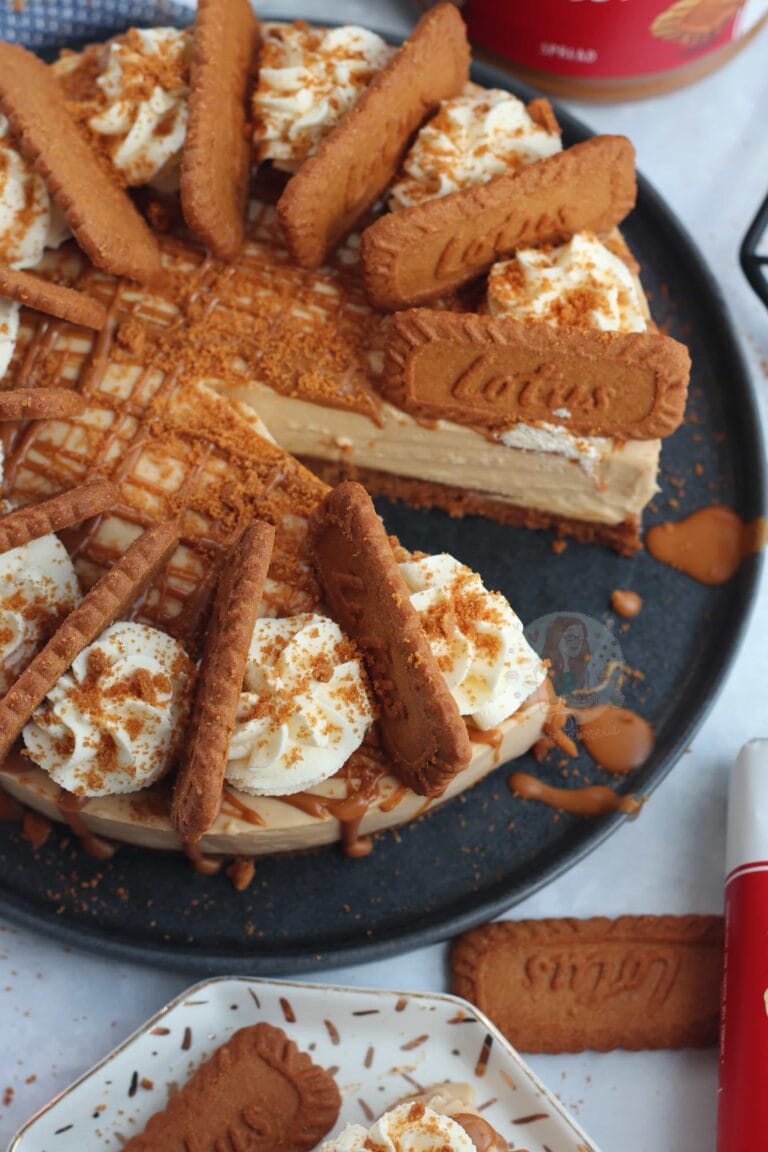 How to solve a seized mixture
You can solve and fix a seized cheesecake mixture in a similar way to a split/curdled mixture – by adding the mixture to a pan on a really low heat, and stir constantly and have it on the heat as little as possible and stir until it is smooth. This process will bring the mixture back from being seized as it re-melts the chocolate again.
An alternative, is to add more chocolate – this is not a guaranteed method, but it's worth a go! If you use hot melted chocolate, it can melt the rest of the chocolate as you mix it in. I personally would fold any extra chocolate in, rather than whisking however.
If in the process of melting the chocolate your mixture because too runny, you will need to use a setting agent like mentioned above – but generally it should be fine if it doesn't become runny as the chocolate helps set the cheesecake mixture.
Runny Cheesecake mixtures
Sometimes, you can simply over whisk, or under whisk a mixture. I cannot explain the differences, as it can vary as to why! You need to make sure when whisking a no-bake cheesecake mixture that you keep an eye on the mixture constantly so you can see when it thickens up!
It can be super quick (I've made a Biscoff Cheesecake mixture thick in 30 seconds, but sometimes it has taken 5 minutes – and this is down to temperatures and water content of the cream cheese). Water content of soft cream cheese is often the downfall of a runny cheesecake mixture. If you see lots of water in the tub of your soft cheese, make sure to drain that off.
If you find you have been whisking the cheesecake for 10+ minutes, and it is still the thickness of water, you have probably used an incorrect ingredient (Such as low fat soft cheese, or single cream) – because no cheesecake should take so long to whisk!
You can fix a runny cheesecake mixture the same as the others – with a setting agent – or freezing to make an ice cream mixture. Sometimes the cheesecake can be too thin if a chocolate has melted the mixture for example – and this is also solved this way.
If you aren't sure if your cheesecake mixture is too soft, or firm enough – think of the cheesecake mixture like meringue. I find that my cheesecake mixture is perfect, when I can pick a dollop up with a spoon or spatula, and the cheesecake mixture stays firm – it doesn't slide off, at all! It's so thick you can spread it like buttercream. And as I have said several times – check often as you make it – if it hasn't reached this buttercream like stage, it probably needs more whisking.
Cheesecake Bases
Say for example you have made your cheesecake, and the base isn't quite right – there isn't much you can do now, other than try something next time.
If your cheesecake base isn't sticking together well, the chances are that the biscuits weren't fine enough when the butter was added in. I use a food processor to make my biscuit base as you really do want the biscuits to be a fine crumb. You then need to press the base quite firmly into the tin to make sure it's compacted down (so it sticks together!).
If your cheesecake base is too hard – this can be down to a few things, such as brands of biscuits, too much butter, or a really cold fridge (or if you froze the cheesecake). Generally I stick to a rule of about 100-150g of butter in a biscuit base.
If I am using a classic biscuit such as a digestive, I use 100-150g of butter – often 150g. If I use a 'light' version of a biscuit, or a filled biscuit, or a chocolate coated biscuit, I use less. These biscuits need less butter – so generally I will use 90-100g of butter.
Getting the perfect finish
When I prep my tin – I don't do anything. I have made countless cheesecakes now, so I have an advantage with the amount of practice, but there are a few things you can do.
You can line your tin with parchment paper or an acetate strip to make them easier to get out – but that is up to you! I find using a springform tin is MUCH better because it automatically makes it easier to get the cheesecake out of the tin – but the bases of these tins can be a little annoying.
Some top tips for the base of a springform tin is to either simply turn the base upside down so the lip of the base isn't an issue any more, line the tin with a circle of paper, or add a flat base on top. I sometimes use the base of a really cheap 8" tin and simple place it on top of the other base, and it works wonders!
When I fill my cheesecake tins with the cheesecake mix, I press the mixture into the sides of the tin before filling in the middle, and smoothing it over. Packing the mixture into the sides makes sure there are no air gaps that can be a little ugly – and then filling the middle in and smoothing over finishes it off.
Once the cheesecake has set and be removed from the tin, I sometimes run a small knife or palette knife around the edge to smooth it ever so slightly – and the cheesecakes are done!
Summary
So when you are making a cheesecake…
Use FULL FAT ingredients – this is always important!

Double cream in the UK has about 45% fat content, so you simply want it as close to that as possible.

Keep an eye on the mixture – no matter how you are mixing it. You want to make sure the cheesecake thickens.

Have a setting agent on standby in the cupboard – I hate the idea of cheesecake mixture being wasted, but issues can happen – this prevents you having to through anything away.

Have the time to let it set – you really cannot skip this bit, because it will not work!

HAVE FUN. Always have fun when baking.
If you have any questions about cheesecakes, put them in the comments below and I will do my best to answer!!
Jane x
Find my Recipes on my Recipes Page!
You can find me on:
Instagram
Facebook
Pinterest
Twitter
Youtube
J x
© Jane's Patisserie. All images & content are copyright protected. Do not use my images without prior permission. If you want to republish this post, please re-write the post in your own words and credit me, or link back to this post for the post.