February 18, 2022
Mini Party Sausage Rolls!
*This post may contain affiliate links. Please see my disclosure for more details!*
Homemade and delicious mini party sausage rolls with a homemade sausagemeat filling, and delicious puff pastry!
Savoury baking
Last week I posted my garlic bread rolls recipe and you guys LOVED it. I know, how can you really go wrong with garlic bread?! You can't. But one thing that has been so highly requested on my blog for years now is one of the best savoury bakes that has ever existed – sausage rolls!
I know, some of you may be new to the idea of savoury on my blog – but trust me when I say it is happening and I am SO excited! I have always quietly said how I do absolutely adore savoury food – and borderline love it more than sweet (but in reality I just love all food).
I thought I may as well carry on the start to the new savoury recipes on my blog with more savoury bakes – and oh my days I know all of you who asked for this recipe are going to be just as happy as I have been with them – I have genuinely made these so many times over the years, I am so happy to finally share it.
Puff pastry
So for this recipe I wanted to make them as good as possible – so there is a balance. I use shop bought puff pastry because my god, I can rarely be bothered to make homemade puff pastry – in reality it takes days to do it properly, so shop bought wins.
I am not brand specific when it comes to what puff pastry I use, but I use the roll out sheets as they are the perfect size and shape – whether you buy a brand, or supermarket own, I just use the rectangular roll out puff pastry sheets and crack on.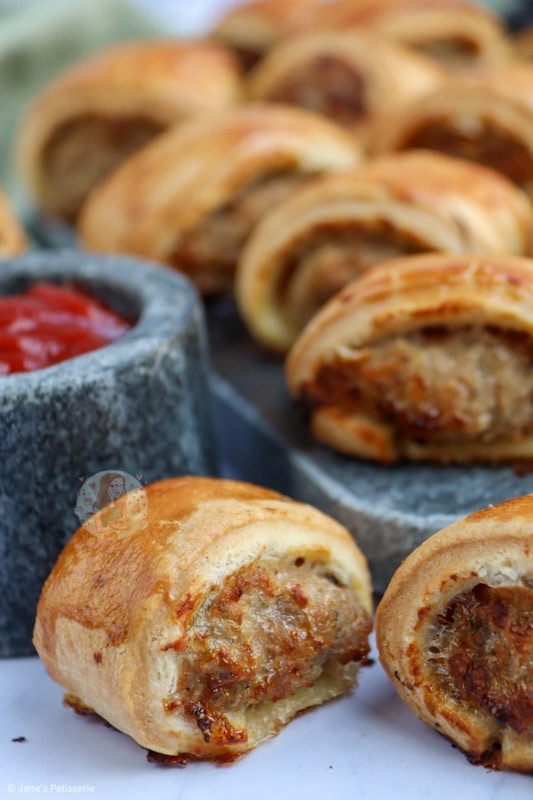 Sausage meat filling
For the more important bit – I flavour and make the sausage meat filling from scratch because I wanted my sausage rolls to have a particular taste – so no, I didn't just use sausages in the middle. However, if you want to – you can! They work the same timing wise, but I just wanted to flavour it myself.
You can buy packs of plain sausage meat from all supermarkets and it's so easy to work with as there is no casing on the meat like there is on actual sausages. Again though, if you need to use plain sausages because there is no plain sausage meat, you can take the meat out of sausages and put it into the bowl – you just need to start with the same weight.
Salt and spice can literally bring out more flavour within the dish, as well as adding the flavour – if you didn't add any spices or anything to your mini party sausage rolls, you will have bland taste! Of course, if that is what you prefer, that is totally okay! You do you.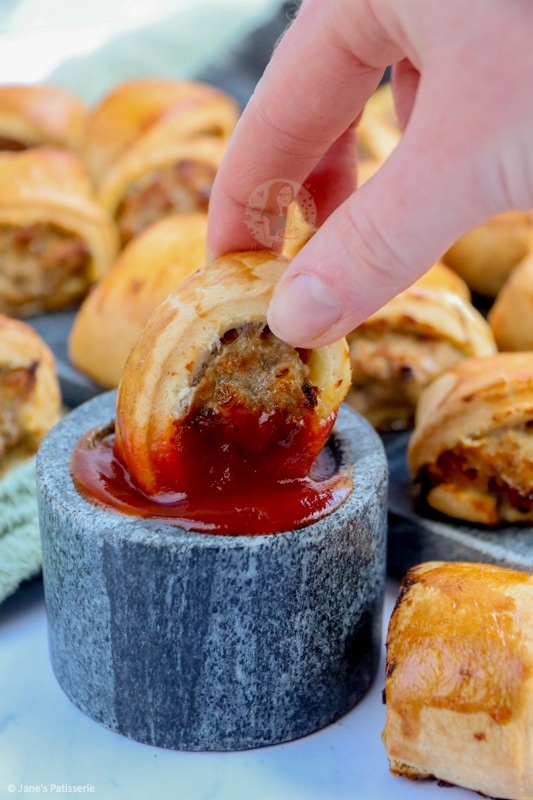 Flavouring
When it comes to the flavouring, you can swap and change things around depending on what you feel like – it's hard to say if everyone will love these, but all my taste testers seemed to love them so I am more than happy with them.
I use a base of garlic cloves (if you don't like garlic, we aren't going to get along), chilli flakes, mixed herbs, salt and pepper – and technically flavour wise, that is it! I wanted to keep it simple and accessible.
Spices
You can use less or more of all of the spices – depending on what you find you like. I used 2 garlic cloves, but you can also use garlic puree – use 1tbsp. I used chilli flakes because a small amount of spice is so important – even if you don't like spice.
A touch of spice in a recipe can bring out so much more flavour – just like with the salt and pepper. I use sea salt flakes because they are the dream, and then a sprinkling of black pepper for a little bit of balance.
The other spice is some dried mixed herbs – this spice is so good for so many things because it literally is a combination of flavours! I always use mixed herbs in my cooking, and they bring a beautiful flavour to these sausage rolls!
I know it may sound a bit weird to add water to the mix, but you essentially want the mixture to be a bit of a paste, so you can shape it and spread it in to the sausage rolls. I use my food processor to make the sausage meat because it blends it well, but a large bowl and some beating will do the trick too.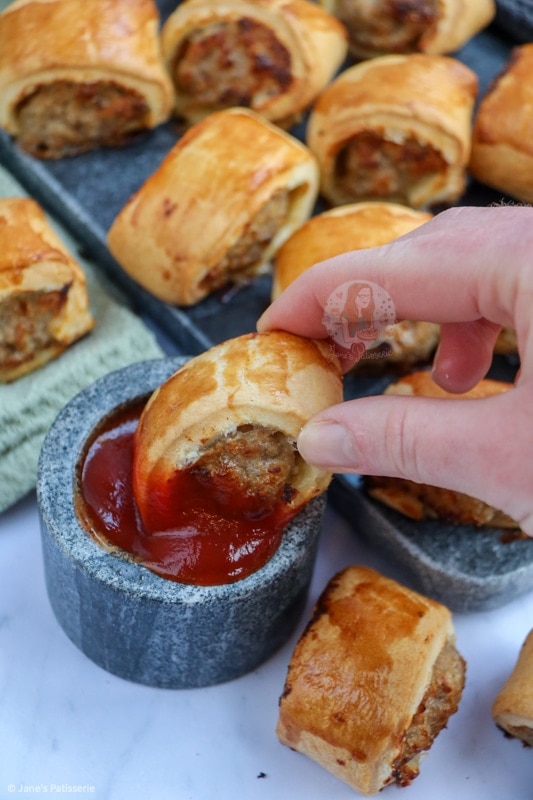 Preparing the sausage rolls
Rolling out the puff pastry, cutting it lengthways into two long strips, and making your sausage rolls is the easy bit! Simply add the sausagemeat along one side of the pastry (with a 1cm gap to the edge) and then brush some beaten egg along the pastry now covered in sausage meat.
Roll the pastry lengths into a long sausage, making sure to keep the join of the pastry underneath. Portion the sausage rolls into 24 in total – and place onto a lined tray! I then brush the tops of my sausage rolls with the rest of the beaten egg and bake!
Bake
If you are worried if the sausage rolls are cooked, you can check them with a thermometer – but when the juices of the sausage are running clear, and the meat isn't pink – they are ready!! Enjoy hot, warm or cold – they are just so delicious. ENJOY! X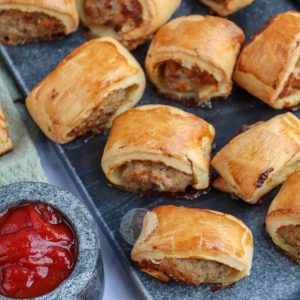 Mini Party Sausage Rolls!
Homemade and delicious mini party sausage rolls with a homemade sausagemeat filling, and delicious puff pastry! 
Print
Pin
Rate
Servings:
24
sausage rolls
Ingredients
400

g

plain sausagemeat

2

crushed

garlic cloves

1/4-1/2

tsp

chilli flakes

1

tsp

mixed herbs

pinch

of

salt & pepper

65

ml

water

350

g

puff pastry

(1 sheet)

1

egg

(beaten)
Instructions
Preheat the oven to 210ºc/190ºfan and line two large baking trays with parchment paper.

Add the plain sausagemeat, crushed garlic cloves, chilli flakes, mixed herbs, pinch of salt and pepper and the water to a food processor. (Or, use a large bowl).

Blitz the mixture together until it is smooth, and combined. 

Roll out the puff pastry sheet, and cut into two long lengths (one cut down the middle).

Spread half of the mixture along one of the long pieces of pastry, in a long sausage shape, about 1cm in from one of the edges.

Repeat this with the other half of the sausagemeat and pastry.

Fold the pastry over, covering the sausage meat with the pastry and and sealing with some beaten egg. (Brush beaten egg along the part of the pastry not covered in sausagemeat).

Once sealed, cut each strip of sausage roll into 12 pieces - I find it easiest to make quarters, and then cut each quarter into three for even sized sausage rolls.

Place each sausage roll onto the lined trays, with the sealed bit of pastry on the bottom.

Brush the top of the sausage rolls with more of the beaten egg.

Bake the sausage rolls in the oven for 25-30 minutes, or until baked through and the meat is no longer pink.

Cool for 10 minutes, and then enjoy warm - or cool completely and enjoy cold!
Notes
These will last 3 days in the fridge, or 3 months in the freezer!
The spices and flavourings are optional and changeable, but honestly they are perfect.
If you want the sausage rolls to be egg free you can use milk to seal the pastry and brush over the top.
If you don't want to make your own sausage meat, you can use sausages and place those inside the pastry (but it's fun to make your own!).  
I use this pastry brush!
ENJOY!
Find my other recipes on my Recipes Page!
You can find me on:
Instagram
Facebook
Pinterest
Twitter
Youtube
J x
© Jane's Patisserie. All images & content are copyright protected. Do not use my images without prior permission. If you want to republish this recipe, please re-write the recipe in your own words and credit me, or link back to this post for the recipe.