February 28, 2022
Lemon Trifle!
*This post may contain affiliate links. Please see my disclosure for more details!*
A delicious and spring-like lemon trifle with lemon cake, lemon jelly, custard, limoncello and more… light, scrumptious and delightful!
When I bake, I make so many different types of desserts, cakes, puddings, traybakes etc, with all different sorts of flavours and themes. I love this about what I do, and they are always recipes that you guys want to see – and this one is no different; a lemon trifle!
I have done a few trifle recipes before such as my chocolate orange trifle, and my raspberry prosecco trifle, and they always go down so well. Trifles are just so easy, and I think that's why – they can basically be thrown together and left until you need them – and you can have fun when you make them.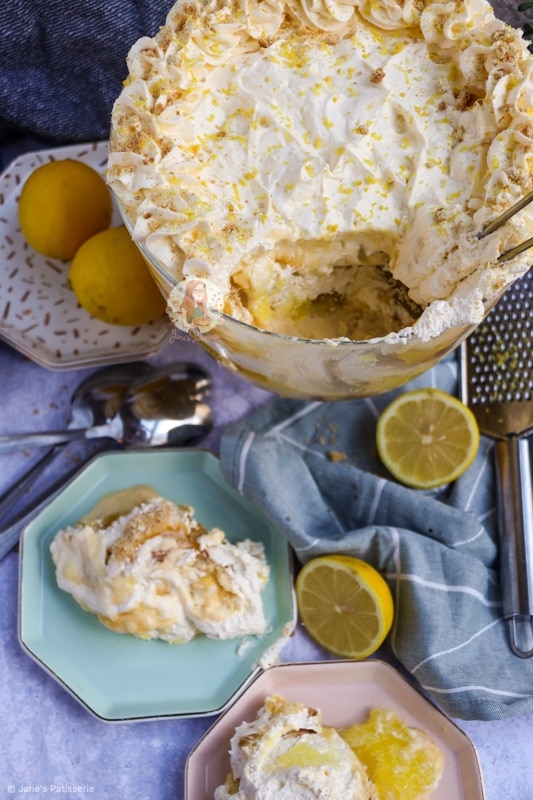 Lemon trifle
What should go in a trifle can vary depending on who is eating it. We all know the friends scene right?! I'm never going to publish a recipe quite like that – but this lemon trifle is just delicious. It's so lemon themed, it's perfect for spring, and I am just in love with it!
For this recipe I wanted to feature a fair amount of layers so that it was interesting enough, and not just a few random layers of things. I decided to use pre-made lemon cake because this recipe is meant to be about ease; but you can of course make cakes yourself (such as my lemon drizzle cake), and then use that instead.
Cake layer
Most supermarkets will sell a small lemon cake, whether it's a madeira type sponge, a small drizzle cake, or anything like that – you just want something you can easily slice up, and then have enough weight wise. I always want to do two layers at least of bits like sponge or biscuit in a trifle, as it's one of the few 'solid' layers.
Limoncello
Usually in a trifle, you would soak the sponges in an alcohol liquid, or something to give it a level of moisture, and I used limoncello. This is of course alcoholic, but if you don't want it to be alcoholic, you can use a lemon drizzle soak (such as 100ml lemon juice, and 100g caster sugar whisked together until smooth).
Custard layer
Obviously, one of the main layers in a trifle in my opinion is the custard. I love custard. I genuinely just adore it, and it goes so well in this lemon trifle! I used a ready made custard because it just makes life so much easier, and they are the perfect thickness. You can split the custard easily for each layer as well.
Jelly layer
Another layer that is common in trifle is jelly… one thing my trifles have not tended to feature so far is jelly, but I thought it was about time (and enough of you have asked for it!!). I don't mind jelly, but it's not my absolute favouring thing in the world I will admit! I have to be in the mood… but lemon jelly in my lemon trifle? Yeah okay then.
I used jelly cubes, and dissolved these in half boiling water, and then half cooled water (As per packet instructions). It is so important to start the jelly first, and wait a while before you carry on because the hot jelly will almost definitely ruin the lemon trifle if you poured it on fresh! Imagine all that custard and cream curdling. Or, you can do the jelly as the base layer, let it set, and then carry on; it's up to you!
Cream layer
For the rest of the layers I used a mix of whipped double cream (Sweetened slightly with icing sugar) because trifle should always have cream in my opinion – I make sure to whip my cream to soft peaks, because by the time it has sat around in a bowl, or been spooned into the trifle bowl it can sometimes thicken, so you don't want to over whip the cream.
Lemon curd layer
As mentioned earlier I normally like two layers of each theme, but instead of two layers of jelly (again the heat can make it complicated) I used a layer of lemon curd! Again, all of these are completely up to you. You can add other things to the lemon trifle, or use less layers – it is up to you!!
Finishing touches
I finished the trifle off with some lemon zest sprinkled over, and some biscuit crumbs to act like sprinkles as I thought it looked nice – but again, this is up to you. I used a 21cm trifle bowl for this – but trifle bowls really can vary in size! You don't have to really use a trifle bowl exactly, just a large dish that is deep enough -good luck finding one though!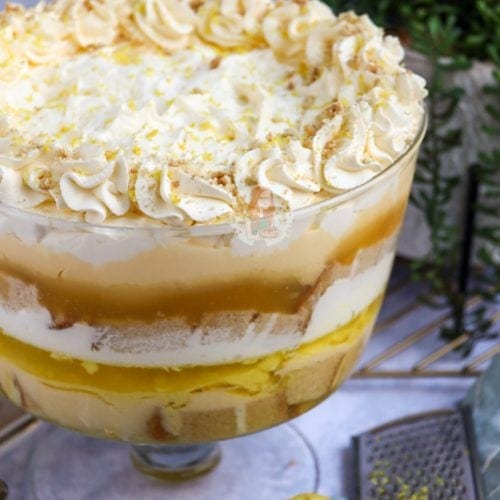 Lemon Trifle!
A delicious and spring like lemon trifle with lemon cake, lemon jelly, custard, limoncello and more... light, scrumptious and delightful!
Print
Pin
Rate
Ingredients
Lemon Jelly
1

packet

lemon jelly cubes

250

ml

boiling water

250

ml

cold water
Whipped Cream
600

ml

double cream

2

tbsp

icing sugar
Lemon Cake
600

g

lemon loaf cakes

4-5

tbsp

limoncello

(optional)
Everything Else
500

ml

custard

300

g

lemon curd

lemon zest

1

x

biscuit crumbs
Instructions
Lemon Jelly
Add the jelly cubes to a jug, and pour on the boiling water. Whisk the jelly cubes in the boiling water until they have dissolved.

Pour in the cooled water, and whisk again.

Leave to cool fully, stirring often so it doesn't begin to set.
Cream
Add the double cream to a bowl, add the icing sugar and whisk to soft peaks. 
Lemon cake
Slice the lemon cakes into 1-2cm size slices. 
Assembly
Start building your trifle, this is simply how I did it, but you can do it in any order you like

Add half of the lemon cake slices on the bottom layer of the trifle bowl, and sprinkle over half of the limoncello.

Pour over half of the custard and spread. 

Pour on the lemon jelly mixture - it's best to pour the jelly onto the back of a spoon, and let this drizzle onto the custard layer to prevent any splitting.

Let the jelly set in the fridge for a couple of hours.

Spread on half of the whipped cream, and add another layer of the lemon cake. Spread on the lemon curd.

Add the second half of the custard, and then add the rest of the whipped cream on top.

Decorate the top with some lemon zest and biscuit crumbs if you fancy.

Leave it to set for an hour in the fridge so the custard isn't as runny. Enjoy!
Notes
 This will last for 3 days once made, but is best eaten fresh. 
Quantities for this recipe are complete estimates as it entirely depends on your trifle bowl!
What order you use the layers of the trifle is up to you - please see notes on the blog post. 
If you don't want to use alcohol, please see an alternative in the notes of the blog post. 
ENJOY!
Find my other recipes on my Recipes Page!
You can find me on:
Instagram
Facebook
Pinterest
Twitter
Youtube
J x
© Jane's Patisserie. All images & content are copyright protected. Do not use my images without prior permission. If you want to republish this recipe, please re-write the recipe in your own words and credit me, or link back to this post for the recipe.