March 11, 2022
Chick Cupcakes!
*This post may contain affiliate links. Please see my disclosure for more details!*
Delicious lemon cupcakes topped with lemon buttercream frosting, decorated for some Easter chick cupcakes! Cute, perfect and easy to make!
I always love doing a little bit of themed baking, and Easter is probably the best out of them all. You have pastel colours, various flavours like lemon, carrot cake and chocolate, and so many decoration themes you can never get bored! So this year, I wanted to post a really fun Easter cupcake – chick cupcakes!
The obvious idea about these is that they look like little Easter chicks – they're cute, they are fun, and so so much easier to make than you think. I started off these easter chick cupcakes by making sure obviously the most of this bake was yellow *obviously*, and why not make them lemon flavoured?!
Cupcake Cases
When I started thinking of doing a themed recipe like this, just like my carrot patch cupcakes, I wanted to make sure that everything fit the theme… including the cupcake cases.
I decided to use some simple yellow muffin cases – side note, muffin cases are always better than cupcake cases as they can be weirdly small – because I wanted to make sure that the cases basically blended into the sponges. This is obviously completely optional, but I just love how they looked as they almost blended with the baked yellow coloured sponge.
Cupcake Sponge
I used a simple sponge recipe mixed together until beautifully smooth. I usually mix my butter and sugar until fluffy as this makes sure there are no butter lumps, and then I add all my flour and eggs in one go. There are various methods to this, but this is my favourite by far.
Butter – I always tend to use a baking spread for a cupcake sponge as I find it creates a better bake, especially if the baking spread has buttermilk in it. However, you can use a vegan spread, or even block unsalted butter that is at room temperature.
Sugar – because I wanted the colour of the sponge to come through as yellow, I made sure to use caster sugar for these cupcakes
Flour – as with most cakes, I used self raising flour. You can make your own self raising flour by adding 2 level teaspoons of baking powder to 150g of plain flour, whisked in before using (obviously increase the amount if you need more!)
Eggs – I always tend to use medium eggs, but if you need to use other eggs, weigh the eggs in their shells, and then match the butter, flour and sugar to the weight.
Flavour and colour
To make the chick cupcake sponges fit the theme as much as possible, I used a little lemon food flavouring, and some yellow food colouring – again, both of these are optional! The food colouring is definitely optional as a regular cake sponge has a natural yellow undertone by itself, but I just loved the yellow hint.
For the base, I flavoured the buttercream with lemon food flavouring again because it's just so complimentary of the bake, and then I coloured a majority of it yellow. This recipe is designed to have round 'blobs' of buttercream to create the chick's body and head, so it's really simple.
For one small spoonful, I coloured the frosting orange so that it could be the beak of the chick and the feet! Another small spoonful I coloured black for the eyes! Honestly, you don't need much but beat it like crazy and you will have the perfect colours.
Frosting
For the frosting, I thought I would keep it simple as always and make an American buttercream frosting because it's just so easy. American buttercream frosting is typically a mixture of unsalted block butter (never a spread!!) beaten on its own for a while. This is best started at room temperature otherwise, it may take much longer!
The ratios are usually 1:2 with the butter and icing sugar, so after beating my unsalted block butter on its own for ages, I add the icing sugar. For cupcakes I usually use about 150/200g butter, to 300/400g icing sugar – for this, especially because I had a look I was after, I used 200g butter and 400g icing sugar.
Decoration
When it actually came to decorating, I used a jumbo round piping tip onto the cupcake for the chick's body and head. I piped directly downwards for the body, to create a large round ball of buttercream, and then lift off. Then, I piped a small round ball of buttercream in the same way, directly on top. As you lift up, you get the natural peak of buttercream that creates the chick's head!
I then used two separate small piping bags with small round nozzles to carefully pipe the chick's eyes, beak and feet – for the orange and black food colouring. It may be best to watch my videos on social media about these chick cupcakes, but honestly, as you can tell from the photos, they're easy to do!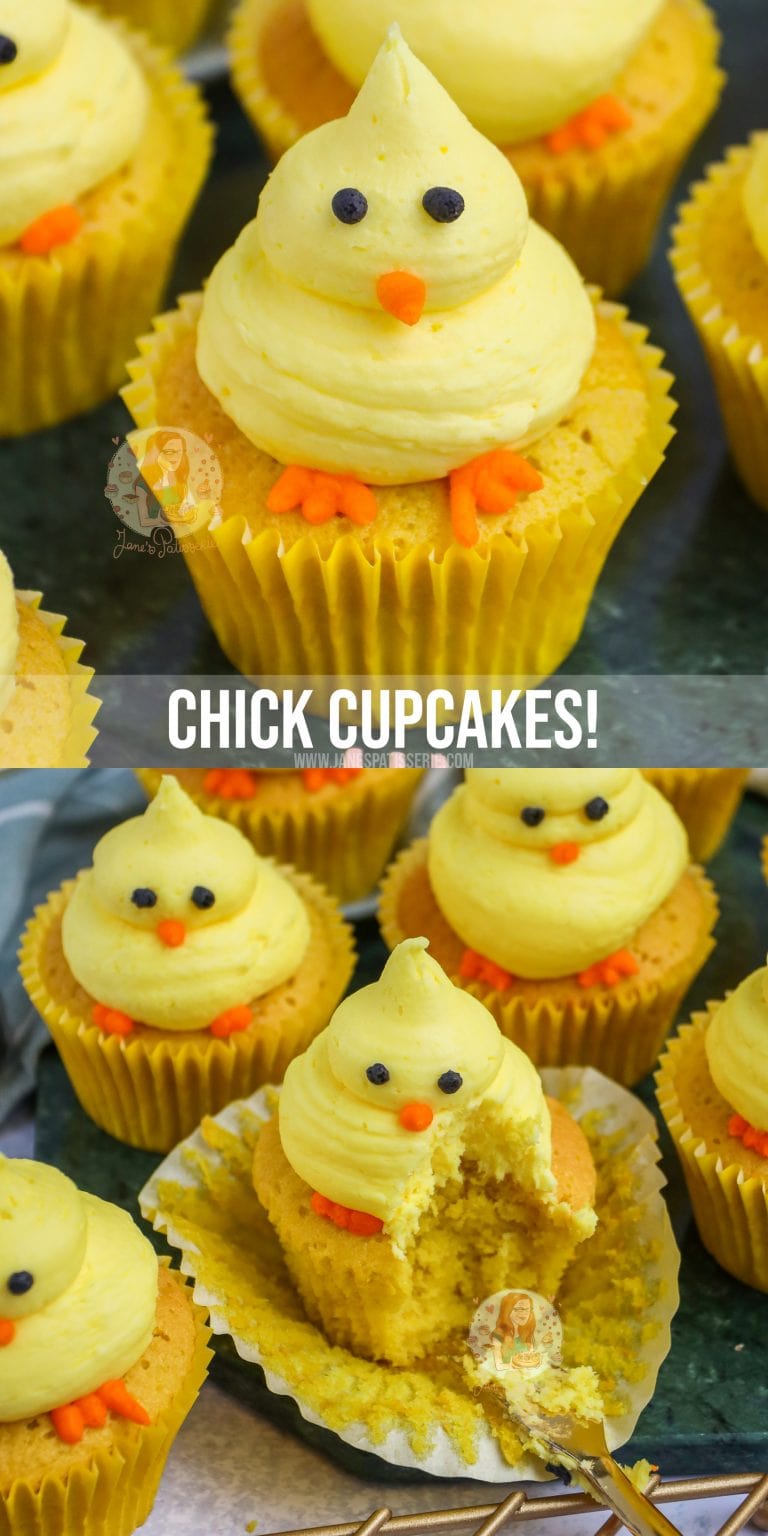 Chick Cupcakes!
Delicious lemon cupcakes topped with lemon buttercream frosting, decorated for some Easter Chick Cupcakes! Cute, perfect and easy to make! 
Print
Pin
Rate
Ingredients
Cupcakes
200

g

unsalted butter

(room temp)

200

g

caster sugar

200

g

self raising flour

4

medium

eggs

1

tsp

lemon extract

(or zest of 1 lemon)

1

tsp

yellow food colouring
Decoration
200

g

unsalted butter

(room temp)

400

g

icing sugar

1

tsp

lemon extract

yellow food colouring

orange food colouring

black food colouring
Instructions
Cupcakes
Preheat the oven to 180ºc/160ºfan, and line a muffin tray with 12 cases - or get 12 baking cups ready.

In a large bowl, add the unsalted butter and caster sugar and beat together until light and fluffy.

Add the self raising flour, eggs, and lemon extract and beat again until smooth and perfect.

Add the yellow food colouring a little at a time, until you reach a bright yellow. How much you need depends on the brand, sometimes it's only a pea sized amount.

Split the mixture between the 12 cases and bake the cupcakes in the oven for 20-22 minutes, or until baked through.

Leave the cupcakes to cool fully.
Decoration
Once the cupcakes have cooled fully, beat the butter on its own in a large bowl until smooth. I do this for a few minutes.

Add the icing sugar and lemon extract and beat again until a buttercream is formed.

Only IF required, add a little boiling water, one tablespoon at a time, to smooth the buttercream ever so slightly (this is only if the buttercream is extremely stiff and not pipeable).

Add the yellow food colouring and beat on it's own until the buttercream is lovely yellow colour.

Remove a small spoonful and colour this with the orange food colouring (again, you may only need a tiny amount) - until you reach a beak/foot colour. Take another small spoonful and colour this black.

Add the yellow buttercream to a large piping bag with a jumbo round nozzle in, and add the orange and black buttercream to two small piping bags with small round nozzles in.

On each cupcake, pipe a larger 'ball' of buttercream, by piping directly downwards. Lift off the piping tip, and then pipe another 'ball' of buttercream on top, but slightly small than before (As you can see in the images).

Once this is done, use the orange and black colours to make the eyes, beaks, and feet for the chicks.
ENJOY!
Find my other recipes on my Recipes Page!
You can find me on:
Instagram
Facebook
Pinterest
Twitter
Youtube
J x
© Jane's Patisserie. All images & content are copyright protected. Do not use my images without prior permission. If you want to republish this recipe, please re-write the recipe in your own words and credit me, or link back to this post for the recipe.