March 28, 2022
Easter Macarons!
*This post may contain affiliate links. Please see my disclosure for more details!*
Vanilla and chocolate Easter macarons with a homemade speckled macaron shell, and a chocolate filling!
Macarons
So it has been SUCH A LONG TIME since I last posted a macaron recipe… three and a half years!! There was a basic macaron recipe in my recipe book, but it's been too long on my blog, so I have decided to change that; Easter macarons!
I love macarons, and they are quite iconic. They are delicious and delectable treats that are seen as a bit of a superior bake, because there is much more of a process behind making them compared to other things… but they are much easier to make than you think.
You can go to patisseries and spend quiteeee a large amount of money on macarons, and whilst I do that myself (because they are utterly incredible), it's not necessarily the best if you want a lot. My recipes are here to make it much easier for you guys to make them yourself, especially if you have a celebration to bake for.
My Easter macarons
These easter macarons are one of my favourites that I have ever made – because they are speckle themed. Turquoise and lilac themed macaron shells, with a chocolate speckle, filled with a homemade chocolate ganache; where can you really go wrong within that?! They are the dreamiest of dreamy.
If you want to try and of my other macaron recipes you can look at my Neapolitan macarons, my valentines macarons, my triple chocolate macarons, or even my salted caramel macarons – these are to show you how to customise them!
As I have said, they are much easier to make than you think. There is just a step by step process that if you follow it, you will be golden and have the best Easter macarons you can possibly have. Yes, they do take some time to make, but it is worth it in the end to make sure you get the perfect bake!
Sieving process
For my macarons, you need to start off with icing sugar and ground almonds. These are two really important parts to the macarons – as they are the only dry ingredients! You need to blend them in a food processor, together, for a couple of minutes to grind down the almonds and mix them together really well.
Once you have blended them together, you MUST SIEVE THEM. I tend to sieve mine twice just to make sure. During the sieving process you are making sure that they're are not big lumps of almond left (If there are any left in the sieve, remove them, don't add them to the bowl). If there are too many lumps, you may get a lumpy shell.
The meringue
For the meringue, it follows the same idea as the start of my Easter pavlova where you want the bowl you are using to be spotlessly clean, so you don't ruin the meringue – so make sure it's squeaky clean.
You whip the egg whites to stiff peaks, and then slowly add the caster sugar – and any flavouring you want. The mixture should look like a standard glossy meringue mixture! Add the icing sugar/ground almond mixture and fold together. You want to be gentle when you fold, so DO NOT use a mixer. Simply fold all the ingredients together until just about combined.
Prepping the macarons
Once combined, you can take half of the mixture into another bowl – and then you can add your colouring. I add the colouring before I have fully finished mixing the batter so that you don't accidentally over mix. The mixture is ready when you pick the spatula out of the mix and it drops off the spatula showing a 'V' shape.
Sometimes, to get this batter perfect, you have to do something called 'macaronage'. This is where you have folded the mixture together, added your colour, but it's still a bit thick. You essentially use the spatula to wipe the mixture around the edges of the bowl to break it down slightly to get it softer (watch my social media videos for this recipe for this to make sense!).
Piping, setting & baking
When you pipe the macarons on to sheets, you can either mark out some circles so you find it easier to pipe consistent circles, or you can use a macaron mat, or you can wing it like I do! It's a matter of practice to piping them; but generally, using a large piping bag, a small round nozzle, and piping directly downwards you shouldn't have a problem.
Make sure to leave a gap between each macaron shell on the trays so they don't touch each other! After they have been piped, you need to tap the trays down several times to settle the batter. You then need to let the trays sit for an hour before baking – within this time they can spread a little, but they will also form a skin which is important.
Once they have 'set' you can bake – it can be a little hard to tell when they are perfectly ready, but if you try and lift one off the tray fresh out of the oven, the mixture shouldn't stick to the tray too badly. Then, make sure to cool the macaron shells before lifting them all off the trays.
Decorating
Make the splatter mix up, and beware the pure amount of mess that is about to ensue because if you want a good splatter, you have to go for it. The speckled effect is my favourite easter theme so go for it! Or, you can just leave them plain. Or, you can even do a chocolate drizzle! It's completely up to you
Put the shells in the fridge whilst you make the filling and to set them as a cold macaron shell is much easier to use without damaging them! If you didn't want to decorate them now, you can freeze the shells for 3+ months, and they will survive perfectly.
For the filling I used a simple chocolate ganache because the contrast is always good – but a buttercream or similar works well too. The ganache works to stick the shell together – and this can freeze perfectly too. Obviously, do what you want with these, but this is how I made my own Easter Macarons! Enjoy. x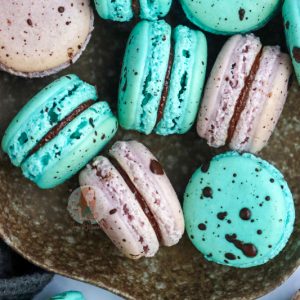 Easter Macarons!
Vanilla and chocolate Easter Macarons with a homemade speckled macaron shell, and a chocolate filling! 
Print
Pin
Rate
Ingredients
Macarons
200

g

icing sugar

100

g

ground almonds

100

g

egg whites

(3 Medium Eggs worth)

75

g

caster sugar

1

tsp

vanilla extract

turquoise food colouring

purple food colouring
Decoration
15

g

cocoa powder

15

ml

water

75

ml

double cream

75

g

dark chocolate
Instructions
Blend together the icing sugar and almonds for a short while to combine.

In a large bowl, sift the icing sugar and almond mixture, discarding any large lumps that are left.  

In a stand mixer, add your egg whites. Make sure the bowl and whisk you are using are spotlessly clean first! 

Whisk the egg whites up to stiff peaks, and start adding the caster sugar teaspoon by teaspoon till all is incorporated. Whisk for another minute or so afterwards. 

Add the vanilla extract and mix in.

Add the icing sugar and ground almond mixture to the bowl and fold together gently until just combined.

Split the mixture into two, and colour one turquoise, and the other purple. Still fold very carefully to do this.

The next step is called 'Macaronage' where you basically press and wipe the mixture around the edges of the bowl to sort of de-fluff it in a way. It smooths the mixture out, making it better. 

With a disposable piping bag, add a small round tip, add the mixtures. Carefully pipe the mixtures onto 2-3 large lined trays. The mixture does spread naturally, so don't pipe them that large otherwise they might end up touching. 

Once piped, tap the trays onto the work surface 5-6 times to get any air bubbles out, and leave on the side for 1 hour to form a skin. 

Towards the end of the hour, turn your oven on to 130ºfan. 

Once the hour is up, put the Macarons in the oven to bake for 16-20 minutes. I usually go more towards 20 minutes.

Leave them to cool full on the trays before peeling them off. 

Make the splatter mixture by mixing together the cocoa powder and water - flick this onto the top of the shells with a pastry brush or similar to create the speckle. Set them in the fridge whilst you make the ganache.

Add the dark chocolate and cream to a jug and heat in the microwave until smooth and then add to a piping bag.

Pipe a small amount of ganache onto half of the shells, and then sandwich them together.

Put them into the fridge for the ganache to set for an hour or so, and then enjoy!
Notes
For this recipe I use the following items
These Macarons will last for up to one week in the fridge. 
If you don't want to fill the shells immediately, still store them in the fridge. 
ENJOY!
Find my other recipes on my Recipes Page!
You can find me on:
Instagram
Facebook
Pinterest
Twitter
Youtube
J x
© Jane's Patisserie. All images & content are copyright protected. Do not use my images without prior permission. If you want to republish this recipe, please re-write the recipe in your own words and credit me, or link back to this post for the recipe.