April 29, 2022
Bakewell Tart!
*This post may contain affiliate links. Please see my disclosure for more details!*
A classic dessert we all know and love – homemade shortcrust pastry, jam, frangipane, almonds… a Bakewell tart!
We all love a classic bake right?! Well, today's new post is 100% one of the most classic bakes you can ever bake or even consume… a Bakewell tart. I LOVE the Bakewell flavour, and I have some delicious Bakewell bakes on my blog, but this is just the best.
Straight away I will admit that when I was younger (and I am talking about when I was about 10 years old) I used to think Bakewell was super icky and disgusting because it wasn't chocolatey, and I had convinced myself that I hated almonds – needless to say, I was just being an utter fusspot.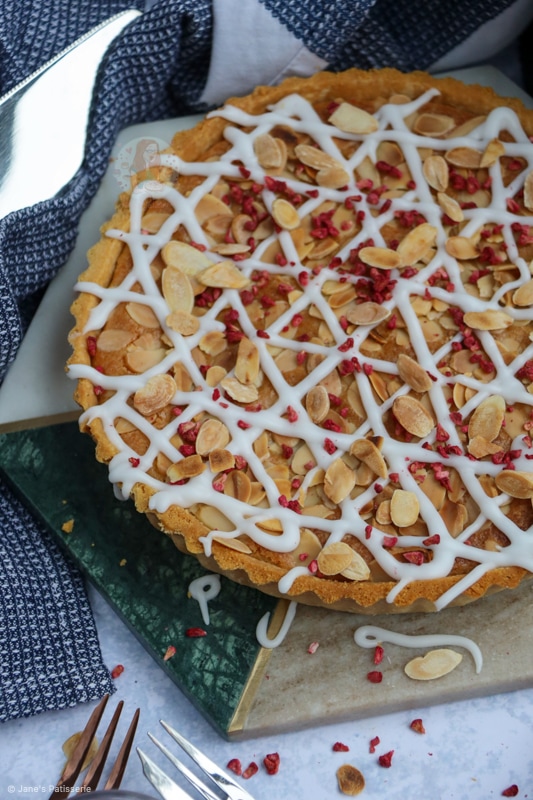 Bakewell Tarts
For those of you who don't know… A Bakewell tart is a typically English pudding which consists of a shortcrust pastry case with layers of jam, frangipane, and a topping of flaked almonds – and it is just wonderful.
I had one of these on my blog years and years ago but through the years of transferring my blog data over and over it all got a bit blah, so I decided to post a new recipe for this beauty – and it is 100% worth the wait and all the many requests from you guys.
Making Pastry
I like to make my own shortcrust pastry, and it's so much easier to make than you think. I use a mixture of unsalted butter, plain flour, icing sugar (because this is sweet shortcrust!), and egg yolk. There is also a splash of water, but I don't tend to list that because, well, it's just water.
I find the pastry so easy to make by hand so you don't need to use any machines – and it also means the pastry dough isn't overworked which is quite nice. You just need to add the plain flour, cold and cubed unsalted butter and icing sugar to a bowl and rub together to form bread crumbs.
Then, you add in the egg yolk and the cold water to bind the pastry – I use my hands again here, along with a spatula, and then eventually after kneading in a bowl you will have a pastry. A little kneading on the lightly floured work surface and you will have a dreamily smooth shortcrust pastry.
Because you have worked the pastry you will need to let it chill again somewhat before using it. I tend to wrap the pastry in clingfilm and place it in the fridge for 30 minutes. In this time you can grease and flour a loose-bottomed 23cm/9" tart tin.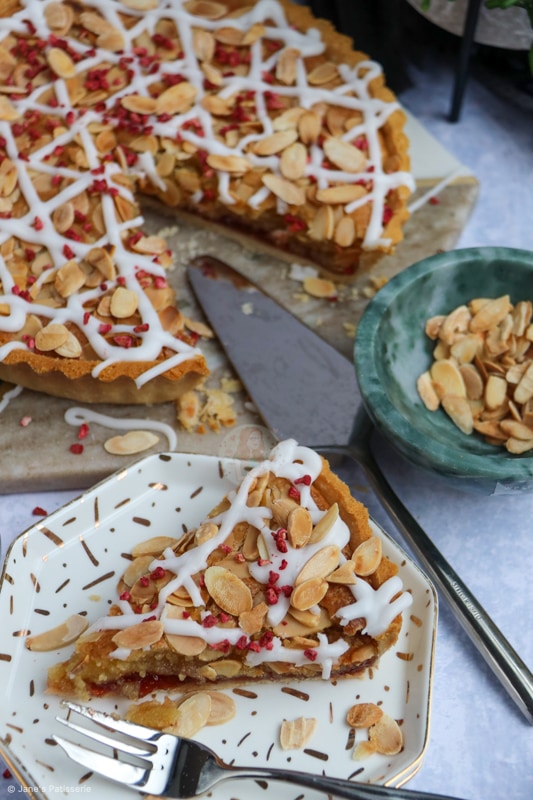 Blind Baking
Roll the chilled pastry out onto a lightly floured work surface until it's about the thickness of 1-2 £1 coins. Carefully lift the pastry and press into the bottom and sides of the prepared tin really well. Get a piece of parchment paper, and place it on top of the pastry. Fill this with baking beans or uncooked rice and 'blind' bake the pastry for 15 minutes.
The blind baking process starts to bake the pastry so that there are no soggy bottoms – after the 15 minutes, you remove the parchment and beans and bake for a further 5 minutes to dry the pastry out a little more. Then, you can do the quick and easy filling.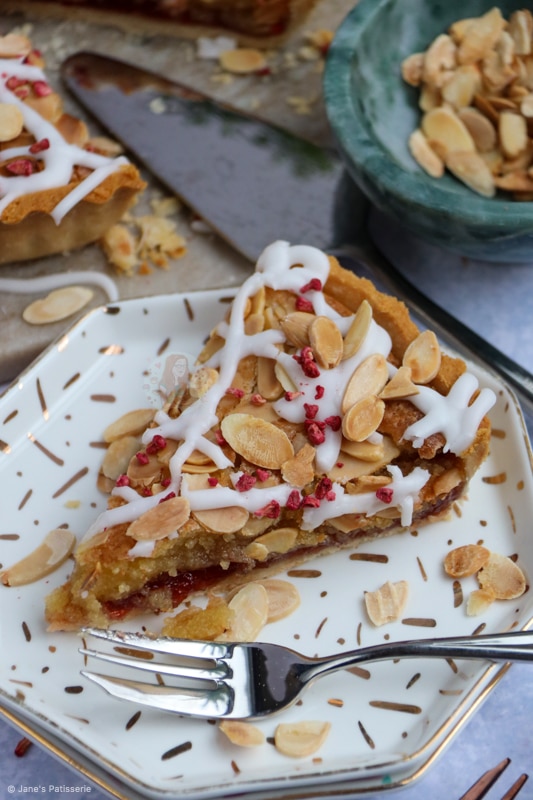 The filling
The filling is so simple – one layer is simply just jam. There is debate over which is the 'classic' flavour, but I tend to use raspberry. You can use whatever you prefer though! The rest is the 'frangipane' – which is melted butter, sugar, ground almonds, almond extract and egg.
I mix these together until smooth, pour over the jam – and then top with some flaked almonds. I bake until there is an ever so slight wobble in the middle of the tart and then let it cool fully. I then do a small drizzle of water icing, and sometimes some extra toasted flaked almonds.
I then absolutely devour this Bakewell tart because it's just so good. You can serve it with custard, ice cream, cream or even just on its own – the flavour carries so well that you can do whatever you want! Honestly, it's the best. Enjoy! X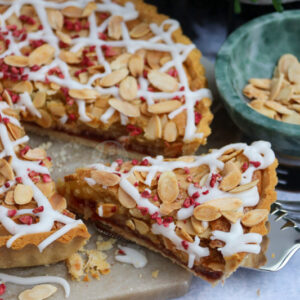 Bakewell Tart!
A classic dessert we all know and love - homemade shortcrust pastry, jam, frangipane, almonds… a Bakewell tart! 
Print
Pin
Rate
Ingredients
Pastry
175

g

plan flour

100

g

unsalted butter

(cold and cubed)

1

tbsp

icing sugar

1

egg

yolk
Filling
125

g

unsalted butter

125

g

caster sugar

125

g

ground almonds

1

tsp

almond extract

1

medium

egg

200

g

raspberry jam

50

g

flaked almonds
Instructions
Pastry
Add the flour and icing sugar to a large bowl. Add the cold and cubed unsalted butter and rub the mixture together with your fingertips until it resembles breadcrumbs.

Add the egg yolk, and 1 tbsp of cold water into the bowl and mix with your hand or a spatula until the pastry dough comes together - it may take a bit of kneading.

Alternatively, add the ingredients to a food processor and blitz quickly on the pulse setting until the mixture starts to bind, it shouldn't take too long at all!

Grease & flour a 9"/23cm loose bottomed tart tin - Roll the pastry mix out onto a lightly floured surface to the thickness of 1-2 coin(s).

Press the pastry into the tin and trim & neaten the edges. Fill any gaps of the pastry with any excess pastry so its all covered! Refrigerate for 1/2 an hour!

Preheat the oven to 200ºc/180ºfan - Cover the pastry with baking parchment and fill with baking beans/rice and bake the pastry 'Blind' for 15 minutes.

After 15 minutes, remove the parchment and the beans and bake for an extra 5 minutes or until the pastry is cooked through and turning golden! 

Once baked, leave to cool as you make the filling.
Filling
In a large bowl, melt the butter until smooth.

Add the caster sugar, ground almonds, almond extract and egg and mix with a spatula to combine.

Loosen the jam by mixing in a separate bowl, and then spread over the baked pastry case.

Pour over the almond filling.

Sprinkle over the flaked almonds and bake in the oven for 30-35 minutes, or until there is an ever so slight wobble in the middle. Once baked, leave to cool fully.
Topping
Once the bakewell tart has cooled - carefully remove from your tart tin.

Mix the icing sugar with the water, one tsp at a time until it is a thick paste.

Drizzle the icing over the bakewell tart.

Sprinkle on some toasted flaked almonds and/or freeze dried raspberries if you fancy!
Notes
You can use shop-bought shortcrust pastry if you fancy - follow the same baking steps.
You can use any flavour jam you fancy! 
This will last in the fridge for 3+ days
It is best served as it is, but you can serve it with custard, cream or even a scoop of ice cream! 
ENJOY!
Find my other recipes on my Recipes Page!
You can find me on:
Instagram
Facebook
Pinterest
Twitter
Youtube
J x
© Jane's Patisserie. All images & content are copyright protected. Do not use my images without prior permission. If you want to republish this recipe, please re-write the recipe in your own words and credit me, or link back to this post for the recipe.