June 6, 2022
Chocolate Overload Cheesecake!
*This post may contain affiliate links. Please see my disclosure for more details!*
The ultimate chocolate overload cheesecake with a chocolate biscuit base, chocolate cheesecake, chocolate ganache topping, and more…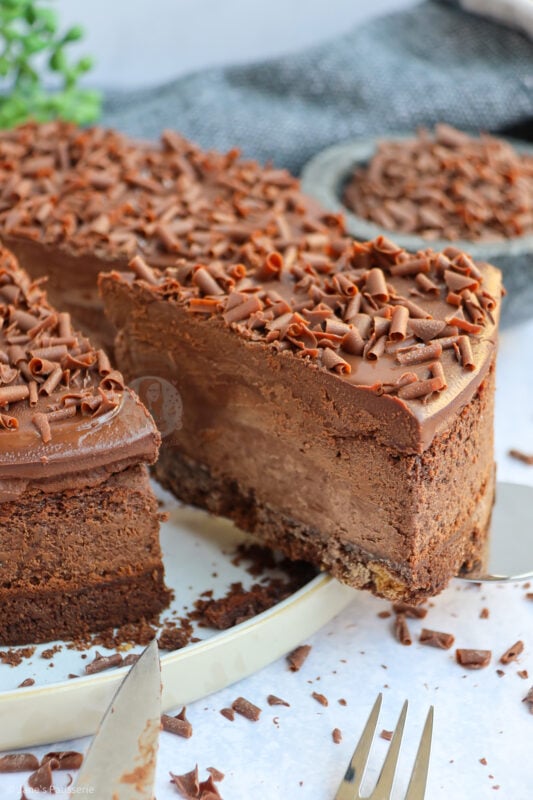 So say hello to the most chocolatey cheesecake I think I have ever made in my life… this chocolate overload cheesecake is possibly my peek when it comes to chocolate, and I am 100% okay with that, and I know you will be as well.
I have wanted to make a cheesecake-like this for so long, and I have spent so long focusing on other types of bakes I kind of forgot it?! And I do apologise – the regret is there. However, after my chocolate cheesecake bars went down so well, I knew I had to do it!
This beauty of a cheesecake is a baked cheesecake, but this is so important to get that delicious richness that you need in any 'overload' chocolate-related bake -the baked nature of the cheesecake just increases how chocolatey it is!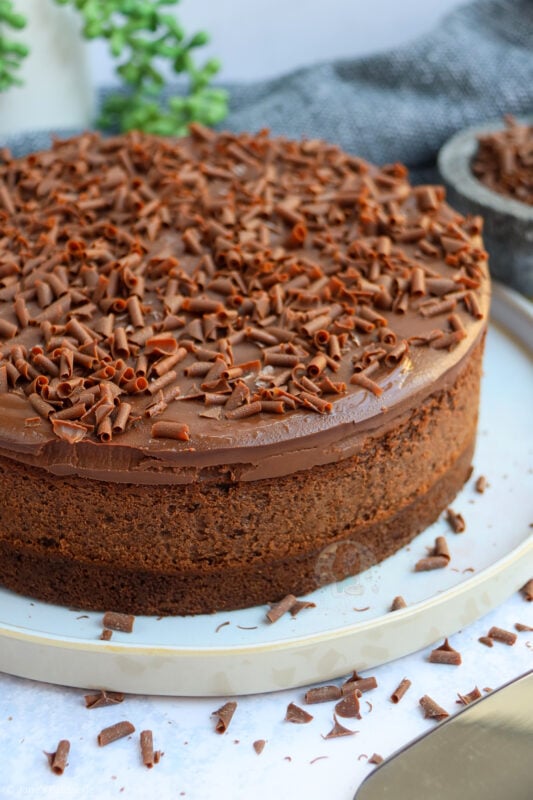 The base
When you are making a baked cheesecake there is a general idea that the base should be baked – it sort of creates a seal when it comes to the filling, but it really is so so simple.
I use digestive biscuits, cocoa powder, and melted butter to make my base. I blitz the biscuits to a really fine crumb and mix this with the cocoa powder. I then add in the melted butter!
I do tend to use melted butter compared to a spread as I find it makes the biscuit base less greasy, but any butter will do really.
If you want to do a different biscuit base, please be aware that the amount of butter you need can vary! If you want to use a biscuit such as an Oreo, make sure to use about half of the butter – trust me!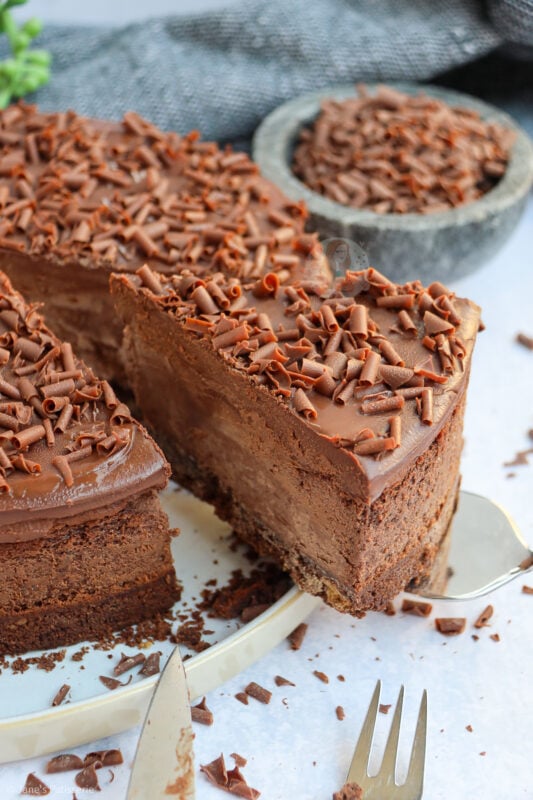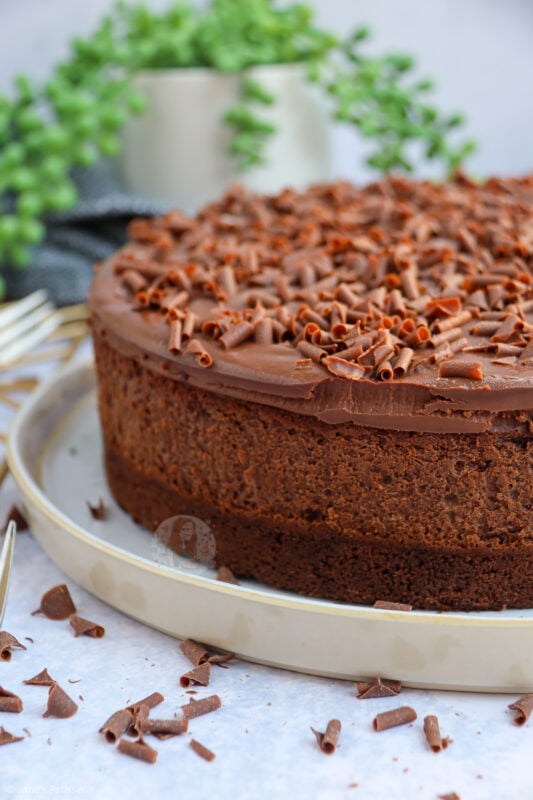 The filling
The filling really is a similar recipe to my chocolate cheesecake bars, because it is just the most wonderful cheesecake mix ever. I know you may wonder why I went for a baked cheesecake, but that's because I find no-bake cheesecakes are so much lighter in texture, and I really did want this to be rich in flavour and every other element.
I used a mix of cocoa powder and melted dark chocolate in the filling, and it worked wonders. It may sound weird, but it doesn't really matter if the chocolate goes a little lumpy in the mixture as once the cheesecake is baked, the lumps have disappeared!
As the filling is also baked, it does require eggs – you may think whaaaaa?! but honestly – have a look at my other baked cheesecakes like my New York cheesecake or my lemon and blueberry cheesecake – it works!
If you want a no-bake chocolate overload cheesecake though, just look at any of my other cheesecakes because you can choose between any of them!
Baking
If you watch the video for this cheesecake you will notice that my cheesecake has quite a big crack in it, and that's because I decided not to bake the cheesecake in a Bain Marie.
A bain-marie is when you carefully wrap the base of the tin in foil and bake the cheesecake in a tray with some water to prevent this cracking – and you 100% can do this if you like, but as I knew I would cover the top with the ganache, I didn't bother.
The cheesecake will have a tiny wobble in the middle when it's finished, and it's super important to let it cool fully in the oven and then transfer it to the fridge overnight to continue to set. Without this stage, it might go a little funky, and no one wants warm cheesecake right?!
The topping
I decided to top my cheesecake with one of the most luscious things I could think of… chocolate ganache! I used my standard mix of dark chocolate and milk chocolate mixed with double cream as it creates the smoothest and most delicious ganache ever.
I poured this onto the cheesecake once it had baked and cooled, and spread it slightly to the side. Topping this with chocolate curls created something out of this work and my lord I was so happy!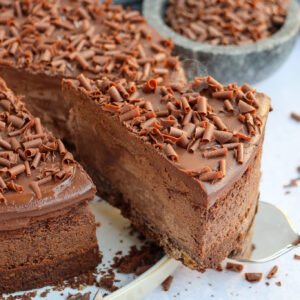 Chocolate Overload Cheesecake!
The ultimate chocolate overload cheesecake with a chocolate biscuit base, chocolate cheesecake, chocolate ganache topping, and more... 
Print
Pin
Rate
Ingredients
Base
300

g

digestives

25

g

cocoa powder

150

g

unsalted butter
Cheesecake
300

g

dark chocolate

500

g

full-fat soft cream cheese

100

g

caster sugar

4

medium

eggs

30

g

cocoa powder

1

tsp

vanilla extract

250

ml

double cream
Decoration
75

g

dark chocolate

75

g

milk chocolate

150

ml

double cream

50

g

chocolate curls
Instructions
Base
Preheat the oven to 200ºc/180ºfan and get a deep 8"/20cm round tin.

Blitz the biscuits to a fine crumb. Add in the cocoa powder and mix again

Melt the butter in a separate bowl, and then mix into the biscuit. Press the mixture into the bottom of the lined tin.

Bake the biscuit base in the oven for 10 minutes.
Cheesecake
Once the base has been baked, lower the temp of the oven to 180ºc/160ºfan - leave the biscuit base on the side for now.

In a bowl, melt the dark chocolate until smooth - I do this in the microwave in short bursts.

In a new large bowl, add the full-fat soft cream cheese and beat until smooth.

Add the eggs, beating well as you go, and add in the caster sugar. Beat this until combined.

Add in the cocoa powder and vanilla extract and beat again to combine.

Fold through the cooled melted dark chocolate until smooth.

Add in the double cream, and fold again until smooth.

Spread the mixture over the baked biscuit base. Bake the cheesecake in the oven for 35 minutes.

Leave the cheesecake to cool in the oven with the door slightly adjar, for an hour

Remove the tin from the oven, and set the cheesecake in the fridge for a minimum of 6 hours.
Decoration
Once the cheesecake has set, add the dark chocolate, milk chocolate and double cream to a jug.

Melt this together and stir well until smooth.

Pour this on to the cheesecake and spread, and sprinkle on some chocolate curls. Leave this to set for about an hour and then portion, and enjoy!
Notes
You can make the base not chocolate-themed by removing the cocoa powder.
I really would recommend using dark chocolate - don't worry, it doesn't taste 'bitter'. 
This cheesecake last 3+ days in the fridge. 
You can freeze this cheesecake for 3+ months. 
In this recipe I used:
If you want to prevent any cracks in the surface of the cheesecake (it doesn't particularly bother me with this one as I cover the top in ganache) but bake the cheesecake in a bain marie.

Wrap the base of the cheesecake tin foil so water cannot get to it
Use a larger tin with about 1" of water in
Bake the cheesecake in this 
ENJOY!
Find my other recipes on my Recipes Page!
You can find me on:
Instagram
Facebook
Pinterest
Twitter
Youtube
J x
© Jane's Patisserie. All images & content are copyright protected. Do not use my images without prior permission. If you want to republish this recipe, please re-write the recipe in your own words and credit me, or link back to this post for the recipe.