September 23, 2022
Raspberry Crumble Bars!
*This post may contain affiliate links. Please see my disclosure for more details!*
Fruity and delicious raspberry crumble bars with an oaty crumble base, raspberry filling, and even more delicious crumble on top!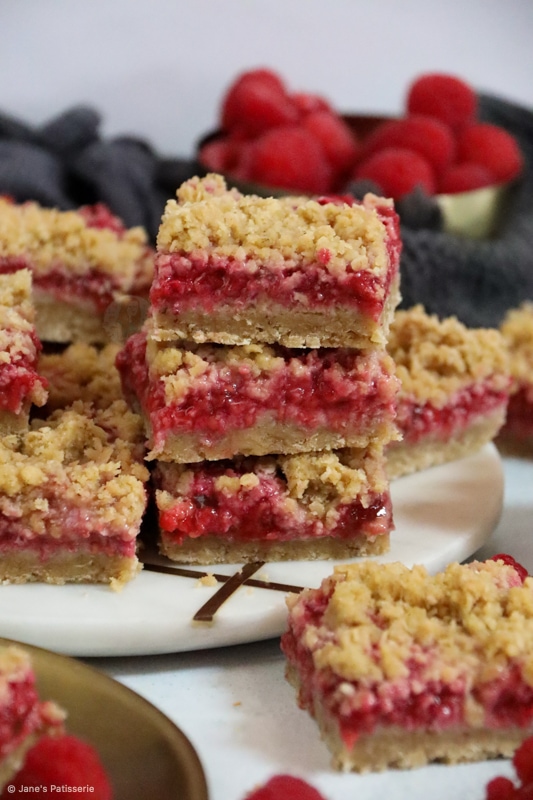 Say hello to some of the most delicious bits of heaven you will ever eat… these raspberry crumble bars. They are HEAVENLY and just so incredibly moreish and scrumptious.
Traybakes
So yeah, another traybake to add to my never ending roster of bakes that I am always in love with. Honestly, if you have followed me for a while you will know that a traybake related bake is one of my favourite things ever and that'll never change.
Traybake can come in many a form, such as brownies, blondies, cookie bars, flapjacks and so on. These raspberry crumble bars are a new one to add to the list of goodness.
All of my traybake recipes, if I can help it, are made into a 9″ square tin. This is for ease, and so that I reduce the amount of bits and bobs you need to buy! I always use this traybake tin.
Crumble
So we all know what a crumble is right? Its one of the most iconic classic things you can ever consume. I have varied crumble related bakes on my blog such as my apple crumble traybake, or even my apple crumble cupcakes.. but this one? Oh this is on another league.
It isn't quite 'crumble' to the idea of a classic dessert – but its a crumble like oaty delicious mixture of ingredients that create the best base and topping for these bars.
Oats – for this bake, I wanted an oaty flavour to come through to compliment the raspberries and also create a more textured crumble.
Flour – an obvious one, but plain flour is a must!
Sugar – I decided to use light brown soft sugar, but this would work well with other sugars such as caster sugar, or even dark brown soft sugar.
Raising agents – this one may sound a little odd, but trust me – you want the tiny lift from the baking powder!
Butter – I use unsalted butter as always, but a salted butter would work well also. I would avoid any baking spreads of margarines as they are too soft for the crumble mixture.
Raspberries
The main part right? The raspberries! A delicious sweet and sharp mixture of heaven. I decided to not just add in some raspberries and hope for the best, and I didn't just want to do a layer of jam as some recipes do… I wanted to level it up and make a mixture!
Raspberries – So for ease, I would recommend fresh berries. You need to be able to mash them up and frozen would make this too hard. You can try thawing frozen berries, but you would need to dispose of any excess liquid before using them.
Jam – A raspberry jam – a classic! Seedless, with seed, smooth, lumpy… whatever!
Lemon – The lemon is needed to cut through the sharpness of the raspberry but also bring out the flavour wonderfully.
Cornflour – A thickening agent in this case. Please use it, it's much better than just using plain flour.
It may sound silly in the method, but honestly the best way I found to make this filling was to add the ingredients to a bowl and mash them slightly with a potato masher. It meant I still had texture, but everything had mixed in well enough.
Assembly
As you can see from the photos there are layers to these raspberry crumble bars. It's fairly simply though – a majority of the crumble mix goes into the lined 9×9″ square tin and you press it down firmly. I found 500g of the crumble mix was perfect for this layer after some experimenting with ratios.
Then, you top the base with the mashed raspberry mix and spread evenly, and then sprinkle over the rest of the crumble mix. This part of the crumble mix doesn't need pressing down as it would turn into a raspberry mush.
Baking
For a bake like this, and basically any bake ever unless stated otherwise, you need a preheated oven. I have a fan oven so I bake at 180ºc on the fan setting, but if you have a regular oven it would be 200ºc. This is also as far as I am aware gas mark 6, or 400ºf if that helps – although I have never baked in a gas oven.
The temperature is slightly higher compared to other traybake recipes I have done, but you want the extra warmth to really start toasting and baking the crumble mix and it really helps.
The mixture can be slightly soft, so make sure the crumble mixture is turning wonderfully golden and beautiful before taking out of the oven.
Tips and Tricks
So when it comes to making a bake like this, it is surprisingly easy, but there are ways to help make sure it works wonderfully. When making the crumble mix I simply use a large bowl, add the ingredients, and rub them together with my fingertips. This means you can still have the wonderful texture of the oats in the crumble without accidentally destroying them in a food processor or mixer.
For the raspberry mix, I genuinely just use another bowl and a potato masher – but a large spoon or fork works well, it just takes a bit longer. You don't want to over mix this either as you want texture to the mixture.
As mentioned above, I use this traybake tin as its the perfect size.
Raspberry Crumble Bars!
Fruity and delicious raspberry crumble bars with an oaty crumble base, raspberry filling, and even more delicious crumble on top!
Print
Pin
Rate
Ingredients
Crumble
175

g

rolled oats

200

g

plain flour

150

g

light brown soft sugar

1/2

tsp

baking powder

175

g

unsalted butter

(cold and cubed)
Filling
400

g

raspberries

150

g

raspberry jam

1

tbsp

lemon juice

1

tbsp

cornflour
Instructions
Crumble
Preheat the oven to 200ºc/180ºfan and line a 9x9" square tin with parchment paper.

In a large bowl, add the rolled oats, plain flour, light brown soft sugar, baking powder and unsalted butter.

Rub the ingredients together with your fingers until the mixture resembles bread crumbs and there are no large lumps of butter left.
Filling
In a new bowl, add the fresh raspberries, raspberry jam, lemon juice and cornflour.

Mash the ingredients together until they are combined, but still leaving some texture to the raspberries.
Assembly
Pour 500g of the oaty crumble mix into the lined tin and press down firmly.

Pour the filling onto of the oats, and spread.

Sprinkle over the rest of the crumble mix

Bake the raspberry crumble bars in the oven for 30+ minutes, or until golden and beautiful.

Leave the bars to cool fully before portioning. Refrigerating them can sometimes make this easier.
Notes
These beauties will last for 3+ days, best in the fridge
I use this tin for this bake 
The raspberries can be swapped to other berries such as blackberries, blueberries, strawberries etc, or a mixture of. 
Find my other recipes on my Recipes Page!
You can find me on:
Instagram
Facebook
Pinterest
Twitter
Youtube
J x
© Jane's Patisserie. All images & content are copyright protected. Do not use my images without prior permission. If you want to republish this recipe, please re-write the recipe in your own words and credit me, or link back to this post for the recipe.