January 9, 2023
Air Fryer Cookies
*This post may contain affiliate links. Please see my disclosure for more details!*
Deliciously easy air fryer cookies with a super easy to make vanilla cookie dough with chocolate chips baked in an air fryer!
So as it's the new year, and I have been blogging for 8+ years now, I thought it was time to jazz things up slightly and try some new things on my blog! The way to start? One of the most requested 'bakes' ever… air fryer cookies!
These are super easy to make, super easy to bake, and they are DELICIOUS!
The cookie dough
So this cookie dough is the same base cookie dough as my New York City cookies, and a lot of my cookie bars, because it really is just that good of a cookie dough.
Butter – So to reduce the cost of the bake, you can use a baking spread or a margarine for these cookies – but if you prefer, you can still use unsalted butter.
Sugar – As always, I like to use a mix of light brown soft sugar and white granulated sugar for my basic cookie dough. You can use all of one or the other though, you just want the same total weight.
Egg – Easy standard egg – I tend to use medium eggs in my bakes, but you can use one large egg instead of.
Vanilla – Optional, but adds a delicious flavour.
Flour – Always use plain flour in your cookies!! You don't want self raising flour as it will create a cake like cookie. I do also use cornflour as it adds a nice texture, but you can remove it and add 25g more flour.
Raising agents – For these, I use bicarbonate of soda. Bicarb is a classic addition as the raising agent for cookies!
Chocolate – All the chocolate chips… I usually recommend 100-300g worth of chocolate chips, and you can use any flavour!
I often make my cookie doughs in my stand mixer, but when I made this I used an electric hand mixer. Don't worry though, if you don't have an electric mixer, you can just use a bowl and spoon; just make sure to add flour slowly and beat like crazy so it mixes okay.
Making in advance
So as these cookies are being baked into an air fryer, the prep is slightly different. The cookies don't necessarily need chilling before baking, but it can help keep them in a better shape.
With the air fryer I have, you can only fit 3 in the basket at once, and as the cookie dough makes about 15 cookies, you can make a choice. Bake in batches, or bake as many as you want to eat fresh, and refrigerate there rest of the cookie dough for up to 48 hours.
You can also freeze the rest of the cookie dough. The cookie dough freezes perfectly once scooped into the portions. I use a 5cm cookie scoop for my cookies, and they weigh about 50-60g each.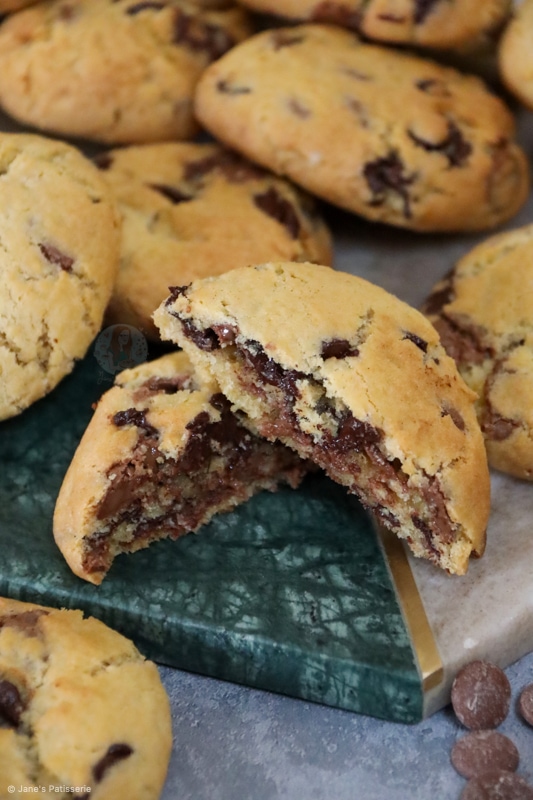 The air fryer
So I have a Ninja Air Fryer, but they all do the same sort of thing. This recipe has been tested in a few different air fryers, but just keep an eye as you go obviously!
Many of the air fryers out there have different functions, but I purposely just used the basic air fryer setting for the cookies so that they were proper air fryer cookies!
The testing process resulted in eating far too many cookies, if there is such a thing, but it was worth it. Lower temps for longer, high temps for shorter, air frying from frozen and so on!! It was a tasty experiment.
How to bake in an air fryer
To bake these air fryer cookies in your air fryer, you have to make sure your air fryer basket is set up correctly, and place a circle of parchment paper on the base. There are arguments about whether you need to pierce holes it the paper, but I did.
It's super important to line the basket of your air fryer as the cookie dough will get stuck and sink into the base otherwise, which you definitely do not want to happen! No cookies shall be wasted here.
Because of the size of my air fryer, I place three cookies in the air fryer basket at once, and then bake at 160ºc for 10 minutes. Once baked, you do have to leave them in there for a couple of minutes before removing. It's best to remove them on the piece of paper still as the cookies will still be very gooey and soft and hard to remove.
Tips & Tricks
If you are baking from frozen, you will bake them for one minute longer – 160ºc for 11 minutes.
If you want to bake NYC size air fryer cookies, that weigh about 120g each, you will need to bake them in the air fryer for 13-14 minutes. They will go quite golden, but you can lower the temp of your air fryer to 150ºc if you find they heat too much and bake for 15 minutes.
Air Fryer Cookies!
Deliciously easy air fryer cookies with a super easy to make vanilla cookie dough with chocolate chips baked in an air fryer! 
Print
Pin
Rate
Ingredients
125

g

unsalted butter

100

g

light brown sugar

75

g

white granulated sugar

1

medium

egg

1

tsp

vanilla

(optional!)

300

g

plain flour

1

tbsp

cornflour

1/2

tsp

bicarbonate of soda

1/2

tsp

sea salt

300

g

chocolate chips

(150g dark, 150g milk)
Instructions
Add the butter and sugars to a bowl and beat until creamy

Add in the egg and vanilla and beat again

Add the plain flour, cornflour, bicarbonate of soda, and salt and beat until a cookie dough is formed!

Add the chocolate chips and beat until they're distributed well!

Portion your cookie dough onto a tray - I use a 5cm scoop and they weight about 50-60g.

Line your air fryer with a piece of parchment paper (I put holes in mine) and add as many cookies will fit. I did three at a time.

Bake the cookies for 10 minutes at 160ºc

Once baked, let the cookies cool for a few minutes before removing the parchment paper with the cookies on as the cookies will still be very soft. Let the cookies cool for 15 minutes before enjoying.

Repeat as many times as you want for as many cookies as you need. See the blog post about storing leftover cookie dough. ENJOY!
Notes
If you want to air fry NYC size cookies (120g) these take 13-14 minutes. See blog post for details. 
ENJOY!
Find my other recipes on my Recipes Page!
You can find me on:
Instagram
Facebook
Pinterest
Twitter
Youtube
J x
© Jane's Patisserie. All images & content are copyright protected. Do not use my images without prior permission. If you want to republish this recipe, please re-write the recipe in your own words and credit me, or link back to this post for the recipe.