March 24, 2023
Oreo Cheesecake Brownies!
*This post may contain affiliate links. Please see my disclosure for more details!*
Out of this world Oreo Cheesecake brownies with an Oreo base, chocolate brownie with an Oreo cheesecake swirl… over the top but insane!
This is possibly one of the most delicious cheesecake brownies that you will ever try… and I am in love. Chocolatey, indulgent and absolutely scrumptious!
Biscuit Base
So I decided to up the level on this recipe straight away, by adding a biscuit base. I know it may seem a little over the top, but when I was developing this recipe I was also making my Oreo millionaires again, so the inspiration was immediate.
The oreos are blitzed into a fine crumb, I do this in the food processor, and then I mix in melted butter. I keep the creme filling inside the oreo, as I am far too lazy to take it out.
You can crush the biscuits to a super fine crumb in a bowl or a bag with a rolling pin, but you do need it to be as fine as possible. Then mix all the melted butter in, and press it into the base of a lined 9″ square tin.
Brownie Mix
When it comes to the brownie mixture for these beautiful oreo cheesecake brownies, I stuck to what I know and made a delicious fudge like brownie mix.
Butter – I tend to float between using actual butter, a baking spread or anything like that – they all work well.
Chocolate – Always use dark chocolate for a brownie mixture – you need the cocoa content for best results. I use and recommend 70%+ cocoa content.
Eggs – I tend to use medium eggs, so I use four, but if you have large, use three.
Sugar – I like using light brown soft sugar, as well as caster sugar, and either work well here.
Flour – ALWAYS use plain flour, you don't want any raising agents in brownies.
Cocoa – I use strong cocoa powder (100%!) but you can use any good quality cocoa powder. I would avoid hot chocolate powder, however.
Cheesecake
The cheesecake brownies that are already on my blog are out of this world, and I adore them. The cheesecake mixture itself is pretty simple, and it's the same in this recipe.
Cream cheese – so any full-fat soft cheese will work here. You don't want to use a low-fat one.
Sugar – caster sugar is best here, but if you are using light brown sugar in the brownies, you can get away with it in the cheesecake mixture also.
Egg – one medium egg is best, but using one large egg won't hurt it.
Vanilla – I love the flavour addition from the vanilla.
This sort of cheesecake mixture is much runnier compared to a no-bake cheesecake mixture, so don't worry that it's thinner. I crush some oreos slightly and then mix them into the cheesecake mix.
Oreos
When it comes to the oreos, there are obviously tonnes in this recipe. 450g oreos in total, which is a lot, so you can leave various parts out if you wish. You don't have to do the oreo base, or you can leave it out of the cheesecake mixture or topping.
I use the classic oreo as they are arguably my favourite, but you can use any flavour you fancy – and it'll help change up the flavour of the traybake as well.
Tips & Tricks
This recipe will last covered in the fridge for 4-5 days, or you can freeze them for up to 3 months!
Any dark chocolate is fine to use in the brownie mixture, providing it is at least 70% cocoa.
I use this

9″ square masterclass tin

I use this

baking parchment

I use this

Dark Chocolate

I use this

cocoa powder

You can leave out the base if you don't fancy it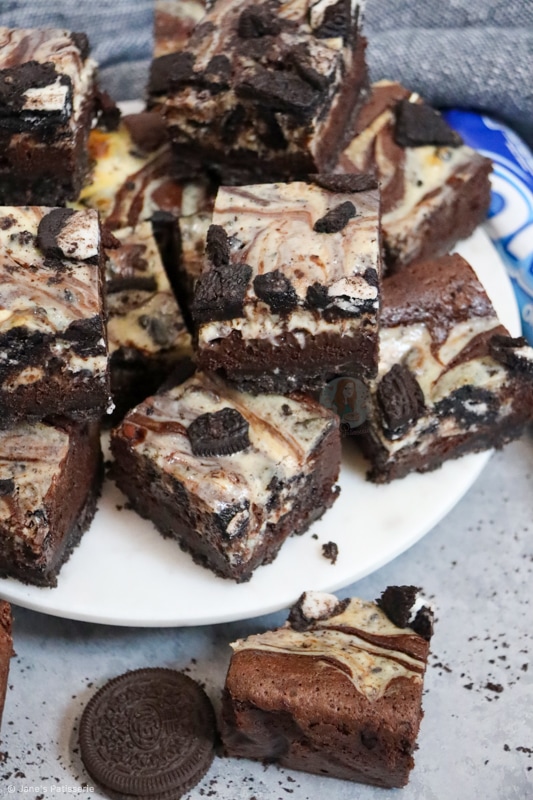 Oreo Cheesecake Brownies!
Out of this world Oreo Cheesecake brownies with an Oreo base, chocolate brownie with an Oreo cheesecake swirl... over the top but insane! 
Print
Pin
Rate
Ingredients
Oreo Base
300

g

oreos

(finely crushed)

90

g

unsalted butter

(melted)
Brownie Mix
200

g

unsalted butter

200

g

dark chocolate chips

275

g

light brown soft sugar/caster sugar

4

medium

eggs

100

g

plain flour

50

g

cocoa powder
Cheesecake Mix
250

g

full fat cream cheese

100

g

caster sugar

1

medium

egg

1/2

tsp

vanilla extract

100

g

oreos

(chopped)
Instructions
Preheat the oven to 180ºC/160ºC fan and line a 9″ square baking tray with parchment paper.

Mix the finely crushed oreos with melted butter and press into the base of the lined tin.

Melt together the unsalted butter and dark chocolate in a heatproof bowl over a pan of boiling water, or in the microwave in short bursts until melted.

Leave to the side to cool to room temperature.

In a new bowl, whisk together the eggs and caster sugar for a few minutes until the colour has turned pale, is very mousse like, and is double the original volume of the amount of eggs and sugar

When whisked, pour the cooled chocolate mix over your egg and sugar mix and fold together carefully

Add the cocoa powder and plain flour on top of the chocolate mix and then fold together again

Pour the brownie mixture over the oreo base

In a new bowl, beat the cream cheese until loose, and add the caster sugar and vanilla and beat again until combined.

Gradually beat in the egg until combined. Then stir through the oreos

Pour the cheesecake mixture on top of the brownie mixture, and swirl slightly. Sprinkle over some extra oreos if you fancy.

Bake in the oven for 25-30+ minutes, until there is a slight wobble in the middle! Once baked, leave to cool in the tin completely, and then in the fridge for 4-5+ hours, but preferably overnight.
ENJOY!
Find my other recipes on my Recipes Page!
You can find me on:
Instagram
Facebook
Pinterest
Twitter
Youtube
J x
© Jane's Patisserie. All images & content are copyright protected. Do not use my images without prior permission. If you want to republish this recipe, please re-write the recipe in your own words and credit me, or link back to this post for the recipe.