May 17, 2015
No-Bake Terry's Chocolate Orange Cheesecake!
*This post may contain affiliate links. Please see my disclosure for more details!*
Deliciously creamy no-bake Terry's chocolate orange cheesecake perfect for dessert and an afternoon treat!
Chocolate orange obsession
If you hadn't already noticed from following my blog, or especially my Instagram, I ADORE chocolate, but especially Terry's chocolate orange chocolate. I literally have no idea why so much, other than it being utterly amazing and one of the best things ever.
After the success of my chocolate orange cookies, and Terry's chocolate orange cupcakes I decided to continue my cheesecake obsession with a suitably amazing Terry's chocolate orange cheesecake!
Chocolate orange cheesecake
I have made a bunch of cheesecakes now, and this is by far my favourite. Some of you may disagree, but I adore this one. I have made it countless times now that I can't actually count. My mum, who shockingly isn't actually a massive fan of chocolate orange as a flavour combination (this is news to me…) is actually a really big fan of this.
Something about the creaminess and moussey texture of the cheesecake filling is what makes it delicious to her. I agree, I am shocked about how delicious it is. I mean, I knew I would like it.. but its SO much tastier then I thought it could ever be! Honestly, my favourite recipe. Ever.
Base
I also adore a thick and buttery biscuit base on my cheesecakes which you might have noticed, but the amount of filling makes it a perfect match! If you want to do less biscuit, reduce the biscuit, and the butter but to the same ratio. So, half the amount of butter to the amount of biscuit! Although, what kind of criminal doesn't like the biscuit base?!
Filling
This recipe is super easy to make, its a no-bake recipe and you will want to make it over and over and over! The good thing about this sort of thing is that if you don't have Terry's chocolate where you are, you can easily substitute it for normal plain or milk chocolate and add orange zest or flavouring too it to make it equally as delicious!
RECIPE UPDATED JULY 2016
I have done a little experimenting as I had a few comments that the mixture 'seizes' slightly when making it. It still sets perfectly fine, and still tastes delicious, but the chocolate orange itself will seize. This means that the chocolate will go hard pretty much as soon as you start mixing it, so instead of having a smooth delicious mixture, you basically have a chocolate orange chip cheesecake. I wanted to stop this from happening if I could so I did a few experiments!
Top tips!
I found that if you mix the cream cheese with the icing sugar, then add the melted chocolate and whisk until smooth, and then add in the cream and whisk until think, the mixture will turn out super smooth, and will set perfectly. It may not look as thick as it did before, mine didn't for a while but whisking it for a little longer worked, but it sets like a dream. I have written the original method below, and the new one so you can choose which you prefer!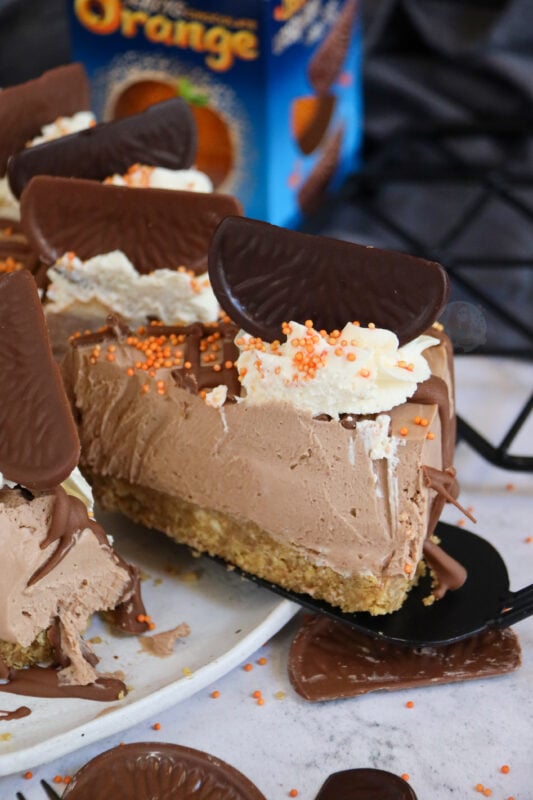 No-Bake Terry's Chocolate Orange Cheesecake!
Deliciously creamy no-bake Terry's chocolate orange cheesecake perfect for dessert and an afternoon treat!
Print
Pin
Rate
Ingredients
Biscuit Base
300

g

digestives

150

g

unsalted butter
Cheesecake Filling
500-600

g

cream cheese

(full fat)

300

ml

double cream

75

g

icing sugar

300

g

Terry's chocolate orange
Decoration
150

ml

double cream

2

tbsp

icing sugar

12

Terry's chocolate orange segments

75

g

melted chocolate

Sprinkles
Instructions
For the Biscuit Base
Melt the butter in the microwave on short bursts on in a small pan over a medium heat until fully melted.


Blitz the biscuits in a food processor to a small crumb or in a bag with the end of a rolling pin, add the butter, and mix until it is combined well.


Tip into a 8″/20cm deep springform tin and press down firmly – chill in the refrigerator for at least an hour.
For the Cheesecake Filling
Melt the 300g of chocolate orange in a bowl over a pan of gently simmering water, stirring gently or microwave in short bursts until fully melted – leave to cool slightly whilst doing the rest.

Mix together the cream cheese and Icing sugar until thick and whip up the double cream in a separate bowl – fold the mixtures together, and then fold through the melted & cooled chocolate. If you find its quite sloppy, whisk till thick!


OR - With a stand mixer, whip the cream cheese and icing sugar until smooth. Add in the slightly cooled melted chocolate, and whip again till smooth. Pour in the double cream and continue to whip until thick. Check it occasionally and scrape down the sides until its all combined and really thick.

Pour the mix on to the biscuit base, smooth over, cover, and chill in the fridge for 5-6 hours, or preferably overnight.

For the Decoration
Whip together the double cream and Icing sugar together until its thick and you can pipe it. 

Drizzle over some melted chocolate onto the cheesecake, and pipe the cream onto the cheesecake.


Add a segment per slice, and sprinkle over some sprinkles!
Notes
If it looks like your cheesecake isn't setting, or its a but sloppy, or you're even not sure.. try it anyway. Try to set the mix anyway! If it still doesn't set, freeze it and have an ice cream cheesecake!
I recommend using a 8″/20cm deep springform tin in this recipe!
You could easily half the recipe used to make a smaller cheesecake, I prefer to make this size because it is always eaten so quickly and is so delicious! You can serve this with a splash of cream or just on its own – its utterly delicious and so easy to make!
This recipe will last covered in the fridge for 3-4 days! 
If you don't want to pay for Terry's chocolate oranges as they can sometimes be a little pricey, you can easily use regular milk chocolate and add in 2tsps orange extract. 
Find my other recipes on my Recipes Page!
You can find me on:
Instagram
Facebook
Pinterest
Twitter
Youtube
J x
© Jane's Patisserie. All images & content are copyright protected. Do not use my images without prior permission. If you want to republish this recipe, please re-write the recipe in your own words and credit me, or link back to this post for the recipe.
SaveSave
SaveSave