February 8, 2018
No-Bake Gin and Tonic Cheesecake!
*This post may contain affiliate links. Please see my disclosure for more details!*
No-bake buttery biscuit base with a creamy delicious gin and tonic cheesecake filling! Your G&T dessert dreams have been answered!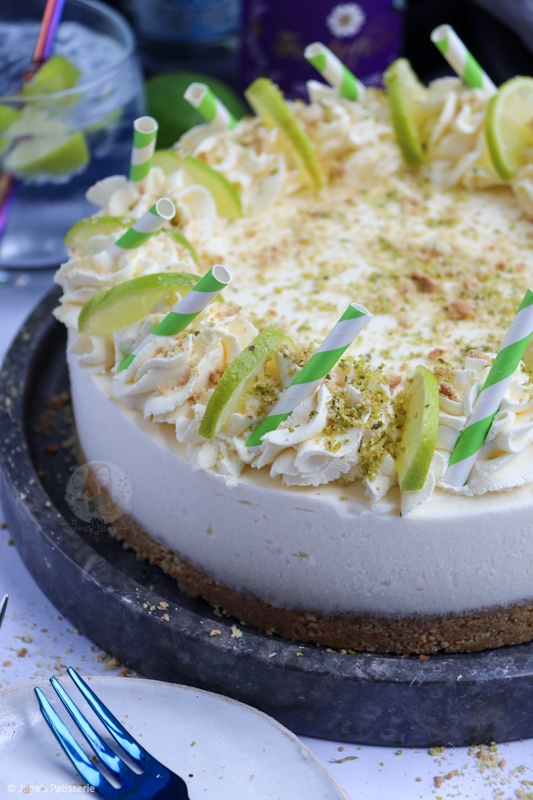 Gin and tonic cheesecake
So yes, I went there and I did it and YUMMY. I honestly will say from the beginning, it's gin and tonic flavoured (obviously) so if you don't like gin… or tonic… you might want to look at something else delicious like my no-bake triple chocolate cheesecake.
Gin
But anyway, back to gin. I would say that gin is still a big 'thing', and it's ever more growing! Particularly in recipes such as my gin & tonic drizzle cake… like it blows my mind. I still can't keep up with the response to that recipe, so I obviously being me couldn't resist doing a cheesecake!
Setting agent
There is something new about this gin and tonic cheesecake recipe, however, in the fact that I made it using gelatine. I've never been against using gelatine in the first place, but I would rather make a recipe not using a setting agent as I find it easier, and then it's not a problem for those who don't eat meat.
However, with the amount of liquid that has to go into this recipe, and it being a no-bake recipe, it needed a bit of a helping hand. Without anything, it would be a sloppy mess! Adding in the smidge of lime helps towards the setting, and using full-fat cream cheese and double cream is still a must, but the gelatine is kinda important. You can get vegetarian alternatives these days in nearly all supermarkets, or you can get gin and tonic flavouring to make the recipe cheaper and easier, but I wanted to use actual gin and actual tonic.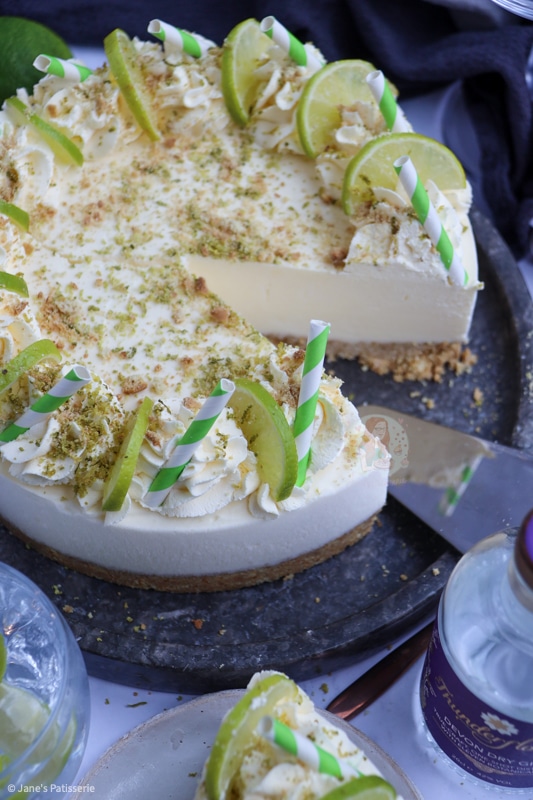 Decoration
I know this recipe looks relatively simplistic in comparison to my others, but this in a way just doesn't need much else! It's also a problem with I'm not sure what on earth I could also use to decorate it that doesn't require too much effort. Inspiration isn't too high for G&T things other than a mini bottle per slice!
Too far maybe?! If you aren't a fan of lime, you could use lemon, or something else, or completely leave it out! I think it adds a nice bit of colour to the cheesecake, and that bit of necessary decoration.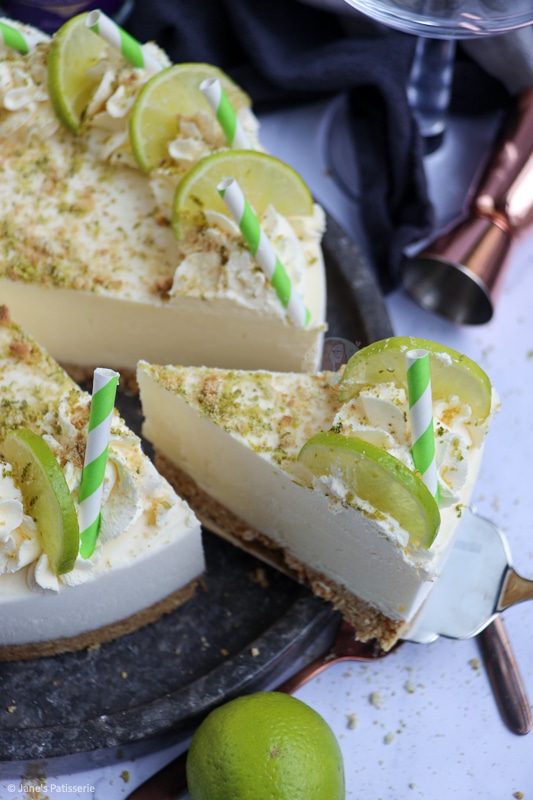 Flavour
I do think that the flavour will change depending on which gin or which tonic you use, but a stronger flavoured one is best. The flavour isn't overpowering in this recipe, but there's a delicious hint of all things delightful. If you don't like tonic though, top tip – you can use lemonade!
More G&T recipes
If you wanted to go all the way, you could easily decorate this with some gin & tonic fudge, or you know, serve it on the side for a gin party. Or if a cheesecake isnt your thing but gin and tonic is, theres always cupcakes and a layer cake which are just as delicious! Either way, I know this is going to be a showstopper for all you gin lovers out there! Enjoy! x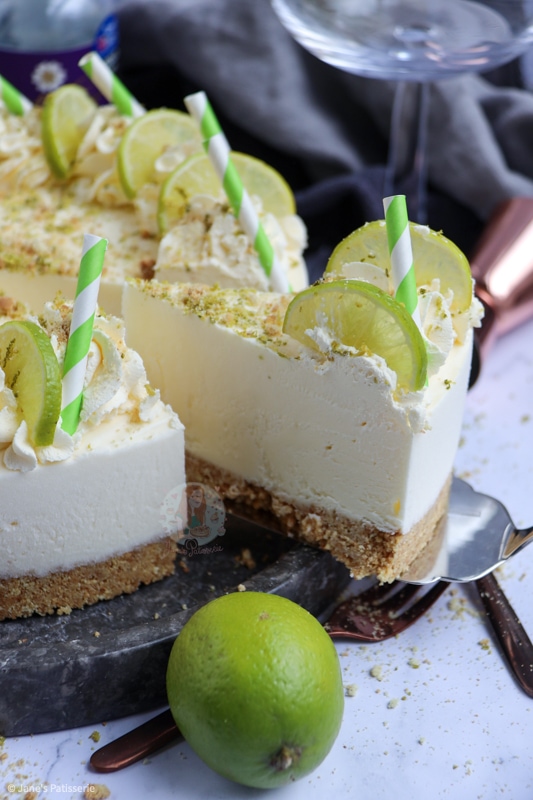 Enjoy!!
Find my other Cheesecake Recipes on my Recipes Page!
You can find me on:
Instagram
Facebook
Pinterest
Twitter
Youtube
J x
© Jane's Patisserie. All images & content are copyright protected. Do not use my images without prior permission. If you want to republish this recipe, please re-write the recipe in your own words and credit me, or link back to this post for the recipe.
SaveSave
SaveSave
SaveSaveSaveSaveSaveSave