March 23, 2015
Triple Chocolate Chip Cookies!
*This post may contain affiliate links. Please see my disclosure for more details!*
Gooey, crunchy, soft and moreish triple chocolate chip cookies that are perfect for any cookie lover!
Triple chocolate chip cookies
Now, I have already done many a cookie recipe in my time, such as my chocolate oat cookies, and my chocolate orange cookies… but I realised I have never put up my main go-to recipe for cookies (that I bake almost twice a week these days!). Honestly, they're cookie perfection and such an adaptable recipe.
These cookies are what I based the recipe for my chocolate orange cookies on as this recipe is utterly delicious and so versatile that it beautifully turned into them too!
These cookies are perfect just out of the oven when warm and gooey, or when left to cool they are IDEAL with a glass of cold milk or a cuppa – basically, they go with anything at any time on any day.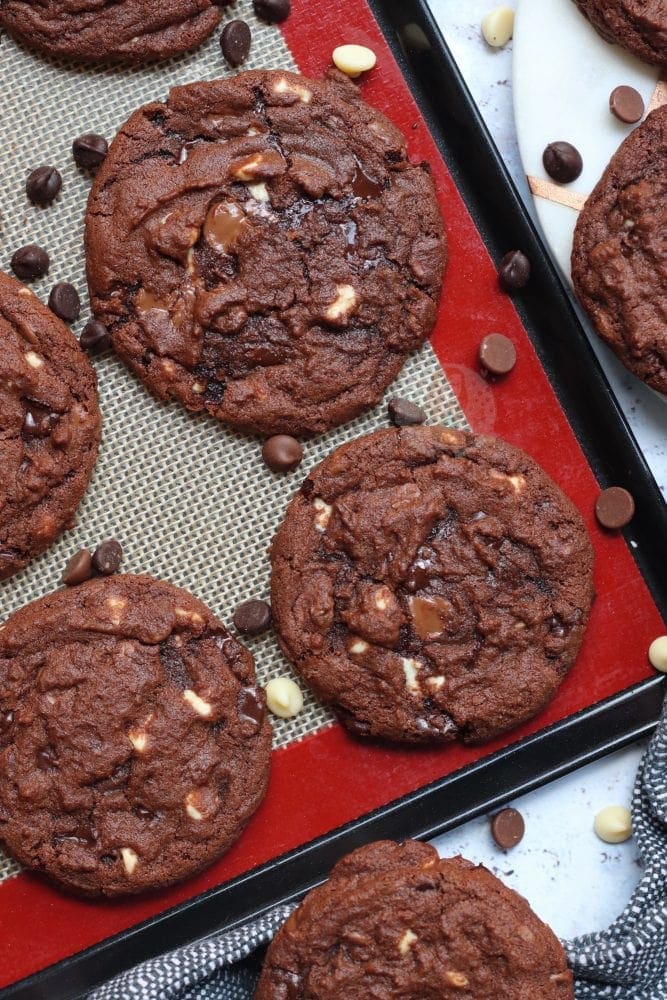 Bake
You could bake them for a couple minutes longer to get a crunchier outside, but still have a gooey outside, which I often do, or even bake them for a minute less to have the gooiest and softest cookies in the world.
I realise that everyone likes their cookies done slightly differently to the next person, so these are all about the baking time.
Chocolate
These cookies get the crinkle effect from the types of sugars used and the amount of chocolate used! You can always put less chocolate chips in if that takes your fancy, or even have them plain, but I am an utter chocoholic so always put in the maximum.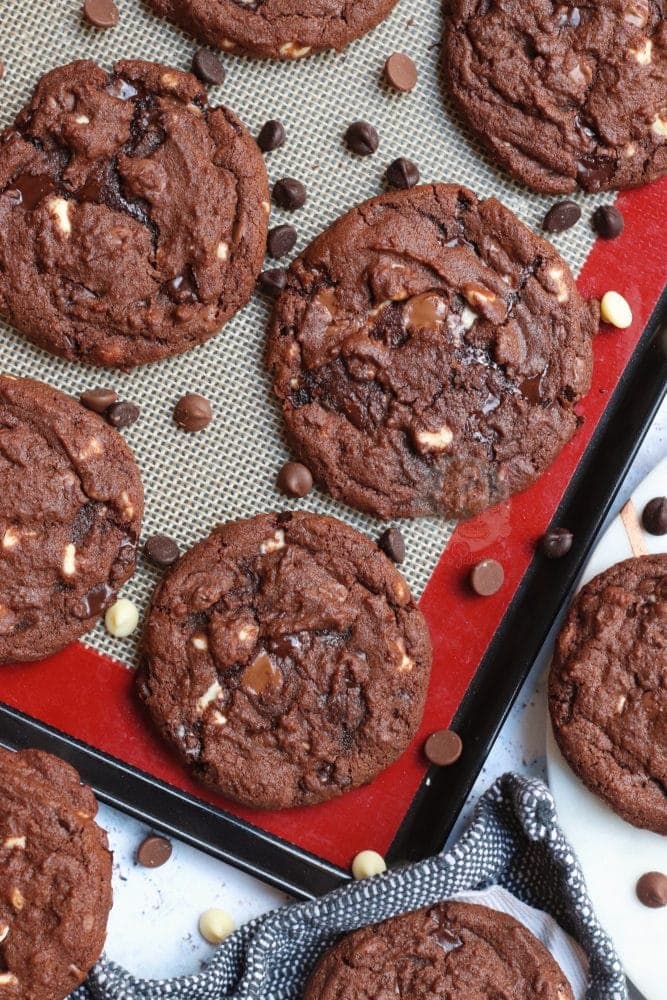 I often use actual chocolate chips that you can buy in the baking isle to make them super easier, but you can use chunks of a bar to get a more chocolatey pocket which is just YUM.
Triple chocolate recipes
I'm obviously a fan of triple chocolate recipes as my no-bake triple chocolate cheesecake is one of my favourite recipes ever (THE LAYERS ARE AWESOME), but you can't be a triple chocolate cookie. Like honestly, there is nothing better.
Well, I mean using these cookies are the base of the no-bake triple chocolate cheesecake would be incredible… maybe I will do that next time.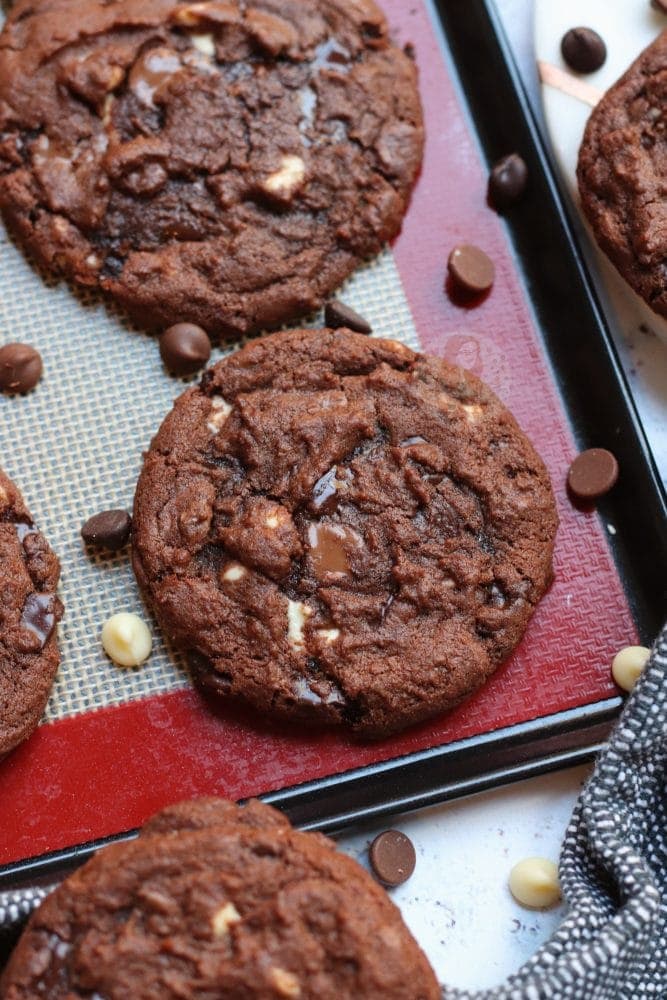 Cornflour
If you find that your cookies can spread or get a little weird, its often down to how the mixing is different, or the ingredients themselves. It's why I always use the same sugars and the same ingredients because it makes me get a perfectly consistent cookie. You can however add in a tablespoon of cornflour to prevent them spreading if that is something you struggle with.
When you look at the pictures you can see just how chocolatey and delicious they are and you can understand why they usually get eaten within the hour. I have often mistakingly burnt myself trying to eat one straight out of the oven, but you know… worth it.
Tips!
If you bake these for a minute longer, you can use them for a cookie sandwich and put a scoop of ice cream inside, and you end up with the most delicious dessert for a comfy night in.
I often make more than one batch in a go because they are so moreish, and luckily with a recipe like this you can just double or triple it. However, still don't necessarily put more than 6-8 on a tray in a go. My cookies don't spread, but as I have already said some others can so be wary!
RECIPE UPDATED AUGUST 2019
I've updated this recipe to suit my newer, and more up to date style – this consisted of switching the flour from self raising to plain, and increasing the amount slightly! The original is still just as tasty, however, I love the newer version too. Find the original in the notes section!
I hope you love this recipe! Enjoy! x
Triple Chocolate Chip Crinkle Cookies!
Gooey, crunchy, soft and moreish triple chocolate chip cookies that are perfect for any cookie lover! 
Print
Pin
Rate
Ingredients
125

g

unsalted butter

100

g

light brown sugar

100

g

white granulated sugar

1

medium

egg

1

tsp

vanilla extract

25

g

cocoa powder

225

g

plain flour

1/2

tsp

salt

1/2

tsp

bicarbonate of soda

1/2

tsp

baking powder

100

g

white chocolate chips

100

g

milk chocolate chips

100

g

dark chocolate chips
Instructions
Preheat your oven to 180C/160C Fan/375F and line two-four baking trays with parchment paper. Mine are quite large trays (40cm) to make sure the cookies don't touch!

Mix together the butter and both sugars until light and fluffy and thoroughly combined! Using an electric mixer is far easier for this because it gets very fluffy and perfect!

Mix in the vanilla and the egg until thoroughly combined, then mix in the cocoa powder, flour, bicarbonate of soda, baking powder and salt until a thick paste/cookie dough is formed.

Fold in the chocolate chips, and spoon the mixture onto the trays and make sure they are suitable spread out so they stay separate! (I usually fit 6-8 on each tray to be safe) I also use a 5cm cookie dropper/ice cream scoop to make them identical sizes.

Bake in the oven for 10-12 minutes until spread out perfectly crinkly. A minute or so less will be gooey, a minute or two more will be beautiful and crunchy. 

Once baked, remove from the oven and gobble them all up - don't burn yourself on the chocolate!
Notes
TOP TIP - If they look a little too domed for you still when they're fresh out the oven, tap the tray's onto the work surface a couple of times and the cookies will flatten out a smidge - leave to cool fully on the tray still. 
They are super super gooey when warm so you could serve them with a dollop of ice cream if you like (vanilla is perfect with it) and they are an utter crowd pleaser.
If you wanted to just use one type of chocolate you could as well, I just always stick to the same amount weight wise!
I use this dark chocolate, this milk chocolate and this white chocolate!
These cookie scoops are ideal for the job and have three sizes! I use the middle size for these cookies.
These will last for 4-5 days after baking, but honestly they will be eaten before then. 
The mixture can be chilled before baking, and they can also be frozen raw or baked. 
Recipe updated August 2019
Original recipe

Everything is the same, apart from the original used to use 175g self raising flour instead of the 225g plain. I also used slightly less chocolate chips. Method and everything else is the same!
ENJOY!
Find my other Cookie Recipes on my Recipes Page!
You can find me on:
Instagram
Facebook
Pinterest
Twitter
Youtube
J x
© Jane's Patisserie. All images & content are copyright protected. Do not use my images without prior permission. If you want to republish this recipe, please re-write the recipe in your own words and credit me, or link back to this post for the recipe.