October 21, 2015
Nutella S'mores Pull-Apart Bread!
*This post may contain affiliate links. Please see my disclosure for more details!*
A sweet bread dough, spread with Nutella, packed full of mini marshmallows, biscuit pieces, and chocolate chips – Heaven!
So, I do have a couple of sweet bread recipes, like my Lemon & Blueberry Sweet Rolls, Mini Egg Rolls, Cinnamon Swirls, and my Sticky Chocolate Sweet Rolls – I LOVE these recipes, and stats say that you guys do too!
Bread
I'll admit from the off that they're slightly faffy recipes that do take some time, but they're SO worth it if you can stick to it, and wait long enough for the bread to rise!
However, to encourage you guys even more to try some of my sweet bread recipes I decided to post this beauty as its a firm family favourite, and I know you all love nutella and s'mores!
The bread is the same base idea as my cinnamon rolls and mini egg rolls, but with the quantities changed to adapt to fit into the loaf tin a lot better.
I used strong white bread flour for mine, but you can use plain flour if you would prefer – although, this does change the texture somewhat to a more cake like texture.
Filling
When freshly baked its SUPER delicious, and pulling apart the different layers and seeing how full it is of chocolate chips, marshmallows and biscuits makes it that much more addictive – I struggled not to eat half of the bread myself!
S'mores is one of those things that I ADORE and can never get over how yummy they are – and as halloween and bonfire season is approaching swiftly, I thought posting a recipe like this now as ideal!
I slathered slightly melted nutella onto my bread dough, and then tried to evenly sprinkle the marshmallows, biscuits and chocolate chips over.
Assembly
This recipe is slightly messy – partly due to using a bread dough, partly the spreading of nutella, but mainly because of trying to assemble the bread dough itself.
Because This is a teach and share bread dough, I didn't roll my dough any which way otherwise that would require cutting it to portion. I therefore used scissors to cut squares of dough out, and layered them into the tin lengthways.
I used a 2lb loaf tin, and it does just about fit – but that's the point. it's meant to be a little exploded and delicious – that's the s'mores charm shining through.
Tips and Tricks
I really would recommend using a decent slightly 2lb loaf tin (As they can vary in size), and I find using scissors to portion the bread the easiest option.
If you did want to use this dough to make a more roll like bread, 100% go for it! Roll the rectangle of dough up into a large sausage, and then portion the rolls.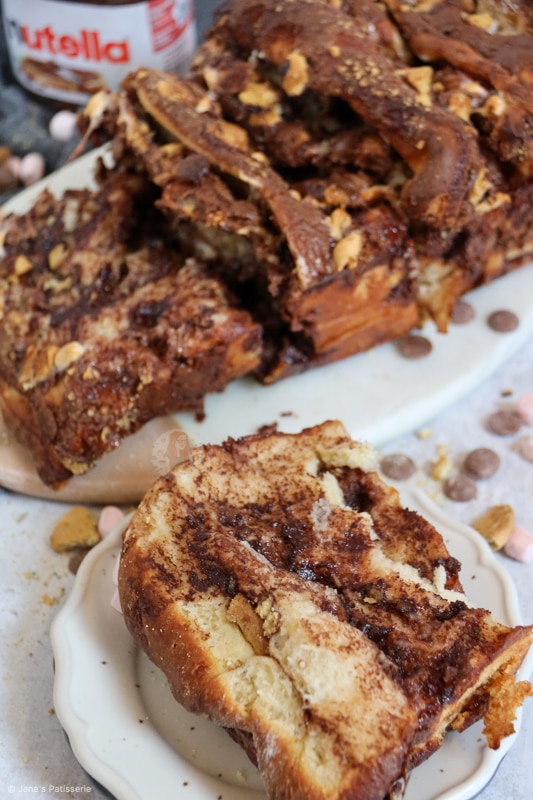 It's something you can enjoy at the weekend with your family, or something to treat yourself with on your day off! Basically – there is no reason to say no to baking this – its much easier than you think to bake, and its totally worth the time in the end!
You can see from the photos how gooey, sweet and delicious the bread is – and of course how utterly irresistible it is! Good luck sharing this bad boy!
A super easy, fun twist on classic flavours – perfect for any occasion and sure to please anyone and everyone! Hope you all love it as much as I do!
Nutella S'mores Pull Apart Bread
A Sweet Bread Dough, spread with Nutella, packed full of Mini Marshmallows, Crunchy Biscuit pieces, and Chocolate Chips – Heaven!
Print
Pin
Rate
Ingredients
500

g

strong white bread flour

60

g

caster sugar

10

g

active dried yeast

75

g

unsalted butter

1

large

egg

225

ml

whole milk

200

g

nutella

100

g

mini marshmallows

100

g

chocolate chips

3-4

biscuits

(crushed)
Instructions
Sift the strong white bread flour into a large bowl, and add the caster sugar and active dried yeast.

Mix so they are all evenly distributed! Rub the unsalted butter into the mixture until it resembles fine breadcrumbs! (If you're feeling lazy, then whizz these ingredients in a food processor until breadcrumbs)

Heat the whole milk gently until warm, it should just about start steaming in the pan.

Mix the whole milk and the egg into dough and mix/knead for 7-10 minutes. I use my KitchenAid with the dough hook, it only takes 7 minutes to knead! It should spring back when touched (Like a cake does when cooked).

Move to a lightly oiled bowl and cover with clingfilm, then leave in a warm place and leave to rise for 1-2 hours or until it has doubled in size (I made these on a relatively chilly day so it took the full two hours, sometimes it can take longer)!

Prep your 2lb loaf tin by buttering it and lining it with parchment paper on the bottom and the sides!

Once risen, remove the dough from the bowl and roll out onto a lightly floured work surface. I rolled mine to roughly 50cmx30cm (20″x12″).

Microwave the Nutella for about 20 seconds so it loosens and is runnier, then spread carefully onto your rolled out dough so that it's evenly spread, but be careful not to rip the dough! 

Sprinkle the chocolate chips, mini marshmallows, and crushed biscuit pieces over the top and pat down so they stick to the Nutella.

Carefully cut the dough into squares that are the size of the width & depth of your tin - for example, if your tin was 6cm deep and 8cm in width, then roughly cut them to that size, don't worry about the length of your tin, it doesn't have to be exact, as the dough will rise in the oven!

Line your squares of dough up next to each other in the tin so that they all sandwich together like sliced bread. When all the dough is in, shake it about a tiny bit so it all sits well in the tin and cover again with cling film - leave for an hour to rise again.

Towards the end of the hour for your dough rising, heat the oven to 180ºC.

Once the hour is up, bake in the oven for 25-30 minutes until golden brown on top and cooked through! Leave to cool. Remove from the tin, and enjoy!
Notes
You don't have to use Nutella - you can use whatever spread you like - but a chocolatey one works best as its melts properly! And you can use as little/many chocolate chips or mini marshmallows etc as you like - but it does make it all gooey and delicious (and super s'moresy)!
This is best eaten on the day of baking, but can be kept overnight in an airtight container at room temperature - it'll still be gooey the next day too. Or you can freeze it for up to 3 months!
I used this

2lb loaf tin

I used these

Chocolate chips

I used this

baking parchment
ENJOY!
Find my other recipes on my Recipes Page!
You can find me on:
Instagram
Facebook
Pinterest
Twitter
Youtube
J x
© Jane's Patisserie. All images & content are copyright protected. Do not use my images without prior permission. If you want to republish this recipe, please re-write the recipe in your own words and credit me, or link back to this post for the recipe.