March 11, 2016
Easter Rocky Road!
*This post may contain affiliate links. Please see my disclosure for more details!*
A delicious No-Bake Easter Rocky Road, packed full of all things sweet. Mini Eggs, Creme Eggs & more!
Recently, I posted my normal Rocky Road recipe and my god you guys LOVE it! I just couldn't cope with the number of views and love the recipe received for something that is so simple, and with so many thousands of recipes for it already out there! This, of course, made me want to post something else that I know you guys would love… an Easter version.
If I am being honest, the recipe is very much based on my Rocky Road recipe, but I have made some delicious Easter additions in the form of Mini Eggs (Classic Easter obsession) and Creme Eggs, as my boyfriend is OBSESSED with them, and many more Easter goodies! I was a little dubious myself about this recipe, but I have genuinely wowed myself.
Cutting through the rocky road into the chunks shows the mini eggs & creme eggs through and through, without the creme eggs leaking everywhere (as I store it in the fridge) and having the white chocolate on top with a few crushed Mini Eggs give it a lovely little Easter twist on the classic Rocky Road.
You can, of course, adapt it in SO. MANY. WAYS. Such as, I've made it with the Oreo Mini Eggs you can get, and the Daim versions, and jeeeez Louise its heaven. I personally love how sweet it is, but if you aren't a massive fan of something oh so sweet then I recommend using just dark chocolate, or even a 50/50 mix of Milk and Dark chocolate.
I genuinely can't get over how well this recipe cut when I sliced it up, but I get some people struggle with this. My tips are to use a large sharp knife, and just press down into it. Sawing at it will cause problems and make it look messy. Also, because you have the syrup and butter in the mix, it doesn't set rock solid like some other rocky road's can, so that's always good.
This Easter Rocky Road is sweet, delicious, and utterly addictive. You will want to make this more than once (I can guarantee it) and everyone of all ages will love it. I had many taste testers for this recipe, and they all LOVED it.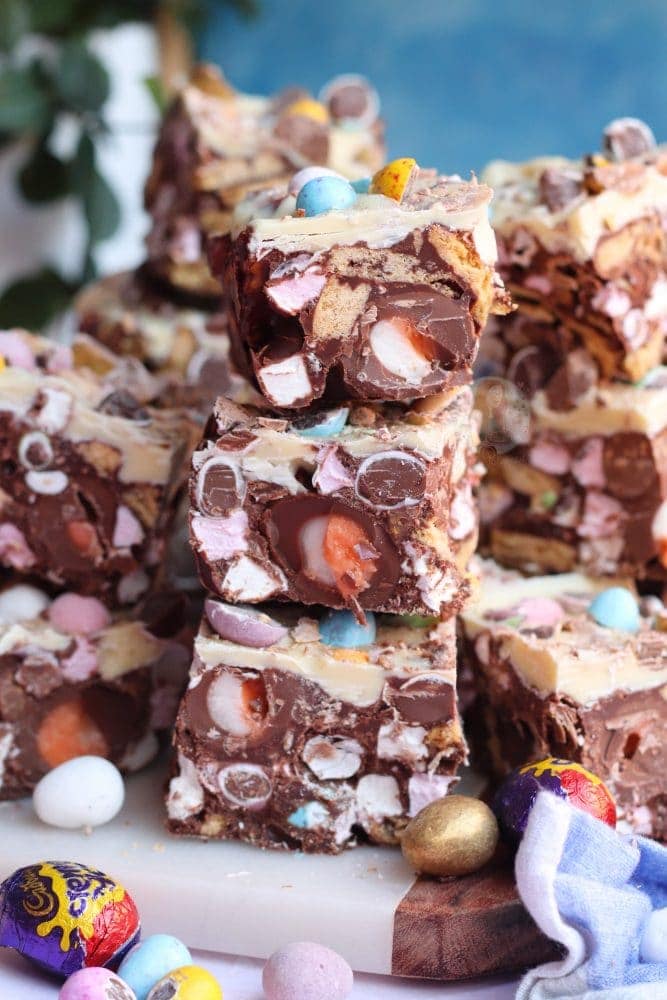 Recipe Update March 2019 – I decided to make this again so that I can film it. The only changes I made was to add in more types of chocolate. I used Mini Eggs, Creme Eggs, M&M Eggs, Milkybar Eggs, AND Galaxy Golden Eggs. This basically just shows that I can use any you like! I had just gone a little crazy with the Easter Shopping, and this rocky road can be so adaptable!
The thing I love about this recipe, is the fact that you can adapt it so much! Who doesn't love at least one type of Easter treat?! And it's so easy to make! The video on this page shows how easily it can be put togethter – and making sure you have a big enough bowl to fold it all together helps – I've made a mistake there before. It was messy.
Some people have mentioned struggling to get the Chocolate/Butter/Sugar mix to not spit, and I genuinely have only ever had this once. For perspective, I have made this sort of Rocky Road easily 150+ times, and only once had it split. The reason? I left it by accident for too long, and it got too hot. They key is low temperature, actual butter, and not over mixing.
I realise in the video I show that I stir it, but thats to prevent anything catching. You don't need to whisk it or anything like that. Often as well, some brands of chocolates arent the same level of chocolate, and that can cause an issue! Using a marriage of Milk and Dark Chocolate like this recipe does is the best, but you can use all Dark or all Milk if you prefer! Apparently as well, if the mixture splits, stir in some tablespoons of milk one at a time till it comes back! Magic!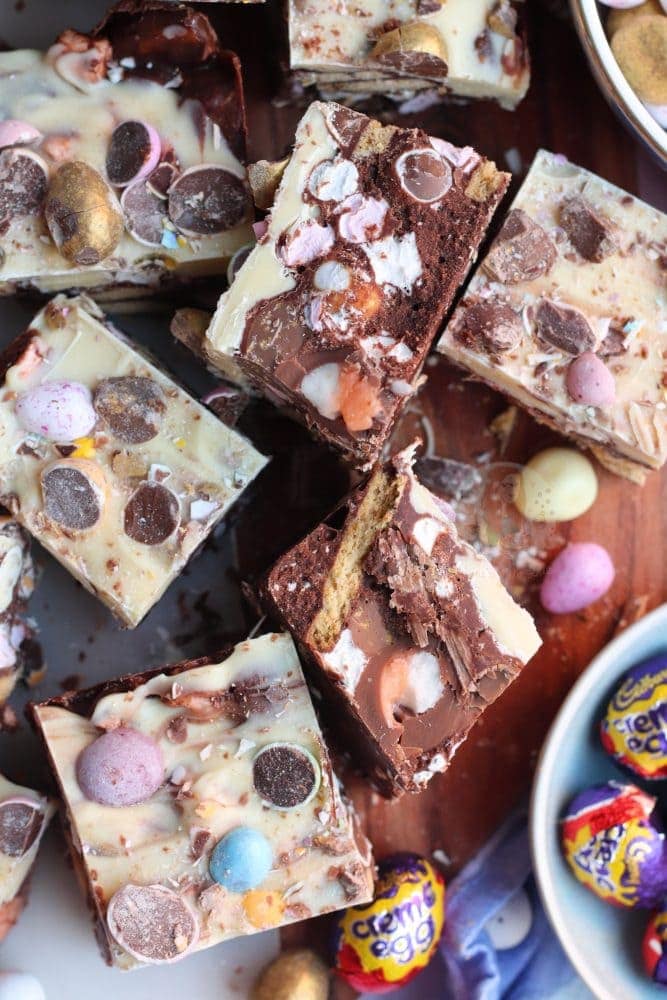 Easter Rocky Road!
A delicious No-Bake Easter Rocky Road, packed full of all things sweet. Mini Eggs, Creme Eggs & more!
Print
Pin
Rate
Ingredients
400

g

Milk/Dark Chocolate

125

g

Golden Syrup

125

g

Unsalted Butter

100

g

Mini Marshmallows

150

g

Digestives

(chopped)

600-800

g

Easter Chocolates

250

g

White Chocolate
Instructions
Line a 8/9″ Square tin with Parchment paper and leave to the side.

In a Large bowl, add in the Chocolate, Golden Syrup, and Butter – melt on a low heat over a Double Boiler, or in the Microwave on short bursts until fully melted – stir till smooth! Be careful not to overheat the mixture!

Once it's melted and combined, add in the Marshmallows, chopped biscuits, Easter Chocolates (Apart from a handful) – fold together – pour into the tin and spread till its even.

Melt the white chocolate and pour over the top of the rocky road, and sprinkle over the last of the Easter Chocolates!

Refrigerate until set, chop up, and enjoy!
Notes
I really would recommend using just Milk or Dark Chocolate for this as it melts better than White Chocolate, and the White Chocolate might mix/split when mixing it with the Golden Syrup or Butter!
I often use either Supermarket Own Chocolate or Callebaut Milk Chocolate – I find the flavour works best and its delicious, but any chocolate will work!
You can easily half the recipe for less, but these are so moreish you will want the large piece! Trust me! I store this in the fridge, and it'll last for about a week (But it won't as its so delicious.)
I use Mini Creme eggs so that they weren't too big in the rocky road!
This recipe will last for 7 days in the fridge!
ENJOY!
Find my other Easter & Traybake Recipes on my Recipes Page!
You can find me on:
Instagram
Facebook
Pinterest
Twitter
Bloglovin'
Youtube
J x
© Jane's Patisserie. All images & content are copyright protected. Do not use my images without prior permission. If you want to republish this recipe, please re-write the recipe in your own words and credit me, or link back to this post for the recipe.