March 18, 2016
No-Bake Creme Egg Cheesecake!
*This post may contain affiliate links. Please see my disclosure for more details!*
Delicious Vanilla Cheesecake, Buttery Biscuit Base, SO MANY CREME EGGS, and a Chocolate Drip… Hello No-Bake Creme Egg Cheesecake!
I am obviously obsessed with cheesecake, this is nothing new to my regular readers, but I felt like this recipe was an absolute must. Like, its Easter soon… Creme Eggs are back… so hello NO-BAKE CREME EGG CHEESECAKE! Heaven. Like cheesecake heaven.
The other day I posted the recipe for my No-Bake Mini Egg Cheesecake and it was an astounding hit – like I was surprised at how well it was received (hehe thank you!) and after the downright success of my Mini Egg Drip Cake I thought that marrying these ideas together to make a Creme Egg Easter treat was perfection.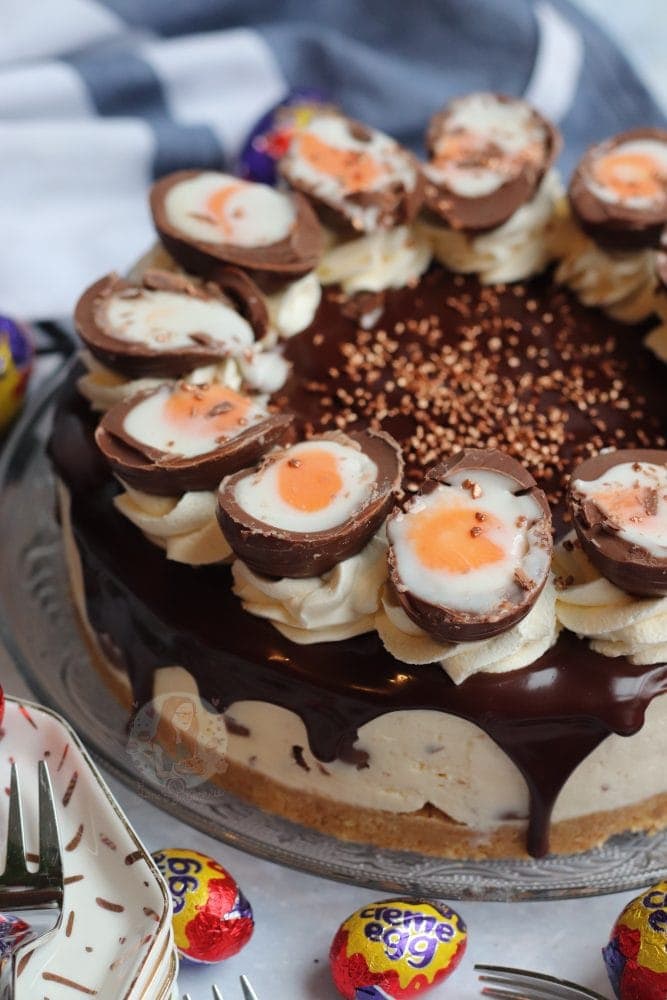 The buttery biscuit base combats well against the sweetness of the filling, and as creme eggs are so sweet I went with Philadelphia for my Full-Fat Cream Cheese of choice as the tang of it compares well with the sweetness and sugar. However, if you aren't a cheesecake fan but still want to try it, you can easily use Mascarpone! Or even use a mixture of the two. As long as the weight value is the same, it'll be dandy!
I used 3 bags of Mini Creme Eggs in the filling (used to be four), and could have done more.. but there is a limit to how much one can handle in a slice. It's much easier to chill them first before you cut them up otherwise it'll just turn into a sticky mess, but thats entirely up to you.
The most annoying thing, since the original date of publishing is that Mini Creme Egg bags have got smaller – so the recipe now just says a weight of mini Creme Eggs – and you can use less or more – it's up to you! Just obviously, the more you buy, the more expensive!
As there are quite a few creme egg cheesecake recipes out there, I went with what I thought was best, basing it on my own recipes and giving it a drippy twist! A sweet vanilla cheesecake with creme egg bits inside is just delicious, with more indulgence on top!
In the old recipe, I used just a dark chocolate drip. However, this time, I have updated it to be a Dark and Milk Chocolate drip to make it easier for you guys! However, the ratios do change. For me, Milk Chocolate would be 2:1 Chocolate to cream, and white Chocolate is 3:1. It sounds like you'd need more cream with the White Chocolate, but you really don't.
You could even make this into a Chocolate Cheesecake if you wanted. The possibilities are endless and DELICIOUS. Even with my Cadburys Caramel Cheesecake, you can see how adaptable they all are.
RECIPE UPDATED MARCH 2020 – The original recipe base was the same. The filling was 550g cream cheese, 100g icing sugar, 450ml double cream, 1 tsp vanilla and 350g mini Creme Eggs! The decoration was 250ml double cream, 100g dark chocolate, 25g icing sugar, and 6 Creme Eggs!
If you still want to make the old version, then definitely go for it! It does still work, I still love it, I just wanted to update the recipe to be a little more in line with my work now! Also, it is over 4 years old!!
Enjoyyyyy! x
No-Bake Creme Egg Cheesecake!
Delicious Vanilla Cheesecake, Buttery Biscuit Base, SO MANY CREME EGGS, and a Chocolate Drip… Hello No-Bake Creme Egg Cheesecake!

Print
Pin
Rate
Ingredients
Biscuit Base
300

g

Digestives

150

g

Unsalted Butter/Stork

(melted)
Cheesecake Filling
550

g

Cream Cheese

(full fat)

100

g

Icing Sugar

300

ml

Double Cream

1

tsp

Vanilla Extract

200-400

g

Mini Creme Eggs

(Chilled/Quartered)
Ganache
100

ml

Double Cream

50

g

Dark Chocolate

50

g

Milk Chocolate
Decoration
150

ml

Double Cream

2

tbsp

Icing Sugar

6

Creme Eggs

(halved)

Sprinkles
Instructions
For the Biscuit Base!
Blitz the biscuits in a food processor to a fine crumb, or mash them up in a bag and add the melted butter – pulse a few times until it is combined well.

Tip into a 8″/20cm Deep Springform Tin and press down firmly – chill in the refrigerator whilst you do the rest!
For the Cheesecake Filling!
With an electric mixer (I used my KitchenAid) Mix the Cream Cheese and Icing Sugar together until smooth, it'll only take a few seconds.


Whilst whisking slowly, pour in the liquid double cream & Vanilla and continue to Whip the Cream Cheese/Cream Mixture until it is starting to thicken.

(Don't whip it too fast, I whisk it on level 6/10 on my kitchenaid maximum. Too fast and it may split.. better to be slightly under whipped than over whipped!)

Once its thick, fold through the chopped up creme eggs (You might find it easier to chill/freeze the creme eggs first so that its not too messy!)

Spread the mixture onto the biscuit base and spread evenly. Leave to set in the fridge, covered, for 5-6 hours, or preferably over night.
For the Ganache!
Add your chocolate and cream to a jug/bowl and microwave for 30 seconds. Stir very well!

Microwave again in 10 second bursts till smooth, stiring each time!
For the Decoration!
Carefully remove the cheesecake from the tin, and decorate with the ganache - I carefully poured the ganache on top and edge it over the edge for the drip! – Leave to set in the fridge for 10 minutes.

Whip up the Double Cream with the Icing Sugar. Pipe a little onto the cheesecake, and add a large creme egg half to each floret of cream and sprinkle with your favourite sprinkles!
Notes
I recommend using a 8″/20cm Deep Springform Tin in this recipe!
I always set my cheesecakes in the fridge overnight otherwise they risk being a little sloppy still – you're more likely to get a better result for the longer you leave it.
This Cheesecake will last covered in the fridge for 3 days!
Creme Eggs are naturally quite runny so its probably MUCH better to chill/freeze them before cutting. All of the decorations I have done are optional so don't worry, the cheesecake will still be delicious either way!
The Ganache is completely optional and can be ignored if you wish!
I use either Full Fat Philadelphia Cream Cheese, or full fat Mascarpone. 
ENJOY!
Find my other Cheesecake & Easter Recipes on my Recipes Page!
You can find me on:
Instagram
Facebook
Pinterest
Twitter
Youtube
J x
© Jane's Patisserie. All images & content are copyright protected. Do not use my images without prior permission. If you want to republish this recipe, please re-write the recipe in your own words and credit me, or link back to this post for the recipe.