February 26, 2018
Cadbury's Caramel Cheesecake!
*This post may contain affiliate links. Please see my disclosure for more details!*
A no-bake Cadbury's caramel cheesecake with a biscuit base, chocolate caramel cheesecake filling, delicious decoration and more!
This deliciously sweet recipe is one of those ones that would be the perfect showstopper on the easter table for dessert, or even if you are a chocolate and caramel fan… it is insane.
Easter baking
Soooo ITS NEARLY EASTER AGAIN! I do realise its still February when I am posting this new recipe, but its only just over a month until Easter so posting my second Easter related recipe of the year is totally acceptable… right? I really hope so otherwise I am screwed.. but just look at it!
I decided from the off that after my no-bake Mini Egg cheesecake and my no-bake Creme Egg cheesecake recipes that I NEEDED to do a caramel one. So, Cadburys caramel it is. You can buy Galaxy caramel eggs around Easter time, but I do love a Cadburys caramel egg quiiiiittteeee a lot so I went for them.
Cheesecake Base
I went for a plain digestive biscuit base for this one, but you can easily make it chocolatey by adding in 25g of cocoa powder but I wanted plain. It's best to blitz the biscuits to a really fine crumb, then add the butter, and press down firmly into your 8″ springform cake tin for best results.
If you find your cheesecake base is slightly too firm, you may need to reduce the butter content by about 1/3 next time you make the cheesecake if using the same ingredients! If using a biscuit with a chocolate coating, or a filling, use 2/3 of the listed amount of butter as it requires less.
Cheesecake Filling
I did go for a chocolate caramel style cheesecake filling. Of course I did use Cadburys so it was a dream, but you can use any chocolate brand really! Supermarket own, Lindt, Galaxy etc! I then used a slight smidge of caramel sauce to hint the flavour even more – but that is up to you.
Some of my other cheesecakes that are based around something caramel like either use a caramel filling such as my Rolo one, or a combined flavour of chocolate and caramel but I wanted just chocolate for this to get that real hit of Cadburys goodness. A caramel cheesecake is a dream on its own, but a chocolate caramel one with Cadbury's caramel chunks inside is INSANE.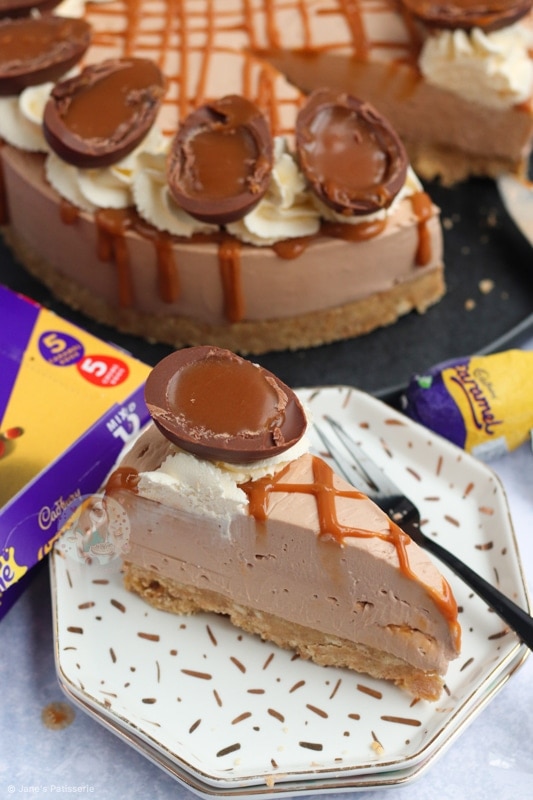 Cheesecake Decoration
I do realise that it looks like a sugar overload for every slice, but realistically its not that much for one slice! I do add on a drizzle of caramel for decoration (I used a smidge from a Carnation caramel tin) but this is an optional thang. You can easily use chocolate though as its easier!
I do tend to go a bit over kill on my decoration, but I do like to make a showstopper out of a dessert. This recipe can easily be switched up and be made to be similar like my no-bake caramel Rolo cheesecake, and vice versa. However, CADBURY'S IS DELICIOUS.
Tips and Tricks
You can easily swap it for chopped up Cadburys caramel bars instead so you can make this recipe year round, or even use the caramel buttons. But to be honest, look how gooey and delicious the caramel eggs look. Slight sugar overload but YUMMYYYY.
Often people ask how I drizzle my 'drizzle's on and I use simple small disposable piping bags and its that simple. The Tala disposable piping bags are PERFECT for all things drizzle and for small amounts. You just need to snip the end off and then its perfect. You can of course use a spoon, but I like my drizzles neat and easily done! I hope you love this one!
This cheesecake will last for 3+ days in the fridge, and freeze for 3+ months! Enjoy! x
Cadbury's Caramel Cheesecake!
A no-bake Cadbury's caramel cheesecake with a biscuit base, chocolate caramel cheesecake filling, delicious decoration and more!
Print
Pin
Rate
Ingredients
Biscuit Base
300

g

digestives

150

g

unsalted butter
Cheesecake Filling
500

g

full-fat soft cream cheese

100

g

icing sugar

1

tsp

vanilla extract

250

g

milk chocolate

100

g

caramel sauce

300

ml

double cream

100-300

g

Cadbury's caramel pieces

(optional)
Optional Decoration
150

ml

double cream

2

tbsp

icing sugar

50

g

caramel

6-8

Cadbury's caramel eggs, halved/chopped
Instructions
For the Base:
Blitz the biscuits in a food processor to a small crumb, melt the butter, and add it to the biscuits. Pulse a few times until it is combined well.

Tip into a 8″/20cm deep springform tin and press down firmly – chill in the refrigerator whilst you do the rest!
For the Filling:
Melt the milk chocolate until smooth - I do this in the microwave.

In a bowl, whisk together the full-fat soft cream cheese, icing sugar, and vanilla extract until smooth.

Pour in the melted chocolate, and the caramel and whip again until combined.

Add the double cream, and whisk until very thick - alternatively, whisk the cream separately and fold through the mixture.

Chop up the caramel chocolate and fold through the cheesecake mix – pour onto the biscuit base and spread evenly. Leave to set in the fridge, covered, for 5-6 hours, or preferably over night!
For the Decoration:
Whip together the double cream and icing sugar until thick but smooth.

Drizzle over some caramel sauce. Using a piping bag and a 2D closed star piping tip, pipe on the cream to decorate.

Place a half of a Cadbury's caramel egg on each swirl, or whatever you fancy.
Notes
Recipe updated January 2022 - the only difference is I have added 100g of caramel to the mixture.
You can use any full fat soft cream cheese, or mascarpone - I tend to use Philadelphia.
If it looks like your cheesecake isn't setting, or its a but sloppy, or you're even not sure.. try it anyway. Try to set the mix anyway! If it still doesn't set, freeze it and have an ice cream cheesecake
I recommend using a 8″/20cm deep springform tin in this recipe, and a 2D closed star piping tip for decoration!
This cheesecake will last covered in the fridge for 3 days!
I use Cadbury's caramel eggs that I have refrigerated overnight to decorate as its near Easter time when I am posting this recipe, and refrigerated ones are much easier to chop. You can use the bar chopped up, or the buttons it you wished to decorate. 
Find my other recipes on my Recipes Page!
SaveSave
SaveSave