May 5, 2016
Biscoff Cake!
*This post may contain affiliate links. Please see my disclosure for more details!*
A delicious and moist 3-layer Biscoff cake with Lotus biscuits! Perfect spiced and sweet cake for all biscoff lovers out there!
I now have a good few Biscoff recipes on my blog and they are always super popular because a lot of you seem to have the same adoration for Biscoff as I do! I recently updated my biscoff cupcakes recipe to have some new pictures and they were such a massive hit I thought I would post my cake version of the recipe!
My recipes for my no-bake biscoff cheesecake and my biscoff fudge so I know that you guys will LOVE this. If you aren't sure what biscoff is then I have no idea how else to explain it other than it is just DELIGHTFUL! Please check it out if you haven't already – and you will understand my obsession.
I used a simple cake recipe using equal ratios of sugar/butter/flour/eggs as the base of my cake because it always works in my opinion, and it creates such a light and moist cake that there is no point messing with it.
Using the ratios works with most sponges – and the best way is to use the weight of eggs in their shells, and match the rest of the ingredients to that. I use 7 medium eggs roughly in this cake – but say they equalled 410g, I would use 410g butter, sugar and flour as well! This isn't essential, it's just the easiest way to get the best sponge.
Using the twist of light brown soft sugar in the sponges of the cake as I have in a few of my recipes now it really does work. I personally find that it makes the sponge actually that much moister and it's utterly delicious compared to using normal caster sugar. This is of course optional though – you can use caster sugar or even dark brown soft sugar! Or a combination!
The cake has a lovely natural caramel taste to go with the caramelised theme of the Biscoff so it's utterly dreamy. The biscoff flavoured buttercream is deliciously light and moussey even though it has the addition of the biscoff itself so this cake is perfection in my eyes.
When making the buttercream it is so important to use BLOCK unsalted butter and not a spread or margarine of any sort. I always believe and will say this forever and a day that block butter is so important. I know it's solid as anything, and you need to wait for it to be room temperature before you can use it – but it then sets so firmly after.
If you use a baking spread or similar, you risk making the frosting far too soft. By the time you add the biscoff spread, you don't want to end up with biscoff buttercream soup – and this is a definite risk. Top tip as well if your frosting splits – add a tbsp or two of boiling water or full-fat milk – it will bring it right back!
As my previous cake recipe to this, my caramac cake, had a drip-style to it I thought I would go back to my classic sort of baking styles and just layer them up with buttercream in the middle. I used the biscuits in the middle of each of the sponges and on top because it gives the little bit of a crunch that I always crave in a cake and without using the same sprinkles again, but this is optional.
My mum took this bake to her work as my family is a bit caked out at the moment so I thought it would be an idea to give it away to keep her colleagues happy, and I'm not joking when I say that it disappeared SO quickly I was even a tad shocked.
Like, I know usually there are some people that say no to cake because they are on a diet, but JEEEEEZ this one just went! So much biscoff loving. But seriously, this cake would be ideal for those who love cake but nothing too sweet, and definitely one for this caramelised delicious Lotus/Biscoff/Speculoos lovers out there!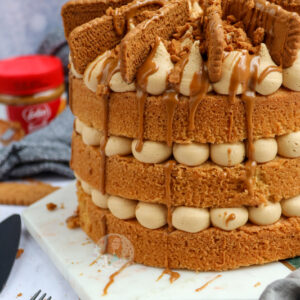 Biscoff Cake!
A delicious and moist 3-layer Biscoff cake with Lotus biscuits! Perfect spiced and sweet cake for all biscoff lovers out there!
Print
Pin
Rate
Ingredients
Cake
400

g

unsalted butter

(room temp)

400

g

light brown soft sugar

7

medium

eggs

400

g

self-raising flour

2

tsp

baking powder

(optional)

1

tsp

vanilla extract
Buttercream
250

g

unsalted butter

(room temp)

500

g

icing sugar

300

g

biscoff spread

2-3

tbsps

boiling water

(if required)
Decoration
4

crushed biscoff biscuits

12

biscoff biscuits

50

g

biscoff spread

(melted)

sprinkles
Instructions
For The Cake
Preheat the oven to 180ºc/160ºfan and line three 20cm/8inch round cake tins with baking parchment – leave to the side.

In a stand mixer, beat together the unsalted butter and light brown soft sugar for a few minutes until light and fluffy.

Add in the self-raising flour, eggs, baking powder (if using) and vanilla and beat again briefly until combined.

Divide the mixture between the three tins and smooth it over – bake for 25-30minutes until the cakes are golden and when the cake springs back (skewer should also come out clean)!

Once baked, leave the cakes to cool in their tins for 10 minutes or so, and then remove and leave to cool fully on a wire rack.
For The Decoration
Beat the room temperature unsalted butter with an electric mixer for a couple of minutes to loosen it

Gradually add the icing sugar on a slow speed until it is combined then speed the mixer up and mix for 3-4 minutes until thoroughly combined and smooth.

Add in the biscoff spread to the buttercream and continue mixing, and gradually add the boiling water until you reach the desired texture if it is needed! Keep on beating for 5 minutes until whipped and silky smooth!

Using your favourite piping tip, I used a large round tip, pipe the buttercream onto the bottom layer of the cake. Add the second layer, and pipe buttercream on again!

Add on the third layer of the cake and pipe on the rest of the buttercream.

Drizzle over some melted biscoff spread, and add on some biscuits, crushed biscuits and some sprinkles. Alternatively you can just slather the buttercream on instead! Enjoy!
Notes
I love this style of cake as you can tell from the few I have made, and I happen to have 3 8″ tins, if you don't have 3 tins you can make a smaller version of the cake with two 8" tins (Can take slightly longer to bake)

300g Butter
300g Sugar
300g Flour
6 Medium Eggs
1.5tsps Baking Powder/1tsp Vanilla
2/3 of the decoration recipes!

You can buy the Biscoff/Lotus spread in nearly all supermarkets in the UK now, its usually found next to Nutella!
I wouldn't add the water to the buttercream unless it is essential. Often on a sunny or warm day, it won't be needed! 
This cake will last in an airtight container for 3 days, at room temperature.
I used a large round tip, to decorate this cake!
ENJOY!
Find my other Dessert Recipes on my Recipes Page!
You can find me on:
Instagram
Facebook
Pinterest
Twitter
Youtube
J x
© Jane's Patisserie. All images & content are copyright protected. Do not use my images without prior permission. If you want to republish this recipe, please re-write the recipe in your own words and credit me, or link back to this post for the recipe.
SaveSave
SaveSave
270 Comments