May 19, 2016
Honeycomb Crunchie Fudge!
*This post may contain affiliate links. Please see my disclosure for more details!*
Easy & Utterly Delicious Chocolate Crunchie Fudge that anyone can make at home – No Sugar Thermometers, No Boiling, just quick and easy!
I have always been a fan of Crunchie bars – I think they're a bit underrated really as they're not overly chocolatey – and you really do have to like the honeycomb flavour to enjoy them. Ever since posting my No-Bake Honeycomb Crunchie Cheesecake and it being such a massive success (like so much more successful than I ever could imagine) I knew that you guys like Crunchies too.
My No-Bake Honeycomb Crunchie Pie ended up being equally as popular too, so this meant I needed to do another Crunchie recipe. I didn't want to do a cupcake version (yet!) as I wanted to try something a little different… so fudge happened.
I originally started posting 'cheats fudge' recipes on the Carnations Fudge recipe, but after a few recipes and experimenting, I decided it needed a touch more Icing Sugar for more stability, so I now use 125g compared to 100g! It's all up to you though. You can remove the icing sugar entirely, but add in more chocolate instead!
I think making Crunchie Fudge is not only one of the best decisions I ever made, but as I am going on holiday to St Ive's in Cornwall next week, it seemed utterly appropriate. I honestly do go crazy for proper Cornish fudge when I am there as it tastes amazing. You can easily make it at home, but it's just not the same! It's like drinking juice.. it tastes far better straight out of the carton compared to drinking it from a cup. But anyway…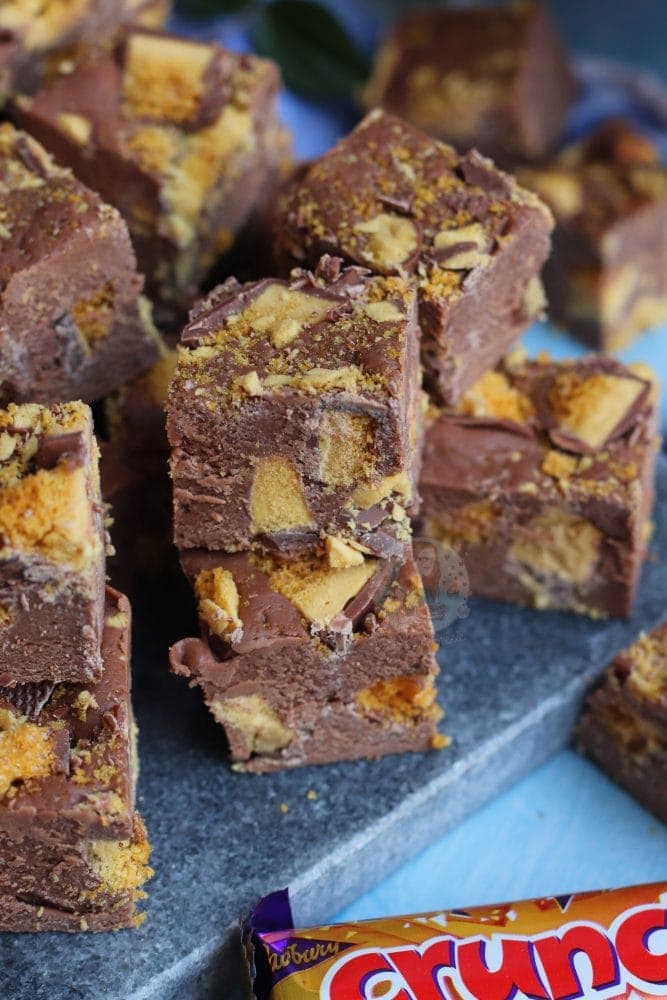 I wanted to make this fudge recipe really easy to make. Therefore, I took inspiration from some of my other Fudge recipes such as my Speculoos/Biscoff Cookie Butter Fudge and Peppermint Fudges! These recipes really are SO simple to make. You melt the Condensed Milk, Chocolate, butter and vanilla together so it's silky smooth, then mix in some icing sugar to stabilise it and give it structure.
Fold through your Crunchies and press into a tin… leave to set and it's done! Seriously though, once you know what you are doing, you really can make it in less than 10 minutes and have it set.. it's SO easy!
As I have said before, I do love proper fudge recipes as well where you have to boil it and use a sugar thermometer, such as my Oreo Cookies & Cream Fudge, as it has a proper fudge texture. However, this really is so easy it's worth the term 'Cheats Fudge'. Still very fudgey, yet not quite it…
Leaving the Fudge in the fridge gives it a nice firm texture, and out of the fridge gives it a soft and yummy texture.. it's so adaptable and easy you will want to make fudge over and over again! Enjoy!
Crunchie Fudge!
Easy & Utterly Delicious Chocolate Crunchie Fudge that anyone can make at home – No Sugar Thermometers, No Boiling, just quick and easy!
Print
Pin
Rate
Ingredients
397

g

Condensed Milk

(one tin)

450

g

Milk Chocolate

125

g

Icing Sugar

1

tsp

Vanilla Extract

300

g

Crunchies

(chopped)
Instructions
Line a tin with parchment paper – I use a 7x11″ brownie tin as it makes a nice depth of fudge!

Put the chopped Chocolate into a heavy-based pan, along with all of the Condensed Milk and Vanilla Extract – melt on a low heat, stiring often so that the chocolate doesn't catch on the bottom and burn and so that all the ingredients mix together well.

Alternatively, add the Chocolate to a large bowl, and melt.

Add the Condensed Milk and Vanilla and mix in.

Once melted, tip in the sifted Icing Sugar and combine well, it might take a bit of beating, but it's worth it!


Once cooled, pour in two thirds of the chopped Crunchies and quickly stir through pour into the tin and smooth over the mixture.


Sprinkle on the rest of the chopped bits of Crunchie, and even all the little tiny bits and press into the top of the fudge and store in the fridge for at least 3-4 hours to set!


Once set, chop your fudge up into pieces and enjoy!
Notes
This recipe will last better in the fridge for up to 2-3 weeks if it manages to last that long – you can also easily half or double the recipe, the setting times will just change slightly – might be worth making double if you're addicted to crunchies like me…
I quickly fold through the Crunchies into the fudge mixture because the chocolate coating of the honeycomb bars will start melting slightly, but the actual honeycomb should be fine so no real need to worry about the mixture being too hot on this particular recipe.
I press the Crunchies into the top of the fudge with the palms of my hands so its as stuck in as it can be but still show – I don't want crunchie bits to fall off once it's finished!
I use Cadbury's Crunchie Bars in this recipe, but any honeycomb bar will work – or even home-made honeycomb!
ENJOY!
Find my other Sweets Recipes on my Recipes Page!
You can find me on:
Instagram
Facebook
Pinterest
Twitter
Bloglovin'
Youtube
J x
© Jane's Patisserie. All images & content are copyright protected. Do not use my images without prior permission. If you want to republish this recipe, please re-write the recipe in your own words and credit me, or link back to this post for the recipe.